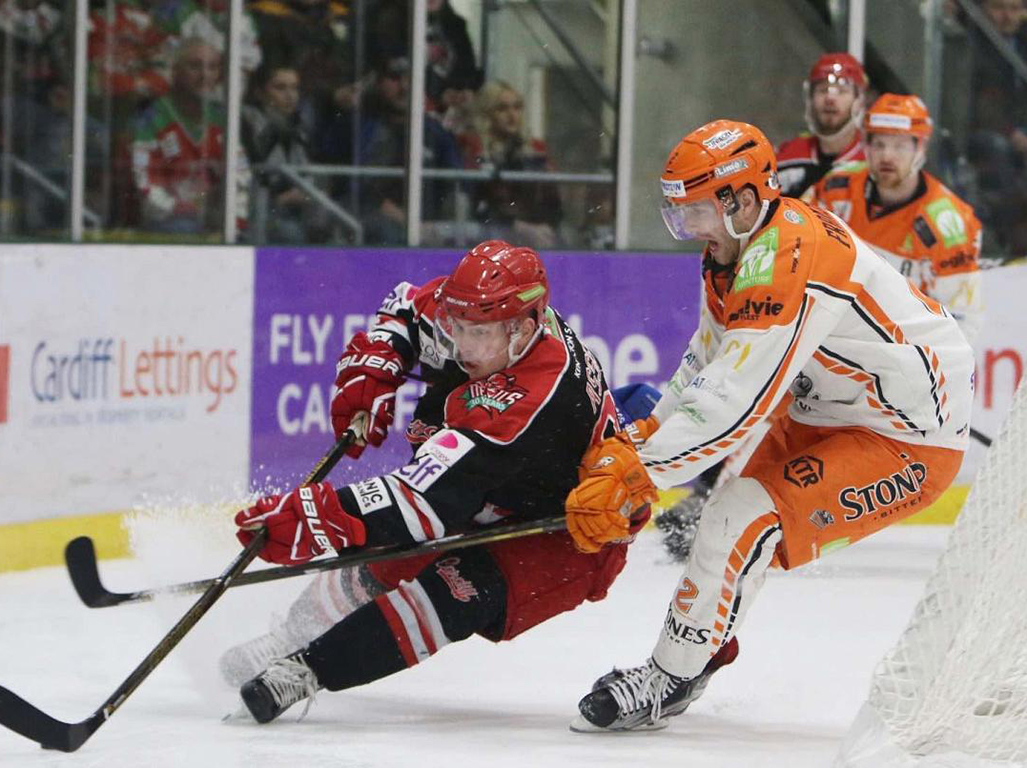 AFTER earning three points from their weekend in Belfast, Cardiff Devils now face their biggest game of the season.
They need to come from four goals down to beat Sheffield Steelers if they are to get to the final of the Challenge Cup.
The second leg of the semi-final at Ice Arena Wales on Wednesday is sure to be a sell-out.
The first leg ended 6-2 to the Steelers.
Cardiff will take pride in recent results. They earned three out of a possible four points this weekend in back-to-back games against league rivals Belfast Giants.
Friday's game ended 4-3 to Belfast, as goals from Jake Morissette, Patrick Asselin and Mark Richardson were not enough to see off the Giants who picked up the extra point with a shootout winning goal from Darcy Murphy.  
The Welsh side rallied for Saturday's game and got their revenge in spectacular fashion. The game went right to the wire before Devils won the game 3-2 with an overtime goal.
After a scoreless opening period, it was Layne Ulmer who got the Devils on the board first, tucking the puck past Jackson Whistle at the 26-minute mark of the game.
Ulmer got his second of the night to double the lead for the Devils at 33:17 on the powerplay, tipping a shot from Gleason Fournier over the shoulder of Whistle.  
The Giants came straight back with a shorthanded goal from Spiro Goulakos who took a pass from Blair Riley to beat Ben Bowns at 34:40, making it 2-1.  
Riley scored again at 43:51 to tie the game at 2-2, leading to a tense final quarter.
Despite some great chances for both teams, the game was taken over by some epic goaltending at both ends of the ice.  
The shots in the third period alone were 17 for the Devils and 13 for the Giants but nothing was getting by the two net-minders so this game, like the previous night, was heading into overtime.
The Giants had a point-blank chance to win the game early in overtime, but somehow a sprawling Ben Bowns kept the puck out of the net.  
The winner was a beauty as Joey Martin batted a Fournier pass out of the air past Whistle to win the game at 62:15, sending 500-plus Devils fans into a frenzy as the team celebrated below the visiting supporters.
The win meant a split of the points on the weekend, with the Giants and Devils picking up three each, meaning the Devils stay seven points ahead of the Giants in the League standings with a game in hand.