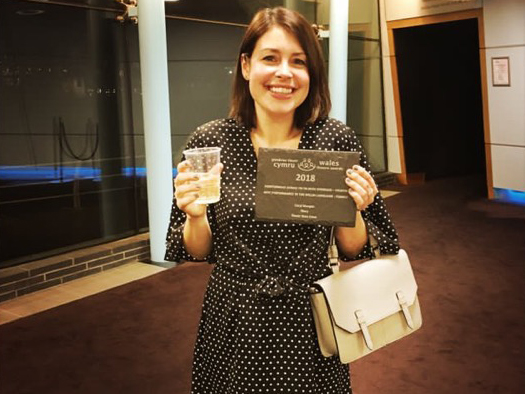 Award-winning actress Caryl Morgan on Splott, Bond and filming in the Senedd
FOR Caryl Morgan, working away from home is nothing unusual. This week, the Splott-based actress heads north to voice her part in a BBC Radio Wales drama by writer Siôn Eirian. She'll play a daughter whose father suffers from a rare form of dementia. "Siôn's written a really gorgeous, moving piece. Every time I've read it so far, I've cried, so I don't know how I'm going to keep it together for the recording!" she says.
Caryl grew up in Swansea but moved to Cardiff at 18 to study at the Royal Welsh College of Music and Drama. Graduating with a BA (Hons) Acting degree in 2005, she decided to stay.
"But the thing with acting is, you go where the work is," she says. "For a couple of years, even though my base was in Cardiff I didn't work here at all. I was all over the country."
In 2007, she got a part in long-running Welsh soap Pobol y Cwm. Filmed in Llandaff at the time, it meant she could finally work from Cardiff.
After marrying actor and musician Alex Parry and having her son in 2010, time at home became even more precious – and it's in Splott café The Imperial that we sit on a Sunday afternoon for a chat about Caryl's latest achievement: winning Best Actress in the Welsh Language at the 2018 Wales Theatre Awards.
The annual awards, organised by arts critics across Wales, celebrated a record-breaking year this year, with almost 600 artists, companies and shows nominated.
Caryl's performance in political drama Yfory earned her the accolade. The Theatr Bara Caws play followed fictional Plaid Cymru leader Gwyn Davies as he tried to negotiate a new direction for the country, while being blackmailed by an old friend to keep things as they were. Caryl toured Wales with Yfory in early 2017, playing Gwyn's partner Ellie.
This was another Siôn Eirian script – and it won him Best Playwright in the Welsh Language at last month's awards.
Is there a big audience for Welsh-language theatre, then?
"It depends where you go," Caryl explains. "It was a tour of Wales, and obviously the team chose their venues carefully, and know where there's an audience already there.
"You can't really compare it to English theatre, because it is a minority language, but there is a good strong Welsh audience out there, and they support Welsh theatre. They're very loyal."
Growing up in a bilingual household, Caryl attended a Welsh-language school in Swansea. "It's funny, because it's such a minority language I think you get more passionate about it as you get older," she says.
"In school, it's cool to break the rules and speak English – but as you get older, you realise how important it is to keep it going, and how lovely it is.
"If you meet someone who speaks Welsh, it's sad to say but it feels like a luxury to speak Welsh to them, and you just want to speak it with them as much as possible, because it doesn't happen that often."
Caryl's done some English-language theatre as part of her work as an associate actor at Theatr Clwyd in Mold – which is where she met husband Alex. She's also done stints on Coronation Street and BBC series Being Human.
But after this week's radio project, she's returning to Cardiff to film the third series of S4C's Welsh-language political drama Byw Celwydd.
The drama, subtitled in English, first aired in 2016, and made national headlines for its comparison with US hit series The Killing. It follows a Cardiff journalist attempting to uncover political scandals in a fictional Welsh Senedd.
The team made history by being the first TV crew to film in the debating chamber of the Senedd in Cardiff Bay.
"It was quite famous that James Bond got turned down but we were allowed in!" Caryl says.
The producers of Bond blockbuster Spectre asked to film scenes there in late 2014 but were rejected by the Welsh Assembly, who said in a statement that the room was "not a drama studio."
From the Sherman to the Senedd, Caryl has performed throughout Cardiff – and beyond. But when it comes to real life, a lesser-known part of the city is home.
"I do love Splott," she says. From completing her first 10k last year with the local ladies' running group to plotting with other parents in the playground about getting a wine bar opened up in Splott, Caryl has thrown herself into life in the south Cardiff district.
"I feel very passionate about Splott. It gets a bad rap, but the community here is lovely," she says.
"I love walking down the road and people saying hello, even if you don't know them, and I love people coming to knock for my son to go to the park, because we all live close."