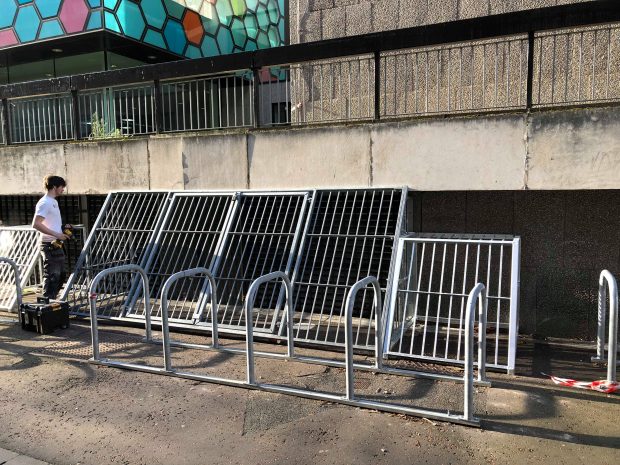 NEW cycle racks and metal gratings at Cardiff University have been criticised for being "anti-homeless".
The new racks cover a well-known rough sleeper spot on a walkway between Park Place and Museum Avenue, which was popular because of the heat coming from nearby vents which warmed rough sleepers.
Additional gratings were added to the original cage structure over the vents on Tuesday after several bike racks were earlier placed in front of them, making it impossible for homeless people to sleep there.
The new gratings do not actually cover the vent, but are instead attached to the side of the original metalwork at the School of Biosciences.
While the university has refused to comment on the changes, the new metalwork has drawn criticism from various quarters.
A rough sleeper, who used to bed down in the area said: "It's terrible. It sounds like the girl who used to sleep there had found somewhere warm to sleep in the city."
"What lengths they go to", said Julie Malki, a volunteer for charity, Hope for the Homeless.
"It looks like they had a bit of shelter under there, so move them into the wet and cold and then people wonder how they are passing (away)."
Jodie Bevan, 32, from Rhondda Cynon Taff, questioned how much the work had cost.
"It's disgusting. I think it's absolutely terrible that they are doing that to stop them sleeping there," she said.
Another homeless charity worker, who did not wish to be named said: "It's absolutely disgusting.
"It's okay for them, they are not facing being homeless, no one wants to be in this situation."
The cycle spaces and grating are a form of 'permitted development' in the Town and Country Planning Order 1995, meaning the University did not need to seek permission from the council to place the structures, and so no objections could be filed.
The Cardiffian approached the University's Press Office but they did not wish to comment.
CJS News have also recently reported on "anti-homeless" furniture being erected elsewhere around the city centre.