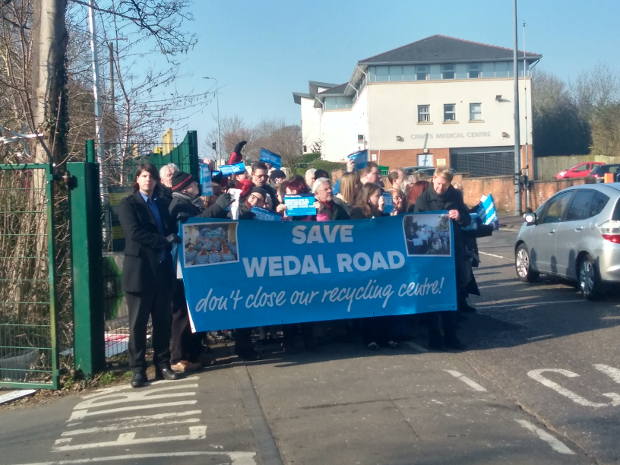 Campaigners turned out to protest against the controversial closure of Roath's Wedal Road recycling centre on Saturday.
Protesters at the site, which is set to close on March 2, had previously been assured by the Labour-run Cardiff Council that it would only be closed once a replacement site was found.
However the Council agreed to sell the site to the Cardiff and Vale University Health Board (UHB) just 24 hours before Saturday's demonstration was due to take place.
Heather Ward from Birchgrove, who uses the site on a monthly basis, said residents were concerned that the closure would lead to more fly-tipping in the area.
"It will be a pain and I think it will increase fly-tipping because people don't tend to want to save up their stuff so they can go further afield," she said.
"Councillor Graham Hinchey said it was not going to close unless there was an alternative site so everybody was reassured by that. Now that looks like a complete and utter lie.
"I'm not sure what (our protest) will actually achieve, but I think the numbers that have turned out have shown you how much feeling there is against it."
Marchant Jones, 81, said he has used the site since he was a boy.
"I'd ask them to think about the closure of this place," he said. "Hundreds of cars bring tons of stuff here and they sort it all out for the council. What is the alternative?
"Do they honestly think that people are going to come from North Lisvane, all the way to the other tip? They must be crackers, and people will not do it and they will dump the stuff."
Conservative councillor Jayne Cowan has also criticised the decision.
"I'm so disappointed," she said. "We were promised faithfully by Graham Hinchey on video that we would get an alternative operational site open before this was shut and we feel very betrayed.
"You've got people from different parties here as well. You've got councillors here, local representatives, local residents, just to show the strength of feeling."
The site had been scheduled to go up for auction on March 6 but it is understood that the local authority decided to withdraw the lot.
According to a council spokeswoman, the sale will be completed either on or before March 31.