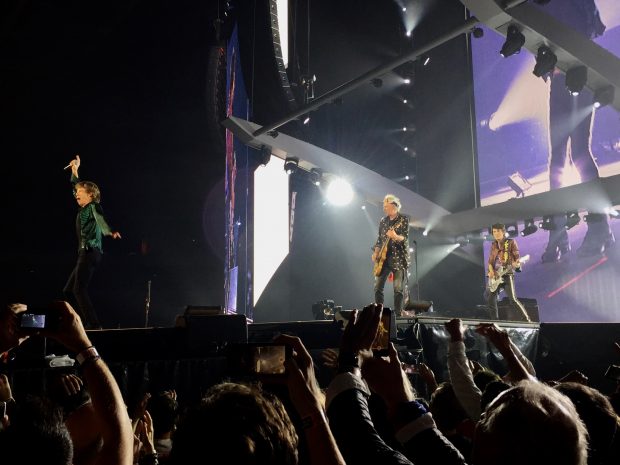 CARDIFF fans of The Rolling Stones are delighted that the band have announced their first show in the city since 2006.
The Stones will play one night at the Principality Stadium in Cardiff this June, during a five-date UK section of their "No Filter" tour.
The band last performed in Wales at the Millennium Stadium on August 29 in 2006, as part of their A Bigger Bang tour.
"I think it's great, it's nice to see the oldies coming back, they're quite old now aren't they?," said Janet Warren.
"I'm very excited about it, going back in time with all the sixties music," said Susan Coates. "I think it will be great for Cardiff and lots of people will be going to see them. Hopefully I'll get a ticket."
Patrick Evans has never looked back on his decision to choose the Stones over the Beatles.
"I'm overwhelmed because I didn't know they'd be coming again," said Patrick.
"I saw them the last time when they came to the Millennium Stadium, so yes if they're coming back again then I'll definitely go and watch them.
"In the sixties you were either with the Beatles or the Stones, and I chose the latter."
The band kick off in Dublin on May 17, before doing shows in London, Manchester, Edinburgh and Cardiff, and will then head to Europe.
This July will mark 56 years since The Rolling Stones first performed at London's Marquee Club in 1962.
"We haven't finished yet," said guitarist Keith Richards.
"It's still too early for me to talk about the Stones' legacy. There's one thing that we haven't yet achieved, and that's to really find out how long you can do this. It's still such a joy to play with this band that you can't really let go of it."
Tickets for the Principality Stadium show go on sale on March 2.
The 2018 summer tour is the second leg of their 'No Filter' tour which visited nine European countries in 2017. The full list of dates was released via their website:
2018 UK and Ireland Dates
Thursday May 17 – Dublin: Croke Park
Tuesday May 22 – London: London Stadium
Tuesday June 5 – Manchester: Old Trafford Football Stadium
Saturday June 9 – Edinburgh: Murrayfield Stadium
Friday June 15 – Cardiff: Principality Stadium
Tuesday June 19 – London: Twickenham Stadium
2018 European Dates 
June 22 – Olympiastadion: Berlin
June 26 – Orange Velodrome: Marseille
June 30 – Mercedes-Benz Arena: Stuttgart
July 04 – Letnany Airport: Prague
July 08 – PGE Narodowy Stadium: Warsaw.