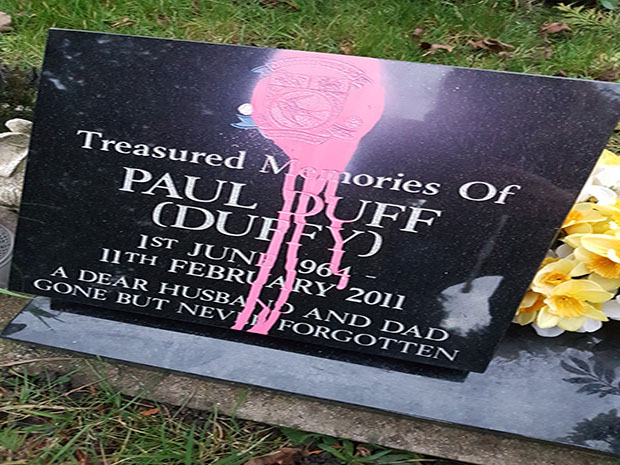 A HEADSTONE commemorating a lifelong Cardiff City fan has been vandalised at Penarth Cemetery.
Paul Duff, 46, from Penarth, died seven years ago. His body was found in Cosmeston Lakes.
His wife Caroline, 53, was visiting her husband's grave on February 21, days before the anniversary of his death, when she found red spray paint all over the Cardiff City badge.
She said: "My neighbour told me about the grave as they had seen it first. I went to the graveyard that afternoon and seeing it made me angry and upset.
"I don't know why someone has done this, maybe it's because of the Cardiff badge which I think is disgusting.
"It's really upsetting for the family and we hope that they get caught. I want people to come forward with information that can lead to an arrest."
A spokesman for Penarth Cemetery said: "We are very upset at what has happened but the case is now with the police."
Michael James, 29, from Canoplus Close, St Mellons, is a family friend and went to Cardiff City games with Paul and his family.
"I just felt really angry that someone could have the mentality to do something like that," he said.
"We all have a joke and laugh with fans of opposing teams but for someone to do this is just completely unacceptable."
South Wales Police said: "Officers are investigating a criminal damage offence that has occurred at Penarth Cemetery.
"If anyone has any information about this crime, they are asked to contact police on 101 quoting ref: 1800065543."
The damage to the headstone at the Castle Avenue cemetery is so bad it needs to be removed to be repaired.
Mr Duff spent 11 years in the RAF and his family have been supported by the RAF Benevolent Fund, which provides financial, practical and emotional support to serving and former members.
An online fundraising page has been set up to contribute towards the cost.
Any extra money raised will go towards the charity. Donations can be made here.