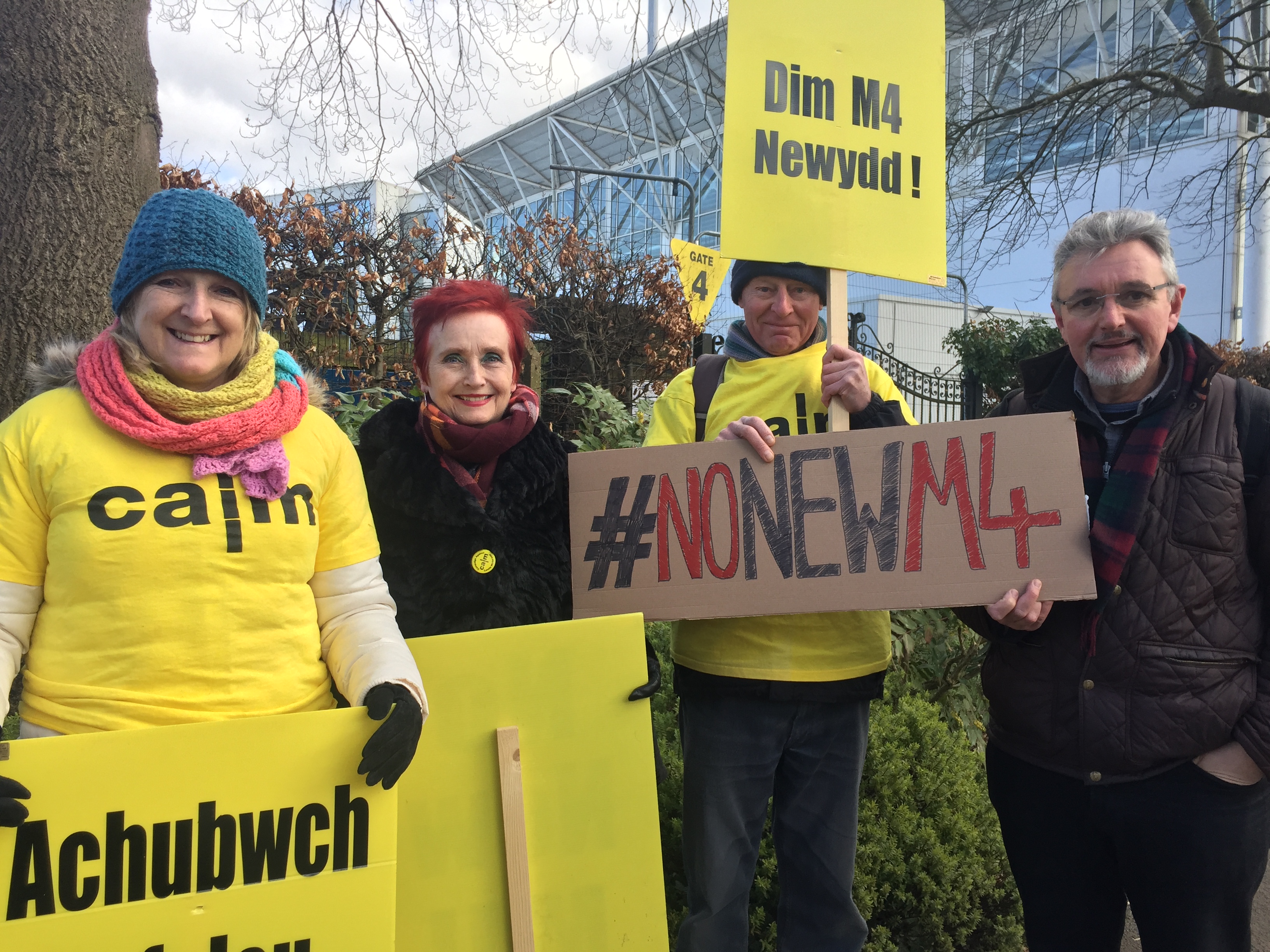 PROTESTERS picketed the SSE SWALEC cricket stadium in Sophia Gardens to campaign against the new M4 relief road south of Newport.
The group, Campaign Against the Levels Motorway, protested outside as the Welsh Government held a conference to discuss ways of reducing carbon levels.
Natasha Yorke-Edgell, political campaign officer for RSPB Cymru said: "We are saying no to the new M4 proposals because not only will it cost an extortionate amount of money, like £1 to 2 billion of taxpayers' money, but it is extremely damaging for the environment.
"It is not going to solve the congestion problem because all the research shows that if you build more roads you encourage more cars on to the roads."
The Welsh Government wants to relieve congestion around Newport and into Cardiff. The proposed new motorway would cost £1.3 billion and if approved work would start in the autumn.
But the new relief road would pass through the Gwent Levels, home to Sites of Scientific Interest, and important reen ditch systems.
The Gwent Levels are rich in wildlife such as otters, wading birds and the rare Shrill Carder bee.
"The road will cut straight through the landscape and affect Gwent wildlife nature reserve.
"It doesn't come through the RSPB nature reserve, but it comes very close to it so there will be lots of noise pollution, as well as air pollution.
"It will basically destroy the special wetland, reen and ditch habitat which is very important for vertebrates and birds," said Ms Yorke-Edgell.
Ann Picton councillor for St Brides, Wentlooge said: "This is not the answer to what is needed for moving people around in Wales and to Wales's prosperity, they need to be innovative.
"It is a 1970s solution to a 21st Century problem and they could be so adventurous."
Campaigner, Ellen Law, from Peterstone said: "The fuss being made about this M4 is so over estimated and exaggerated because there isn't anywhere where you have cities with exit and entry points where there isn't some kind of slow down.
"I think they are using that as a justification for building this huge expensive road."
Ms Yorke-Edgell added: "We are just saying, look Welsh Government if you are talking about decarbonising Wales and really holding your ambitious legislation to account then you should be saying we are going to go bigger and better than roads and invest in amazing new public transport."
The Welsh Government declined to comment, as there is an ongoing public inquiry.