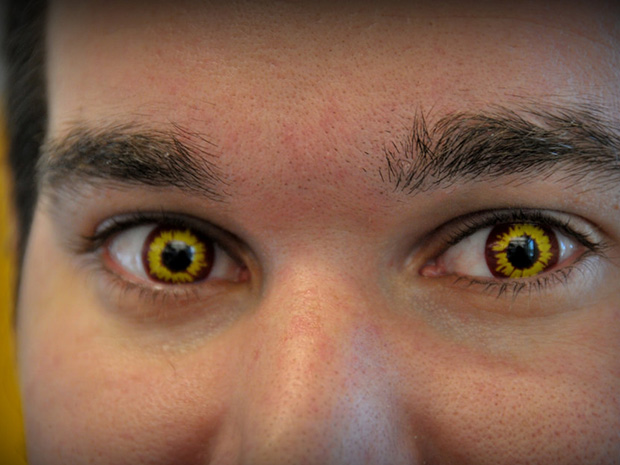 SHOPS are still selling fancy dress contact lenses in Cardiff, even though they can cause serious eye injuries.
The lenses change the colour or appearance of eyes for Halloween or parties but if they are not used properly they can cause corneal ulcers, infections and even blindness.
Although they are non-prescription, cosmetic lenses should be bought from a registered optometrist, optician, or doctor.
During September and October 2017, safety inspectors working for Cardiff council inspected 22 shops and gave advice from the General Optical Council.
Three of those shops were found to be still selling the contacts after a series of test purchases.
Without adequate instruction on storage, hygiene, and handling, cosmetic lenses could cause corneal ulcers and infections.
Corneal ulcers can get worse very quickly. Uncontrolled infection can lead to corneal scarring and impaired vision, and in extreme cases even blindness and eye loss. Other risks are conjunctivitis, allergic reactions and scratches.
In 2015 a consumer who bought lenses for Halloween in Cardiff had to spend  "a considerable time" in hospital.
As a result, the Shared Regulatory Service is going to warn retailers, colleges and sixth forms before Halloween this year.
Jacqueline Hotchkiss, commercial services team manager for trading standards, told the SRS joint committee on Tuesday: "We have a view of rolling out a survey across Wales this year. And we will work with emergency departments to report problems to trading standards."
The SRS works across Cardiff, the Vale of Glamorgan, and Bridgend, inspecting environmental health and trading standards.
Dave Holland, head of SRS, said: "There could be hundreds of people who have not reported this issue so the more pictures of eye damage we can show, the better."
The risk of infection is very low if buying professionally fitted cosmetic contacts and caring for them properly. But the lenses can also be bought cheaply online without any health warning or proper instructions.
The Specsavers website says: "We would strongly advise against wearing cheap contact lenses from the Internet and without a proper prescription, especially if you have never worn contacts before."
What's the difference between an optometrist and an optician?
An optometrist tests your eyes and can write prescriptions for glasses and lenses.

A dispensing optician will help you fit glasses or lenses from the prescription.

An ophthalmic medical practitioner, is a doctor who specialises in eye conditions.