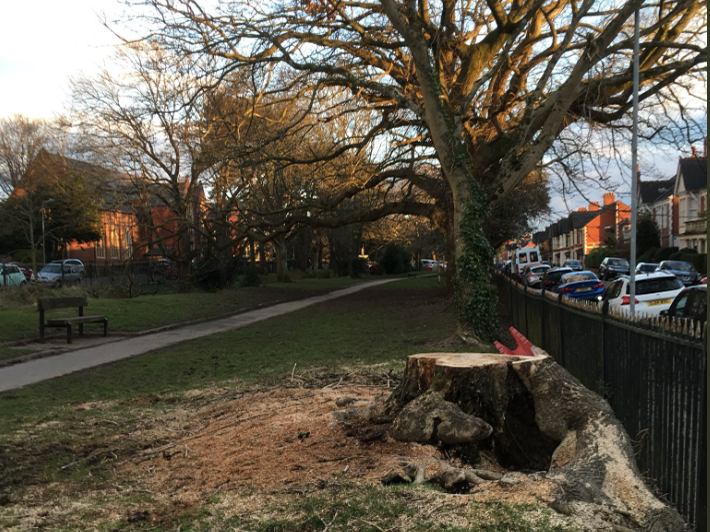 A CAMPAIGN to save 32 trees in Roath Mill and Roath Brook Gardens has won support from Assembly members.
Cardiff campaigner Tamsin Davies submitted an 8,700-name petition to the Senedd opposing a proposal to remove a number of mature trees in Roath Gardens as part of work to improve flood risk.  
During the petitions committee this morning, Assembly members questioned whether there were alternative methods to reduce flood risk in the area.
According to Neil McEvoy, South Wales Central AM, one option would be to raise and lower the height of Roath Park Lake.
"I was told by officials that would be highly damaging to the environment of the lake and I have other people who are equally qualified saying that's not the case, so I have a number of questions," he told the committee.
The engineering work is being carried out by Natural Resources Wales in three phases. Residents have opposed the works since planning permission was granted in April 2016, and believe that the calculated risk of flooding does not justify the removal of the 32 trees earmarked for felling.  
Mr McEvoy criticised the treatment of residents by NRW during the project consultation in December 2017.
He said: "I went to a meeting with the minister where residents were not allowed in. They were treated in a very abrupt way and told they weren't welcome."
Janet Finch-Saunders, Aberconwy AM, agreed with Mr McEvoy.
"Once upon a time, people power meant something. I've read the outrage. We should try and support them," she said.
"Officials and officers in the Local Authority sometimes don't understand that these kind of things mean such a lot to people."
Ms Davies is hopeful that talks with NRW in the next few weeks will reach an agreement about how to move the scheme on in a way which will make both residents and NRW happy.
Phase 1 and 2 works are now complete and have already substantially reduced flood risk around Roath Gardens. Phase 3 work began in December, but was halted following a campaign by local residents in January. 
The petition calls for the flood risk to be recalculated following this work, as well as for NRW to provide more information about the methods and results of the options appraisal during the project design.
The petitions committee agreed to write to NRW asking them to respond to the petition's proposal.
In the event that they are not satisfied with the response, members agreed that the issue would be debated at plenary. Any petition reaching 5,000 signatures can automatically be considered for a debate by the full Assembly.
In theory this would be an "exploratory debate" only as NRW is a separate body from the Welsh Government. According to one member, who said "they would have to listen to us", NRW need to explain how they ended up with an unpopular scheme being progressed when there may be other schemes that would benefit from the £500,000 funding.
The Cardiffian was unable to reach Tamsin Davies for comment. However, we understand that the NRW work remains on hold after a meeting between the campaign group and NRW in January.