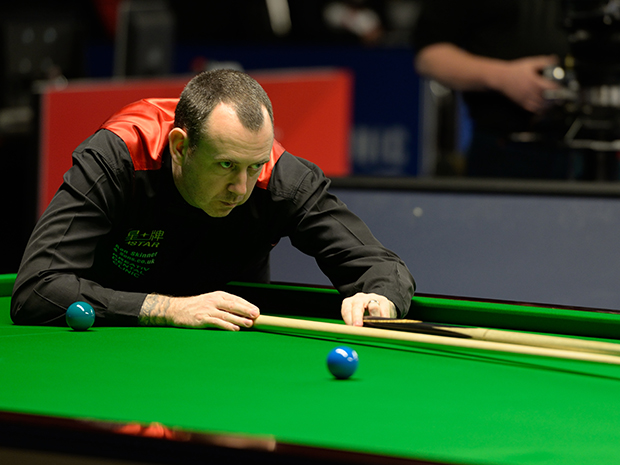 WORLD number six Mark Williams got off to a winning start in the Welsh open against Englishman Mark King in Cardiff this afternoon.
After a scruffy start, Williams, who is Wales' highest ranked player, began to show his good form scoring 134 in the second frame and 129 in the third.
Following the 4-2 win, he said: "I thought I played quite well to be honest. Two total clearances. The first frame could have gone either way, I made a good break in the last and played quite well.
"I played well and just continuing the good form I've been showing really."
The victory comes after fellow Welshman Darren Morgan called his compatriot a "keyboard warrior" after Williams went to Twitter to air his displeasure that Morgan was given a wildcard place above 16-year-old Jackson Page.
Williams said: "You've all read what he's said and there's nothing more for me to add to it. I'd just rather talk about the match I played today and the rest of the tournament."
The first frame was a tactical affair, with neither player giving much away. Williams started with a 34 break but he was swiftly pegged back after missing a simple green.
With only the pink and the black on the table Williams rolled the white behind the black, forcing King to foul twice, to win the frame.
King only played one shot in the second frame, rattling the jaws of a pocket with a long red. The white then split the pack leaving Williams to clean up with a 134 break.
The third frame went much the same way and after a poor break from King the home favourite again cleaned up, scoring 129.
Facing a whitewash King had to find form from somewhere and he pounced on a red after William's break to score 104.
Both players wasted opportunities in the fifth frame, and King managed to survive an early scare to win 74-58.
His relief was short lived however as Williams finished strongly, scoring a 60 break in the final frame to win the contest 4-2.
Williams, who has been on good form this season, said: "I haven't gone out of the first round of anything all season apart from the last tournament, I suppose that's counted as the first round.
"Overall I couldn't have asked for any more of the season I've had."
Williams will go on to face Aditya Mehta or Martin O'Donnell in the next round.