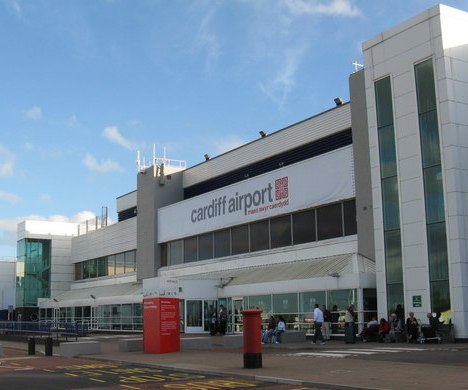 PASSENGERS have been left stranded after Cardiff Airport cancelled or delayed flights because of Storm Emma.
Cardiff Airport cancelled 25 flights this morning, and is closed until 11am . It has advised passengers to check live flight updates online.
*UPDAT MARCH 2, 0915* The airport is closed until 1100. @flybe has cancelled all services in/out today. @KLM_UK also affected.
Customers due to fly on cancelled services should not travel to the airport & contact airline for further info. Live flight info:https://t.co/bA2nivwc1T

— Cardiff Airport (@Cardiff_Airport) March 2, 2018
Flybe cancelled all their flights at Cardiff Airport from 3pm yesterday and throughout today and is offering refunds or new bookings to passengers.
Due to adverse weather conditions, we are sorry to confirm that all Flybe flights due to operate in/out of Cardiff airport today (2nd March) have been cancelled. Please click here for more info on how to rebook or refund https://t.co/NL0CQR8RX1

— Flybe ✈ (@flybe) March 2, 2018
One Flybe passenger, Kevin Miller, of Cardiff, is stranded in Paris, after his flight at 1pm was cancelled yesterday.
"It is not the airline's fault so I'm feeling ok about it, but I'm missing being away from my family," he said.
Cardiff Airport cancelled flights to Anglesey, Belfast, Paris, Edinburgh and Dublin among others today.
Chris Williams, of Tongwynlais, was on one of the last flights to land at Cardiff Airport last night at 7pm.
Mr Williams said it was very bumpy due to side winds and turbulence and fellow passengers described it as "the worst landing ever".
Mr Williams, 43, was travelling from Lanzarote on the TUI flight with his partner and two children, aged six and eight.
"When we landed, many of the hotels near the airport were so full of people, so we had to try and drive back home. It took two hours to drive to Tongwynlais," he said.
He said the plane was full, but passengers from West Wales didn't want to check in for fear of the drive home from Cardiff Airport.
"We crawled along the M4, which was scary. We saw quite a few lorries and cars failing," he said.
The airlines most hit by Storm Emma cancellations at Cardiff Airport are Flybe and KLM Royal Dutch Airline flights.
KLM Royal Dutch Airlines have cancelled 39 European return flights, and said this could increase today.
A spokesperson at KLM Royal Dutch Airlines, said: "Owing to a strong easterly wind, our runway capacity at Schiphol is currently restricted. In addition, wintry conditions in the United Kingdom have caused airports to halt or restrict operations.
"Passengers affected will be personally notified and rebooked on to other flights. Passengers are likely to be faced with delays for the remainder of the day."
Live flight updates on KLM flights from Cardiff Airport can be found on KLM's website.
Cardiff Airport have been contacted about latest updates for delayed passengers or those with cancelled flights.