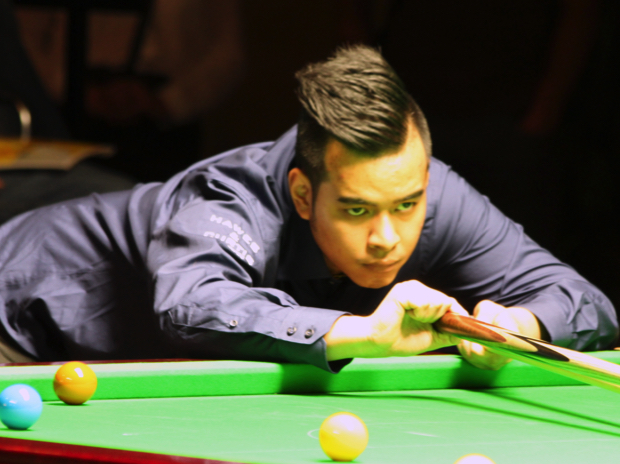 WORLD number 58, Noppon Saengkham will play Barry Hawkins in the semi-finals of the Welsh open on Saturday.
The Thai player beat Englishman Ian Burns 5-3 in today's first quarter-final.
He said: "I'm very happy because it is the first time for me in a semi-final and in a big tournament in the UK. It's a really big surprise for me.
"Beating [Judd] Trump helped me a lot from that match because after I beat him I had to concentrate and believe in myself a lot."
When asked who he would prefer to play in the semi-finals he said: "I think it's the same because I've played both of them before. Both of them are good players."
The first frame swung back and forth between the players, with both making 15 breaks, but Saengkham managed to take a long red to push the score in his favour, winning 68-15.
After splitting the pack in the second frame, Burns left the white ball too fyar off the bulk cushion allowing Saengkham to slap in a angled red to set up a 19 break.
But, with four reds left, a poor positional shot forced Saengkham into missing a fine red leaving Burns with an easy pot to the middle pocket.
Burns scored a healthy 26 before missing an audacious double attempt, but still won the frame 53-35.
Burns, seeded 100, missed a long red to start off the third frame and had to watch from his chair as Saengkham produced an assured break of 41 to take the frame and the a 3-1 lead.
A safety shot that bounced off the jaws of the cushion gave Saengkham a chance in the fourth frame and he scored 87 to go into the interval 4-1 up.
The Thai player scored breaks of 55 and 67 in the fifth frame to be within one frame of winning the tie, but Burns played brilliantly to win the next two frames scoring breaks of 131 and 61 respectively.
Sadly, for Burns, his come back was short lived as Saengkham won the eighth round by 86 to take his place in the semi-finals.
Saengkham will now play world number eight Barry Hawkins who thrashed Yan Bingtao 5-1 in the second quarter-final of the day.
Hawkins looked in top form as he scored two hundreds to beat Bingtao. The Englishman lost the first frame to the Chinese player before racing to victory with scores of 141 and 137.
The pair will face off tomorrow for a place in Sunday's final and a chance at the £70,000 prize fund.