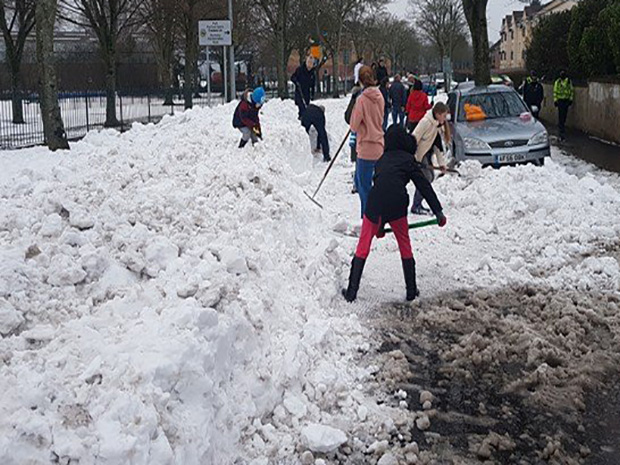 A COMMUNITY clean-up of the snow by Rumney residents was live streamed to over 23,000 people on Facebook.
Over 50 residents turned out to clear the streets including Charlene Lijertwood, 30, of Greeenway Road, Rumney, who live streamed it.
The snow was 4ft deep and was blocking access to Greenway Road, which meant public transport, emergency vehicles and the general public couldn't use the road.
She said: "I went out with my husband and kids to enjoy the snow when we saw a man shovelling snow. He jokingly asked us to help so we went home and got a shovel.
"I decided to try and get more locals involved and went live on Facebook. The video had over 20,000 views and meant so many other people got involved."
The video caught the attention of a man who attended the clean-up in a tractor.
Mrs Lijertwood added: "We all cheered and clapped when he arrived to help us. Not all superheroes wear capes and the man had a big green machine which cleared the road.
"I was very shocked that many people watched the stream. I didn't expect anywhere near that many people to watch it at all.
"The power of Facebook is amazing."
Amanda Poole, 34, from Harris Avenue, said: "We all met on Greenway Road at 12pm and cleaned the streets for an hour and a half before the tractor turned up.
"It was great for the community as many children attended including my nephews and everyone had fun."
David Jenkins, 32, from Willowherb close, St Mellons, volunteered in his 4×4 car and took people to hospital appointments and work.
"I was happy to help as it could have been my family in that positon. It's great that the community can pull together in times like this.
"It cost me nothing but a few hours of my time today and it put a smile on peoples faces, it's worth it."
"I was very grateful David got me to my Dialysis appointment at the hospital," said Rachel Ribton, 28, of Bodnant Close.
"I offered him money but he said if he couldn't do something for the community then what's the point?
"This also shows the community spirit we have in Rumney as everyone looked after each other."
Dave Lowes. 40, from Downton Rise helped with essential lifts such as taking nurses to hospitals.
"I posted a message on Facebook asking if anyone needed an essential lift anywhere.
"My trips ranged from taking a dog for an emergency treatment to the vet who told us, we probably saved the dogs life.
"It felt really rewarding to help people who were also just trying to help people. There is a massive community spirit in Rumney where we are excellent at coming together.
"Other residents cleared the snow and one young man cleared the length of the pavement along Newport Road. Nobody asked him to."