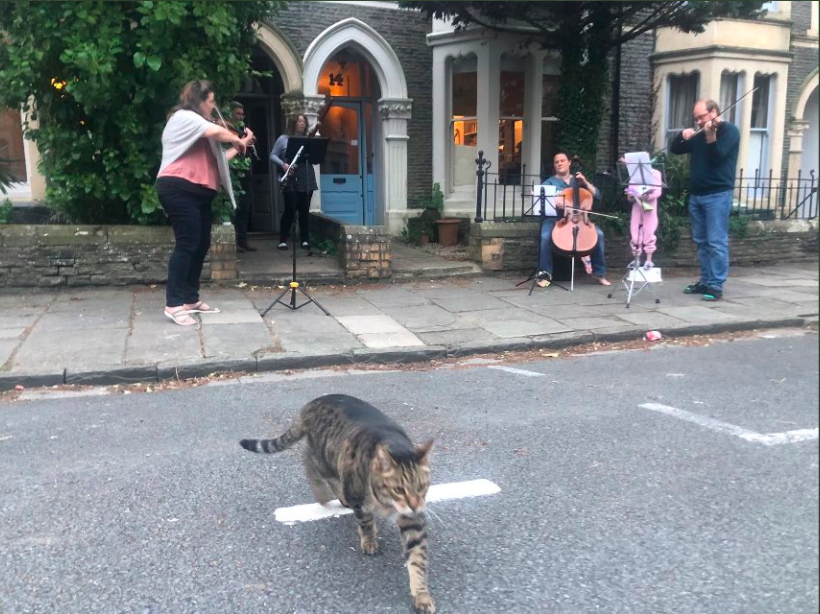 Clarinet player tells how socially-distanced music can help lift community spirits
For the past four weeks, Cardiff Street Orchestra has performed songs from classics such as Somewhere Over the Rainbow to modern favourites like The Bare Necessities — but what is the reasoning behind each arrangement?
Robert Plane, 51, alongside his wife Lucy Gould and daughter Florence, who play the violin and bassoon respectively, have lived next door to fellow professional musicians for the last 11 years. Little did they know that the situation, which Robert said was entirely "by circumstance", would one day be the perfect setup for a socially-distanced orchestra.
Week 1: Somewhere Over the Rainbow
In the first week, the musicians performed Somewhere Over the Rainbow as part of a national call-out for professional musicians to cover the song. While the group was apprehensive about the response, a positive audience reaction inspired weekly performances. The group now perform on Teilo Street in Pontcanna every Thursday night to clap for carers.
"We didn't know what the reaction would be like. For us, it was more about clap for carers, who are the focus and frontline," said Robert, reflecting on how the orchestra's music has pulled people together.
Robert, who plays the clarinet for the street orchestra, said: "The hard thing for musicians is that music appears like a luxury, but the way it can improve people's lives and keep spirits up is important, so it's a delicate balance".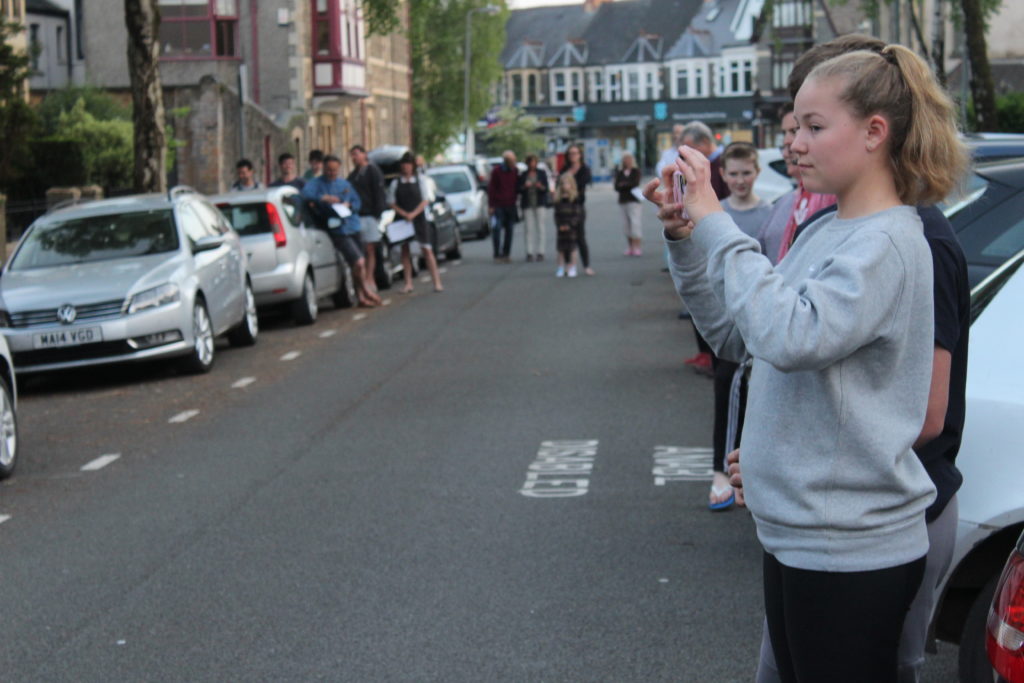 After the first success, volunteers who live on the street began to print off the song lyrics and post them through letter boxes, while wearing gloves to protect from the virus. Every Thursday, they stand on their front doorsteps and sing along to the melodies performed by the orchestra, all while keeping at least two meters away from non-household members.
Week 2: What a Wonderful World
Robert, who trained at the Royal Academy of Music, explained that the song choice "references rainbows, so that was the initial thinking behind that." Specifically, Robert refers to the lyric "the colours of the rainbow, so pretty in the sky," which he said relates to "the rainbow paintings in the windows [of Cardiff houses]".
"It's a song of simplicity and hope and love of fundamental things, which hopefully people will value more than we have done as a result of all this. I think we've become distracted by luxuries and things that aren't fundamental," he said.
Week 3: Calon Lân
Robert said: "We wanted to have a morale boosting, Welsh aspect, so Calon Lân seemed to be the obvious choice for that."
Although the street was initially apprehensive about singing alongside professional musicians, once it became clear that it was for community spirit, everyone started to enjoy it. As the audience became more involved, it became clear that the morale boost was just as important for the community as it was for its carers.
"Our street is very friendly. People genuinely really look forward to Thursday's, it's something in their diary. Quite a few people live by themselves here, so it's a little sense of community every Thursday night. It's about touching base with reality and normality," said Robert.
Week 3, Part 2: You've Got a Friend in Me
The song, made famous after James Taylor's original for Toy Story, was a response to the volunteering efforts and community spirit shown towards vulnerable people during the crisis. Tom Hanks – one of the first celebrities to be diagnosed with coronavirus – was given a special mention when the performance was posted on Twitter.
Robert said: "I think people have really been there for others in a way that we haven't before. There is so much volunteering, people taking shopping around for other people, looking out for them, caring and telling others they are there for them."
"The idea of You've Got a Friend in Me seemed really relevant," he added.
Week 4: The Bare Necessities
"Again, The Bare Necessities talks about the simple things in life. Friendship, happiness, health," said Robert.
The idea of 'bare necessities' is also relevant to musicians throughout Cardiff and the rest of the country, as they've had to adapt from their usual large concert halls and venues to perform in smaller, socially-distanced settings instead.
Robert said: "It's a really strange experience. Suddenly, all our deadlines have been cancelled. There's an uncertainty of not knowing when it will change, because the idea of gatherings of people is very far off".
As well as adapting how they perform, Robert and other musicians now teach online through Zoom and FaceTime. He said that socially-distanced teaching "changes the responsibility, because you can't hear what people are playing in the same way. Students have more ownership, so I focus more on general things like breathing instead of subtlety of sound."
Week 4, part 2: You'll Never Walk Alone
"It's a song of solidarity and support and it related to Captain Tom Moore's hundredth birthday. It was very topical, but they're also great melodies," said Robert.
While the orchestra has continued to spread the joy despite the pandemic, its members are aware of the uncertainty musicians will face as the country slowly eases out of lockdown.
Robert's main concern about performing for a packed audience again is that "people who listen to classical music are generally more elderly than other audiences." Since elderly people are at a higher risk of getting coronavirus, Robert added that "it will be a long time before they can come back. Whether concert halls are suitable for social distancing will have to be led by a scientific approach."
Robert suggested that musicians may have to adapt to "pop-up concerts in streets, or maybe town centres," which could be more viable "as people can stand at a better distance from each other."
This week, the orchestra will perform All by Myself and a piece of classical music called Pachelbel Canon. "It will give people a break from singing," Robert joked.
The Cardiff Street Orchestra is raising money to support fellow musicians who have lost work since lockdown