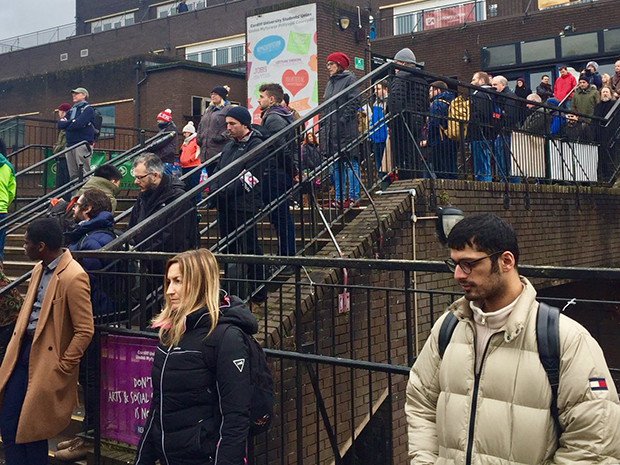 UNIVERSITY College Union strikers and supporting students staged a flash mob today on the steps of the Cardiff University Students' Union building.
It was part of the third week of strike action that UCU members are taking against pension cuts.
The flash mob saw lecturers and students standing still on the steps of the union without making any noise for 10 minutes.
A tweet from the Cardiff UCU twitter account read: "Hello Cardiff Uni Students' Union. Your own silence on the strike isn't reflecting broader student support in Cardiff or the UK. Let's work together; let's talk."
Dr Andy Williams, a senior lecturer at Cardiff JOMEC and the media spokesperson for Cardiff UCU said: "The flash mob wasn't only about the silence from the students' union, that was just a factor. The flash mob was deliberately ambiguous; it could be read in a lot of different ways because it represented a lot of different things."
Dr Williams said the flash mob enjoyed a great amount of support from students. "Our students were protesting for a variety of reasons today, some joined because it was a little bit different. It's a more open and playful way of making a point about something.
"It's a change from holding a placard or standing on a picket line, and it really worked because it allowed more students to join us and support their lecturers. But this is no different to the levels of support from students throughout the three weeks of strikes, we've been bowled over by how many students support us, and the many ways they want to help us."
Neil McEvoy, AM for South Wales Central, joined the picket lines today in a show of support.
Mr McEvoy said: "Working hard, saving a good pension and then being able to enjoy retirement is a key part of the Welsh dream. Slashing lecturers' pensions like this is just not on.
"I'm proud to support the university staff. Their morale is high because they know what they're doing is right and they know they have the public's support. We all stand with them and I'll keep joining them for as long as it takes to win".
Laura Rees, 22, a postgraduate history student at Cardiff University, also supports the strikes.
Ms Rees said: "I think the strikes are important as it is a lot of pension money for the lecturers to lose and they really do go above and beyond for students, it's only fair that they get respect they deserve from the university for that."