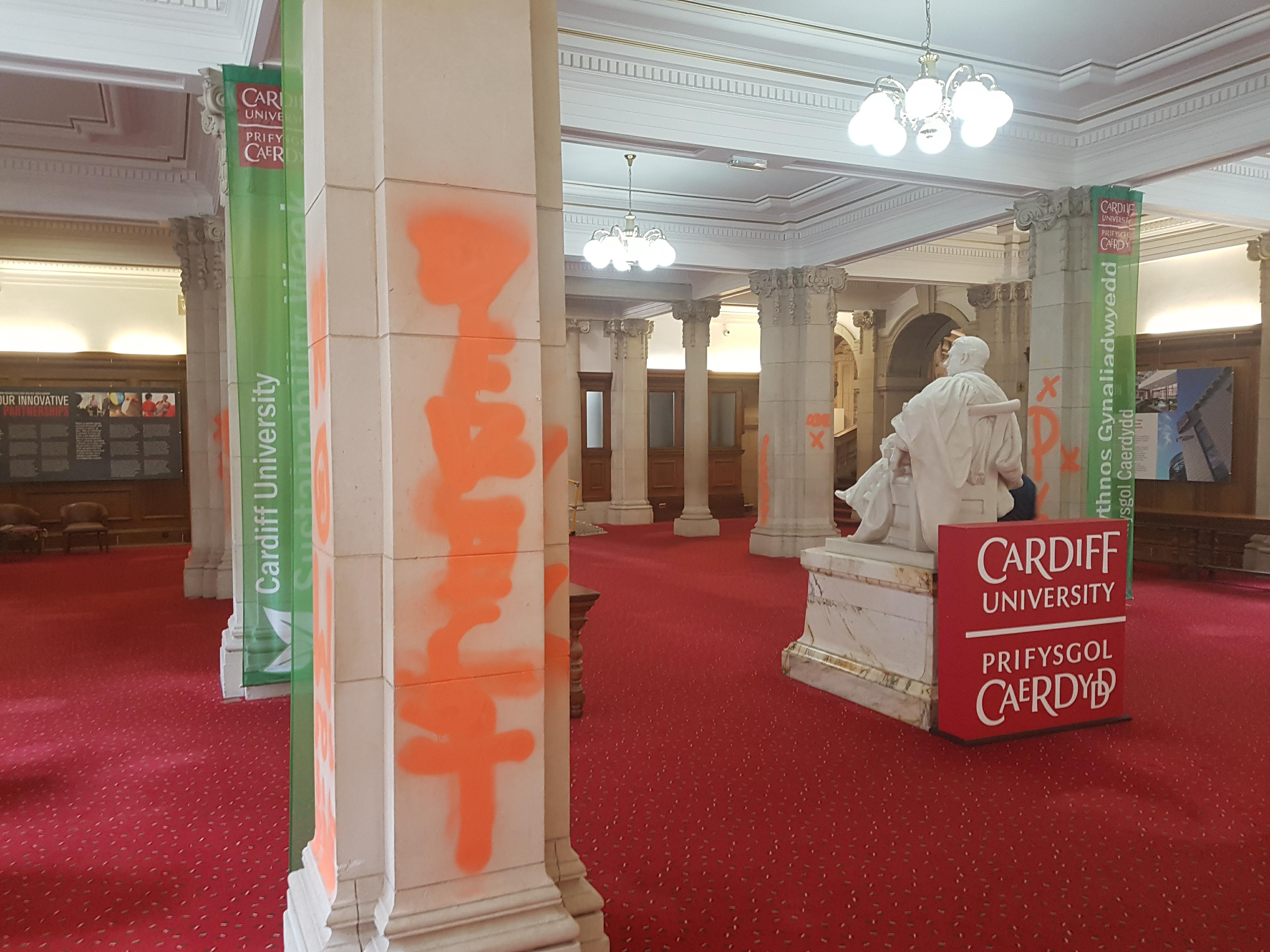 ANTI-FOSSIL fuel campaigners have vandalised the main building of Cardiff University in a protest against their investment in fossil fuels.
A group of students entered the building with chalk spray paint cans and painted pillars in the main foyer with environmental slogans.
They were asked to leave and their orange paint was confiscated but no arrests have been made. The pillars are being cleaned by university staff and the building will remain open.
The slogans promoted an initiative set up by Go Fossil Free, who are a campaign group urging companies to stop investing in fossil fuels.
The divest movement, started by Go Fossil Free, aims to get companies to remove investment in the fossil fuel industry by getting rid of stocks and bonds that are unethical or morally ambiguous.
A spokesperson from Cardiff University said: "Whilst we fully appreciate there are strongly held views and we respect the right to lawful and peaceful protest where such actions cross the line then we reserve the right to investigate under our student disciplinary procedure.
"We are currently reviewing the University's ethical investment policy and the current draft includes for the first time a clear statement that the University will divest from companies that make more than 10% of their revenues from coal and/or tar sands.
"The draft policy may be further revised to reflect current concerns when it is considered by University Council at its meeting later this month."
In 2015 when a FOI request revealed that Cardiff University had invested £2m into the fossil fuel industry and as of July 2017 the university as £10m invested.
Two weeks ago the students staged a sit in of the vice-chancellor's office and intend to continue protesting with two of their members going on hunger strike on Friday, March 9.
President of Cardiff People and Planet, who have claimed responsibility for the attack, Friederike Lürken, said: ''Cardiff University have to decide what their stance on fossil fuel investment is.
"Either they remain in denial about the ethical consequences of their investments and maintain their portfolio as it is. Or they acknowledge the destructive effects of the fossil fuel industry and withdraw their support for it. Through this policy proposal, Cardiff University doesn't commit to any real change''  
The university is due to make a decision on divestment on March 17.