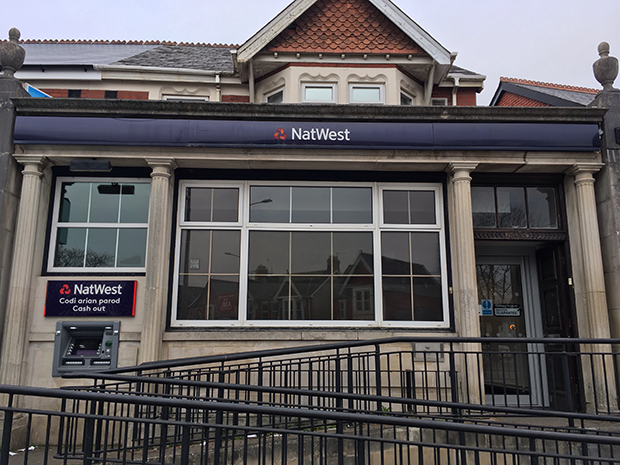 A BANK'S decision to close a Cardiff suburb's branch and replace it with a van parked a mile away for one hour per week has been branded "farcical" by residents.
NatWest is replacing its Whitchurch branch with a "mobile banking van" parked in a hotel a mile away from the village every Thursday between 12.40pm and 13.40pm.
Customers of the bank, which is also closing branches in Llandaff, Rumney and the Heath Hospital, are furious with the decision.
"I think it is absolutely farcical and an insult to their customers who bank with NatWest and have banked with them for very many years," said Bill Farnham MBE, chairman of Cardiff West Neighbourhood Watch Association.
The mobile bank, which will be sited in the Village Hotel's car park, will replace the bank's branch, which is due to close on May 17.
The location for the mobile bank, in the Village Hotel car park in Coryton.
The Village Hotel is located a mile further out than the bank's current branch. The hotel car park is just off the busy Pendwyallt Road connecting to the Coryton Interchange, one of the largest roundabouts in the UK. Residents have raised concerns about road safety along this busy stretch of road just off the M4 numerous times in the past.
Mr Farnham worries about the short length of time the mobile bank would be accessible to customers for.
"For the mobile bank to be there for only one hour a week is ridiculous," said Mr Farnham, who questions whether customers will be able to use the bank's services in that time.
The Whitchurch branch on Park Road is one of four across Cardiff to close. Branches in Llandaff, Rumney and University Hospital of Wales in Heath will also be affected.
When the Whitchurch branch closes the nearest NatWest will be more than two miles away in Llanishen, with Canton and Roath branches being the next nearest three miles away.
NatWest have cited falling branch usage as the reason for closures. However, residents dispute NatWest figures that only 48 people a week use the branch in Whitchurch, where there are often queues of customers out of the bank.
Residents are also concerned about the impact that the branch closure will have on elderly people who may find it difficult to travel to the Village Hotel and do not use internet banking.
"Not all of us are able to internet bank and at my age I don't want to travel to the bank," said June Davies, 80, who is a retired nursery teacher.
"Online banking does not suit everyone and it is easier to deal with a member of staff face to face, when there are problems," said Sue Jenkins, a senior lecturer at Cardiff University, who lives in Rhiwbina and uses the Whitchurch branch.
"The closure of the Whitchurch NatWest branch means that there will be no local banks for those of us living in Rhiwbina and Whitchurch. The Whitchurch branch was walking distance and easily accessible," said Mrs Jenkins.
Local politicians have also expressed concern about NatWest's actions.
Anna McMorrin, Labour MP for Cardiff North, said: "For a bank that is 73% publicly owned, to walk away from the community and customers in Whitchurch is shameful.
"When I met with the NatWest managers in December, they agreed to work with me and the local community to find the best possible location for the mobile bank. However, once a week for one hour is not an adequate alternative, especially given the proposed location is over a mile from Whitchurch village."
"We've spent enough money bailing out banks, it is now time they paid their debts."