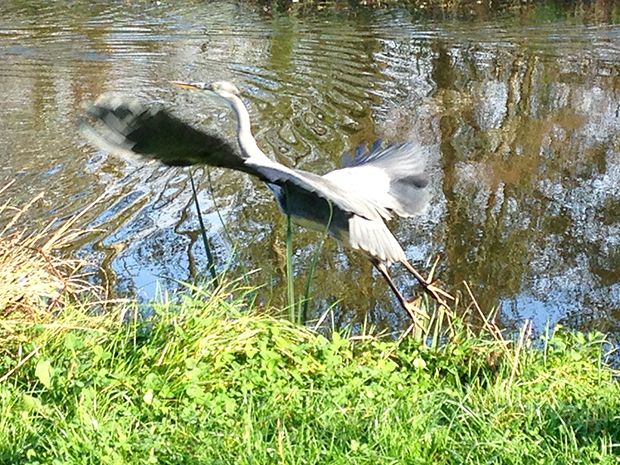 A CARDIFF litter picker was caught in 100 metres of fishing line abandoned by a lake in Pentwyn.
Barbara Wilcocks, who leads Pentwyn Pickers, became tangled in a fishing line strewn across the path and grass in Parc Coed y Nant whilst she was litter picking on Tuesday morning, March 6.
Mrs Wilcocks believes local fishermen, who fish overnight at Pentwyn Lake in tents, are responsible.
"It was a real risk to walkers. I couldn't see it and got really entangled, so had to take my boots off as it was caught in the grooves.
"A child or even a buggy could have got tangled with it and fallen in the lake," said Mrs Wilcocks, of Hollybush Road.
Pentwyn Pickers also found other kinds of fishing litter at the lake, including bait cans and an open pot of toxic lead weights.
The lake is home to swans, heron, Canada geese, mallards and foxes.
Coun Joseph Carter, Welsh Liberal Democrat councillor for Pentwyn and Llanedeyrn, said: "People are concerned about our swans getting caught up in fishing wire. Last year a couple of swans had cygnets and there were worries about their survival."
"Fishing litter can be a problem around Pentwyn lake, as it is in other areas of Cardiff. The council has been thinking about putting together some formal agreement about looking after the Pentwyn lake, but there have been no recent update about this."
By contrast, less than two and a half miles away, Roath Lake has Park Rangers who check regularly on their wildlife.
Mrs Wilcocks believes litter in Pentwyn has increased over the past month, and found large amounts of discarded plastic from people sledging.
She said this litter included "broken sledges, boxes, lids, trays, sheeting" and even a suitcase.
"We are constantly finding carrier bags of used nappies in the woods which people throw anywhere. Plus we find used panty liners and used Durex in residential streets. It never decreases," she added.
Pentwyn Pickers, which is run by Keep Wales Tidy, have 14 members who cover Pentwyn and Llanedeyrn, but want to see more join.
Their next community litter pick on Friday, March 16 at 10am is open to any volunteers who want to help.