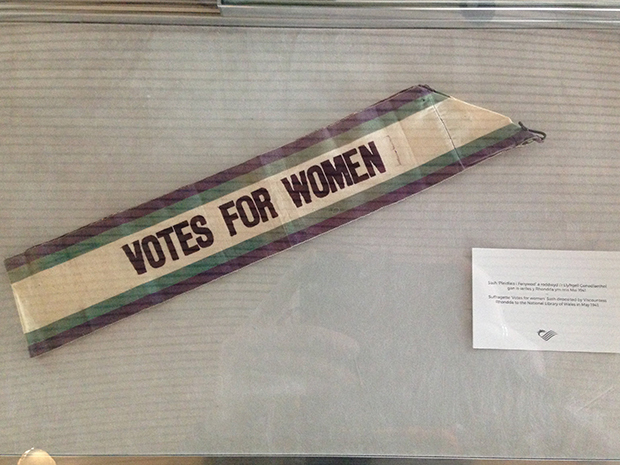 MEET your foremothers: Edith Mansell Moolin. Lady Rhondda. Mary Jane Benson.
This crowd of Welsh suffragette women and more are why women can vote today across Wales and the UK.
The Senedd is continuing International Women's Day celebrations until March 16 with a display of pictures, banners and postcards from the Welsh Suffrage movement.
The memorabilia has come from archives across Wales including the National Museum Cardiff, the National Library for Wales and the Museum of London.
Behind the archives, the women come from a surprising range of backgrounds in Wales, from a Pembrokeshire school teacher to a campaigner who tried to blow up a post box.
These aren't just the headline acts like the Pankhurst family, but lesser known faces and events of staunch protest, such as the Welsh suffragettes who were thrown out from the Abergavenny Eisteddfod in 1913.
Authors on the Welsh women suffrage movement, Ryland Wallace and Angela John, have worked with the National Assembly of Wales to curate the display.
Two Cardiff women viewing the exhibition say they are both appreciative of this "important" display of women's history.
Linda Mitchell, of Grangetown, feels the achievements of Welsh women are not talked about enough.
"It was a long struggle to get the vote for women. It happened at different times around the world and change only comes when we all work together and persevere," she said.
People walk by, lingering by 1911 census forms, cartoons of the suffrage, a portrait of Lady Rhondda and a picture of Emmeline Pankhurst's talk at Haverfordwest.
Ms Mitchell's friend, Claire Spears, of Pen Y Lan, said she was glad she is able to witness the exhibition.
"It is so encouraging to see movement of women, fighting for what they believe in, and I pray that this continues in our generation and in different areas.
"We need to fight against complacency and fight for real justice," she added.
Rosemary Butler AM, Deputy Presiding Officer, said: "International Women's Day is a day of global significance that gives us all an opportunity to reflect on the economic, political and social achievements of women, both past and present."
More information about International Women's Day at the Senedd can be found here along with a live video of their event on March 8.