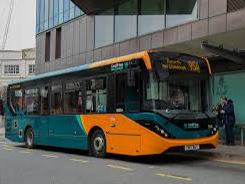 BUS passengers in Cardiff will soon be able to use contactless payments for their journeys.
Cardiff Bus and N.A.T will join Stagecoach and First Cymru by the end of the month in offering contactless payment on all their buses.
Contactless payment enables people to use their credit or debit cards to pay for goods or services without having to enter a pin number. It also means that Cardiff Bus users will no longer have to find the exact change for their journeys.
The 'tap and go' system was set up to make it quicker and easier for people to complete transactions and is already used for transport across the country, such as the Oyster card system on the London Undergound.
Alesha Lonnkvist, 19, from Barry goes to university in London. She said: "It's about time that Cardiff adapted with the times.
"London uses contactless for all transport so when I come back to Cardiff I never have cash on me.
"It's so much more convenient and solves the problem of needing the correct change."
Toby Forrest, 25 from Severn Grove, Cardiff, agrees that the implementation of contactless payment is a good move. He said: "More and more people have access to contactless payment methods and it shows Cardiff is willing and able to adapt to that growing demand.
"No system will ever be perfect but contactless has worked well in other cities so I don't see why Cardiff shouldn't be able to do the same.
"I have reservations as to what it will mean for Cardiff Bus' iff app though because I find it really useful."
Cardiff Bus will make contactless payments available for single and day tickets on March 25 and eventually hope to replace the iff card with a customer's contactless card.
The iff card is a travel card that allows customers to add credit to buy tickets on a daily, weekly or monthly basis.
Cardiff Bus have confirmed that the price for contactless will be the same as paying in cash for the bus rather than the cheaper app rates.
Cardiff Bus trialled the new payment system on some bus routes, which has led to some concerns on social media. Paul Turley said on Twitter: "I frequently catch the 27 and at least 50% of the time the readers don't work."
N.A.T intend to roll out the payment system to all buses for all ticket types on March 19.
Manager Kevyn Jones said: "The development of contactless payment is something we have been working on for a number of years and will be available on N.A.T buses in Cardiff, Newport and the Vale of Glamorgan."