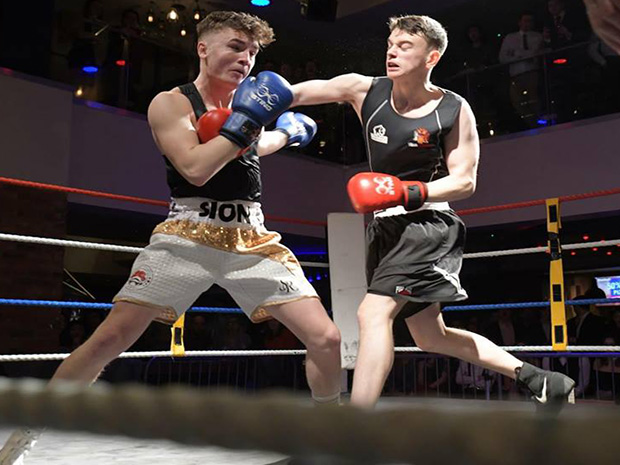 BOXERS from across the city competed in front of more than 300 people at the Cardiff University Students' Union.
And the university's Amateur Boxing Club enjoyed success at the event called All or Nothing.
"I am extremely proud of the skill, courage and determination each boxer showed on the night," said coach Jimmi Sandham, 26, from Roath.
"It's great to see the club grow and we welcome everyone to join and learn the art of boxing with us.
"Cardiff University boxing shows are always some of the best I've ever been to, the crowd is always electric and I can't wait for our next one."
Bronagh Donaghy, 22, from Cathays competed at the Park Place event and despite losing, she hopes to compete again.
"The experience was very valuable, despite the fact that I lost. Seeing your family and friends cheering you on makes it all worth while.
"Boxing is an amazing sport for women to get involved. Despite the brutal nature of the sport, there is a massive chance for females.
"All the skills and qualities boxing has taught me will be taken onto my next challenge."
Bronagh is hoping she can inspire more female boxers to take part at future events.
"I'd love to see more girls involved in the boxing club. The club have made me feel so welcome and I have received a lot of support as a female boxer.
"It would be nice to increase the female boxing population and also help with sparring."
Daniel Walsh, 19, studies at Cardiff Metropolitan University and was victorious in his light welterweight bout.
He said: "Since joining the boxing club I've been looking forward to the home show for a long time.
"I felt I picked the right shots and my corner men gave me the right advice by using angles and throwing more combinations.
"I landed good shots and these were cheered by family and friends.
I want to wish everyone well done that competed because it takes a lot of bottle to get in the ring and a big thank you to everyone who supported us."
Alex Mackay, 26, of Welfield Place, Roath, also boxed at light heavyweight level and won against an experienced opponent.
He said: "It was a tough fight and I had to push hard in the last round to get the decision.
"Cardiff University's boxing club is great with some fantastic coaches. They work hard and a lot of effort goes into organising and delivering training sessions.
"I look forward to seeing the clubs future success."