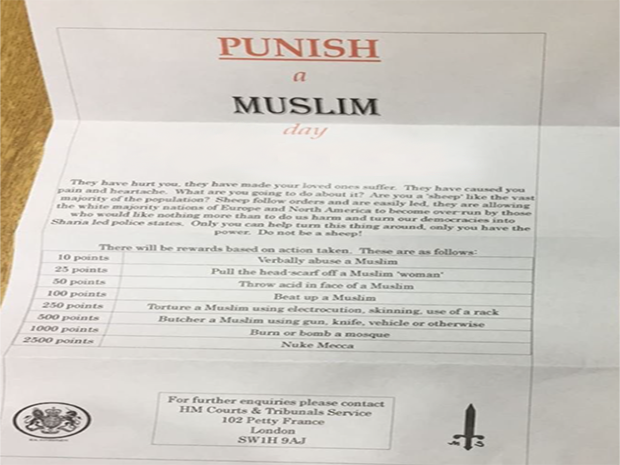 THE Muslim Council of Wales has called an emergency meeting with community leaders after Islamophobic letters were sent to Cardiff homes.
The A4 letters titled "punish a Muslim day" tell people to get involved in violent crimes against Muslims.
Labour MP Jo Stevens said: "These letters are criminal and absolutely deplorable. They constitute hate crime, pure and simple.
"Police around the country are investigating and we must see prosecutions on the back of them.
"I have been liaising with South Wales Police over the issue and I know they are working closely with Cardiff's Muslim community to ensure that our city feels safe and protected."
The actions on the list include pulling a headscarf from a woman for 25 points and 100 points for beating up a Muslim.
The letter also encourages acid attacks and verbal abuse.
Saleem Kidwai, secretary general of the Muslim Council of Wales confirmed letters have been received
He said: "Obviously we are concerned. We don't know where it started or who is behind it but even one incident is too much for any community."
Iman Atta OBE, director of Tell MAMA said: "The letters have created fear and trepidation not only for those who received them, but also within wider Muslim communities.
"We have been working directly on these cases to ensure that communities and individuals are reassured.
"If anyone receives a letter, it is essential to keep the envelope and not to handle the letter too much."
Dr Abdul Azim-Ahmed, who works with the Muslim Council of Wales said: "The frightening and clearly malicious letters sent to individuals across the UK are worrying, but unfortunately, much too common.
"The letter is only a small aspect of a bigger trend. Mosques and Muslim institutions regularly receive hate mail.
"The creeping fascism and Islamophobia in Britain is something we all need to be concerned about.
"I hope politicians will take the issue seriously and seek to tackle it fervently."
Owess Munir, head charity fundraiser at Islamic Relief said: "It's scary in this day and age that people are sending hateful letters around.
"I hope the authorities take action and the people behind this are brought to justice."