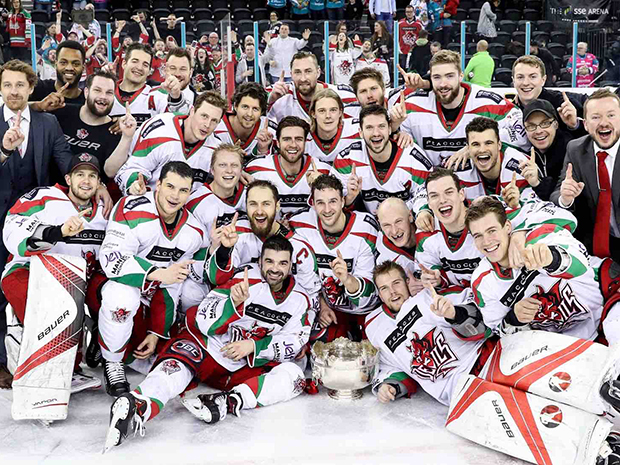 CARDIFF Devils confirmed their status as back-to-back league champions in a dramatic late victory against Belfast Giants last Friday. Here The Cardiffian looks back at the high points of their season with a countdown of the top three Devils performances this year.
Cardiff Devils 4-3 HC Davos, Champions League group stage, September 3, 2017
The Devils may have finished bottom of their group in this year's Champions League, but there were high points to take from the competition.
After losing their first three games in Europe, shipping 22 goals in the process, Cardiff hosted Swiss powerhouse HC Davos in September last year.
An overtime winner by Drew Paris earned the Devils their first Champions League victory in the entire history of the club, sending the crowd into a frenzy.
The boys in red then followed up that dramatic win by beating last season's Swedish champions Växjö Lakers 5-1.
Cardiff Devils 7-1 Sheffield Steelers, Challenge Cup semi-final second leg, February 8, 2018
Cardiff lost the first leg of their Challenge Cup semi-final 6-2 in Sheffield and needed to win by five goals to win on aggregate.
So they went out and won by six.
The Devils pulled away in the third period with three goals in two and a half minutes to win 7-1 and advance to the final.
A historic comeback for the Cardiff Devils, one that will live in the memories of every person in attendance for a long time despite not being able to defend their Challenge Cup crown and losing in the final to Belfast.
Belfast Giants 2-3 Cardiff Devils, league game, March 16, 2018
With three games remaining of the regular season, Cardiff clinched the league title against the Giants with a thrilling late win in Belfast.
The game was tied at 2-2 and it looked like the Devils might have had to wait another week until their league champions status could be confirmed.
But Andrew Hotham danced through the Giants' defenders and tucked the puck past the goalie with just 20 seconds remaining on the clock to secure a dramatic win and earn the Devils their second league title in two years.
The Devils now look ahead to the play-offs, where they seek to replicate last year's triumph and lift the play-off trophy once again. Their first game will be on April 1, against an unconfirmed opponent.