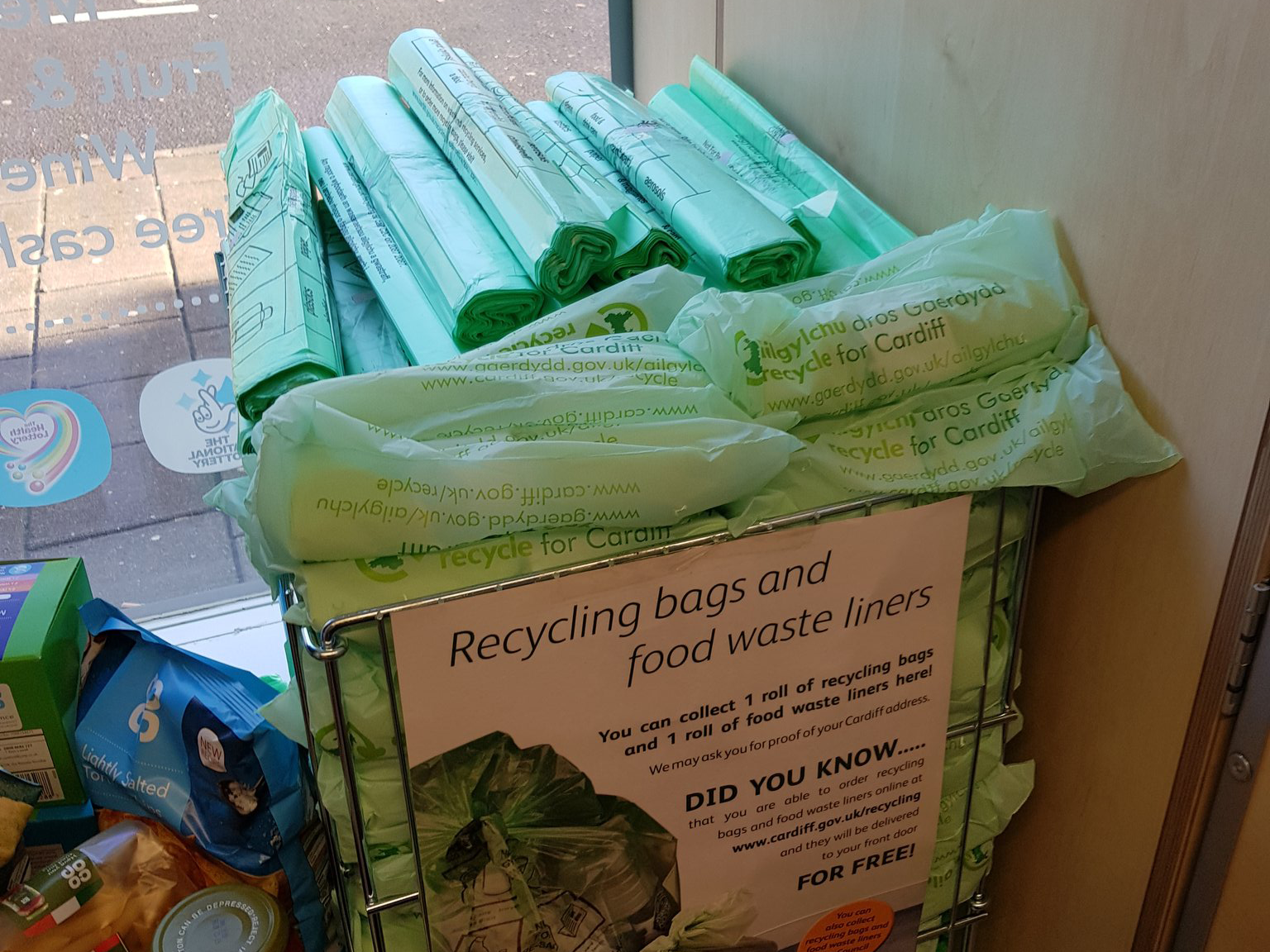 RESIDENTS in Cardiff are finding it difficult to get hold of green bags for their recycling waste. They also say new bags are flimsier and split more easily.
People living in Cardiff can collect rolls of green bags from community buildings and some businesses, or ask for them to be delivered via an online form.
But residents are reporting that stocks of the bags have run out in many places across Cardiff, including the Pen-y-Lan Library and the Gabalfa Hub.
Lisa Davies, 44, from Roath, says the council could do more to make the bags available. She lives in a block of flats, so new rolls left outside don't always get to her.
"I would like them delivered. I just struggle to get to a place to collect them regularly, due to work restrictions. I really want to do my bit when it comes to recycling but it's difficult if I can't access the bags," she said.
Many householders have taken to Twitter to express their frustration.
Iris Furnham, who lives in Llandaf North, said there was a shortage of bags in the north of the city.  
"It is either a bus journey to Whitchurch or a 30 minute walk to the HYB in Gabalfa," she said.
Ms Furnham has ordered new bags online before but said that it took over two weeks for them to be delivered.
James Ham, another Twitter user, said: "False economy? Green recycling bags supplied by Cardiff Council now so thin I had to use three recently to contain contents of one bag. They just split. Who checked before ordering them?"
Cardiff Council has admitted having issues over the past five months with its supplier being unable to keep up with demand in some areas.
Green bags are currently supplied by JPK Trade Supplies Ltd, based in Bristol, which was awarded the contract in August 2017.
Despite complaints, the council says the bags are made to an industry standard specification designed for dry recyclable waste products.
"The thickness of our green recycling bags is 23 microns, made of bi-modal high density polythene and is designed to hold 10kg of dry recyclable waste," said a spokesman for Cardiff Council.
"The bags also undergo various tests that simulate the operational rigours the bag would be expected to endure. Following selection the successful supplier is required to follow a quality control regime.
"During production, random samples of each batch produced undergo specific quality control tests before dispatch. Once in use, if a bag becomes punctured or torn this is usually caused by sharp objects piercing the plastic or because the bags are simply overfilled."
Last December, the Cardiff Council Policy Review and Performance Scrutiny committee meeting heard that recycling waste services were projected to underspend by £199,000 this financial year. Most of this underspend comes from bag purchases.   
Last September, the Environmental Scrutiny committee heard how an estimated £1million was lost under the previous system as there was no control on the number of recycling bags issued and limitless numbers of recycling bags were given to anyone.
Councillors reported that Cardiff recycling bags were even being used in neighbouring authority areas.
Over the last five years, the council has spent £2.9 million on green bags. A total of 98.5 million green bags have been issued during the five years, which equates to 3.7 million rolls.
There are around 151,243 households in Cardiff according to the latest ONS data, so that is the equivalent of nearly five rolls per household every year.