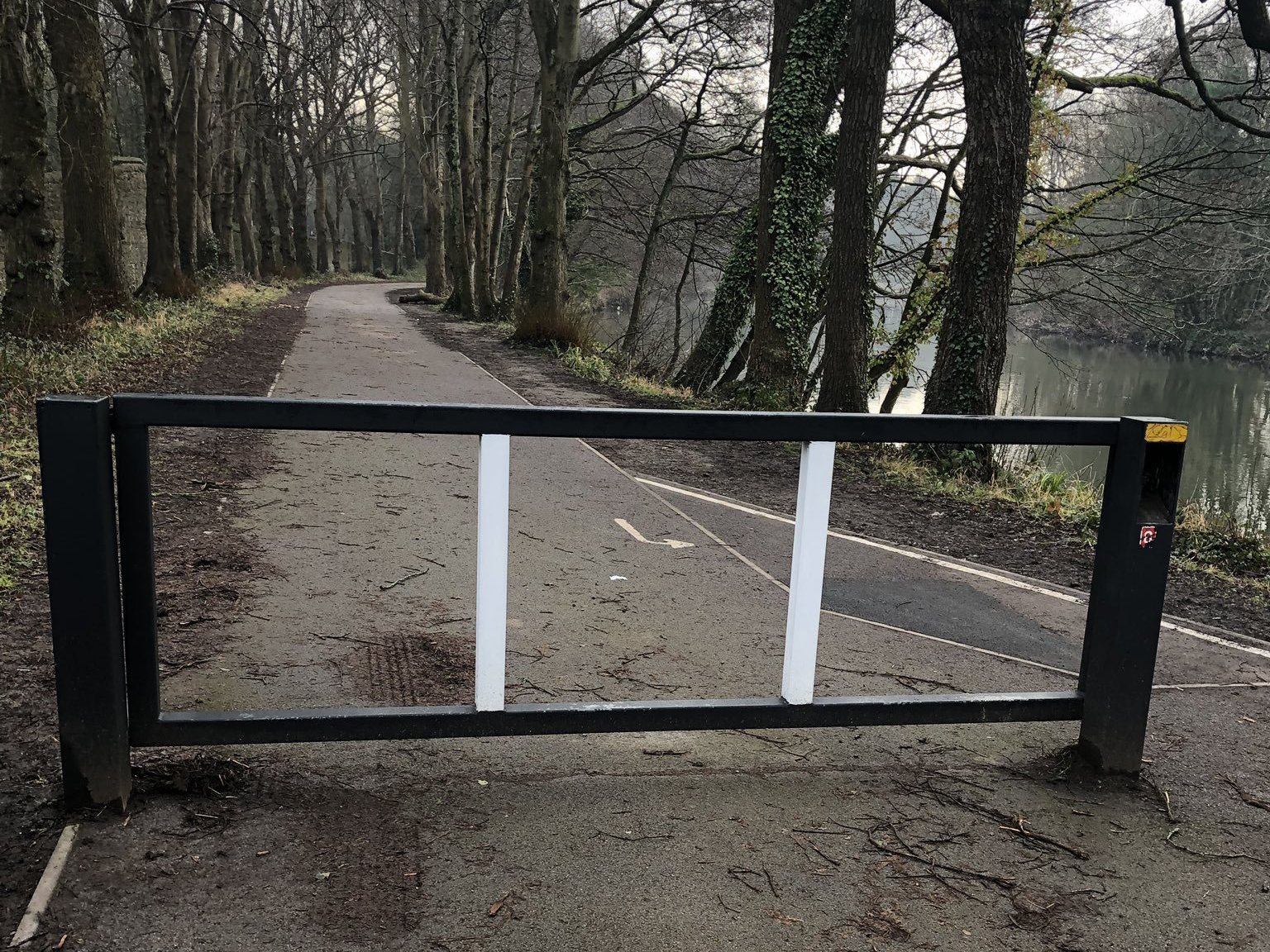 A GATE on the Taff Trail has been described as a "booby trap" by a cyclist despite efforts by Cardiff Council to increase its visibility. 
Cardiff Council painted the middle section of the barrier gate on the Taff Trail white after cyclists  complained they were hard to see. 
However, Nick Leney, a cycle courier from Grangetown, said on Twitter the gate was a "booby trap" because "at night you will only see the white uprights" and not the outer posts of the gate. 
Mr Leney, 45, said he cycles along the path every few days and today was the first time he had seen the white paint on the two middle bars. 
"I have good lights so I'm probably OK, but anyone with poor lights, flashing lights or low battery could be easily caught out if they glanced away or an oncoming rider with bright lights dazzled them," said Mr Leney. 
Alex Williams, 30, who works for cycle shop Punk Bikes just off City Road and used to be a courier, said: "I never had a problem getting a bike through, the only thing I do not like is it forces you to go through the same entrance as pedestrians." 
Mr Williams said any improvement to visibility would depend on the type of paint used and another option could be to put up a light. 
Other cyclists have complained that the tarmac on the Taff Trail is dangerously slippery and called for the gate to be replaced by bollards to improve access. 
Cardiff Cycle City, a group that aims to improve cycling in the city, said in its January update that gate passes on the Taff Trail were top of its genda. 
The group is calling for locking bollards instead of gates at Blackweir Lodges to reduce conflict between pedestrians and cycles at the currently very narrow shared pass.
Cardiff Cycle City also wants repairs to potholes at these passes, which it describes as "dangerous", and for dogs on shared use pathways to be on leads. 
The group's committee plan to raise these issues with the Cardiff Cycling Advisory Group at its next meeting. 
The narrow path around the gate could limit access for non-standard bikes. 
Cardiff Pedal Power is a charity that encourages cyclists of all abilities to take up the sport and take wider adapted bikes along the Taff Trail. 
One Twitter user asked how those wider cycles could get past the gates on the narrow passes. 
Cardiff Pedal Power has been asked for comment. Cardiff Council has not yet responded to a request.