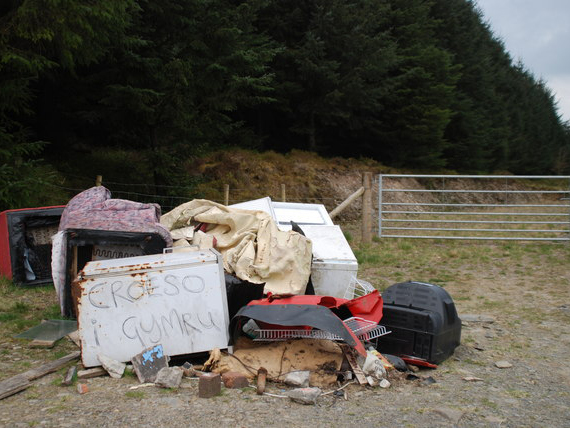 RESIDENTS of Cardiff who hand their rubbish to someone else who then fly-tips it could face a penalty of up to £300.
Assembly members are expected to approve plans at the Senedd today to help councils clamp down on residents disposing of their waste through unregistered companies.
While no date has been set for when the new rules will be implemented, Cardiff's Environmental Scrutiny Committee met yesterday to draw up a report on fly-tipping challenges facing the city.
Proposals were made for an increase in education on the subject, regarding how waste can be disposed of responsibly.
Data from Stats Wales shows a significant decrease in fly tipping over the last decade in Cardiff.
Last year there were 5,928 incidents, nearly two-thousand less than the previous year.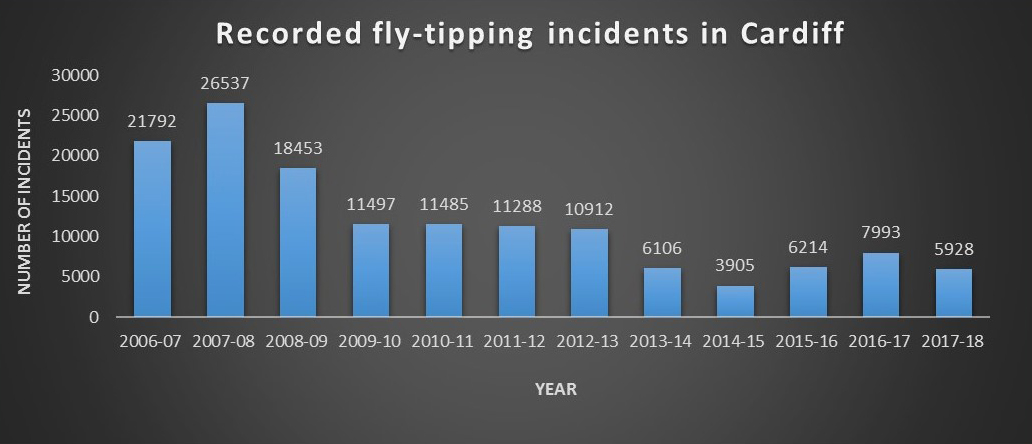 Project co-ordinator for Fly Tipping Action Wales, Neil Harrison, said the data shows that actively monitoring fly-tipping hot-spots was working.
His group works alongside Natural Resources Wales in an attempt to end fly-tipping across the country.
How can you avoid a fine?
Residents should always check the credibility of the person collecting their rubbish. They must have proof of registration with Natural Resources Wales before taking your waste.
"We are pushing for this to become a statutory duty, in the hope that the new legislation will increase the level of duty of care of residents," said Mr Harrison.
Councils will be able to keep the money from the penalties to put back into efforts to clean up the city.
Fines will be halved to £150 if paid early.
Is it a student problem?
An elderly resident of Cathays, who preferred not be named, said; "It's the students that can't be bothered to take it (litter) home. They think 'oh somebody else will do it', and dump it.
"They need to be responsible for their own mess. When I was younger you'd take it home with you."
Fly Tipping Action Wales are also planning a nationwide campaign to make sure young people in particular are aware that they have a duty of care to their area.
"We aim to do this through educating households on reducing their waste, as well as reminding them of their responsibilities when disposing of it," said Mr Harrison.
"It is fair to say we see more fly-tipping in student areas.
"Cardiff have done some really good work in this area through Get It Out For Cardiff (an initiative which encourages students to dispose of waste responsibly), which has been successful in educating students."
The national awareness campaign will be delivered over social media, radio and through the distribution of education packs online.
'Council cuts mean it is tough to monitor fly tipping'
Dave King, 55, is a resident of Cardiff and a committee member for Cardiff Rivers Group. The group, which now has 500 members, started as Keep Wales Tidy with just six people in 2009. It focuses on removing rubbish fly-tipped near rivers and streams.
He thinks that council cuts have made groups like his essential in ensuring Cardiff remains a nice place to live.
"In an ideal world the Council or Natural Resources Wales would be able to come out and do this themselves. But due to a lack of resources they just don't have the money to do it.
"Where council budgets are being cut the ring fencing of essential services such as social care and education have focus, and the axe falls on things like this.
"So as residents we have a choice. We either accept the rubbish that is all around us or we do something about it ourselves, crack on and sort it."
The aim of the pending fines is to ensure that organisations such as Cardiff Rivers Group will one day not be needed.