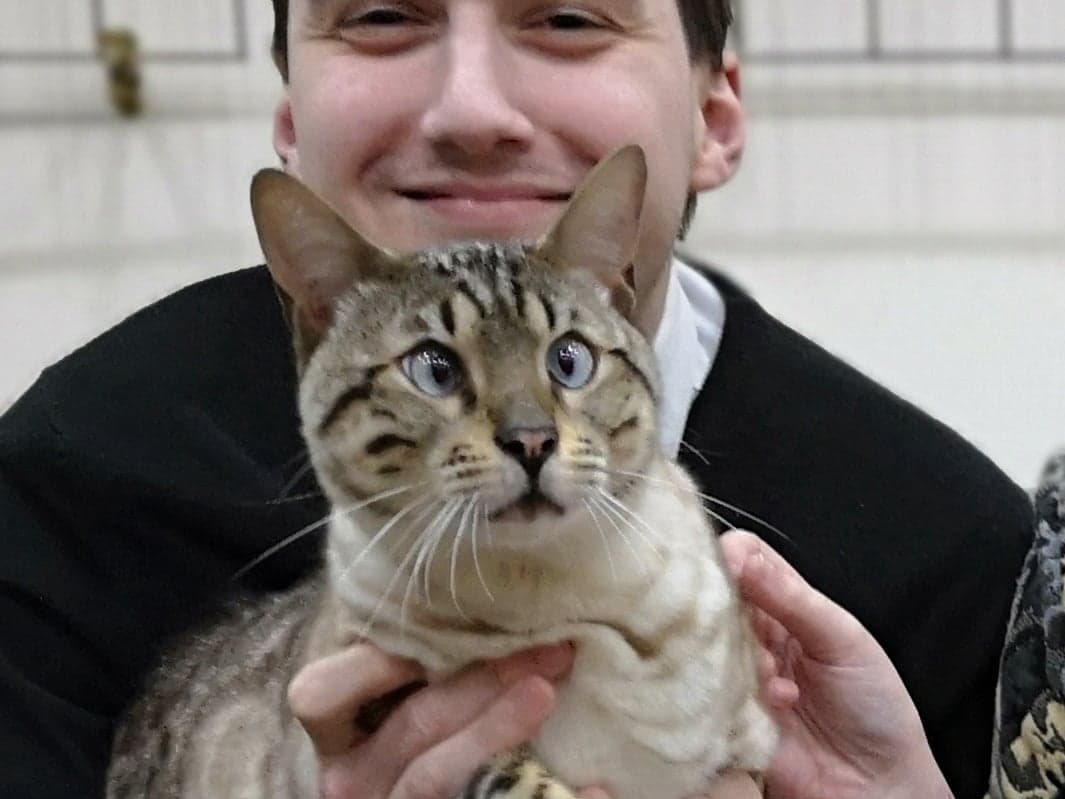 A Bengal cat was reunited with his owners after being 'lost' for a week.
Olaf Turner, 2, is a Bengal cat who has hundreds of friends in the community and even a dedicated Facebook page with almost 300 followers.
This is because he spends most of his time away from home, often in the shops that surround his owner's house.
But on February 12 when Olaf didn't come home for dinner, his family were alarmed.
His 'mother', Emma Turner, 38, was concerned that someone might have catnapped him because he is so famous in the area.
However, he was finally found on Saturday, February 16, by one of his fans who works at a phone shop on Holton Road.
Olaf tends to slink from shop to shop, between Richard Street and Tynewydd Road in Barry.
The cat protection store on Holton Road has a bed in the store's window for Olaf and is one of his favourite snoozing spots.
Ms Turner told The Cardiffian: "Olaf thinks that he is a French Bulldog. He doesn't act like a cat really.
"If we take the dogs on a walk, he comes on a walk with us. If we take the dogs to the park, he just follows us and runs around the park with the dogs."
Out of fear that someone might mistake Olaf for a stray, Ms Turner created a Facebook page called 'Spotted Olaf' in October 2018, where people can post when they see Olaf around town.
Ms Turner said that she "just wants to raise awareness of Olaf, so that everyone knows that it is okay for him to wonder the around her neighbourhood, and he does come home every day.
"He is with a loving family. He is a really happy and healthy cat.
"I don't think that people agree with the way that we look after him. But I think the more people know about him, the more adjusted he'll be because people do look after him and love him."
James Griffiths, 23, was the person who found Olaf on Saturday. He works at a phone store called Get Connected on Holton Road.
This store is another one of Olaf's favourite places to hang out and he can usually be seen lying on the store's sofa.
Mr Griffiths is close to Olaf and would like to think of himself as Olaf's second owner.
On most days, he gives him treats and gladly invites him in to spend time with him.
Mr Griffiths was planning to go out and look for him on the day that Olaf wandered back into his store.
"When he first started working here, I thought he was a stray, even though he is well groomed and well looked after," Mr Griffiths told The Cardiffian.
"He is naturally nosy. He just doesn't stay indoors, and he likes to explore. And every time he comes past I just like to keep an eye on him to know where he is because I have formed a bond with this cat.
"He is the most outgoing and curious cat I have ever come across. He is not like other cats."
Carl Stoj, 30, an employee of Superdrug on Holton Road, told the Cardiffian that he is also fond of Olaf.
While his store is not one of Olaf's favourite spots, the cat has hung out there a couple times.
"It is nice to see him. Most mornings I see him hovering around here, waiting around shops until they open so that he can go in and hang out," he said.
Olaf is now home with his loving family, and you can either follow him on his Facebook page, or see him wondering around the businesses on Holton Road.
As to what Olaf got up to during that time away from home, it remains a mystery.