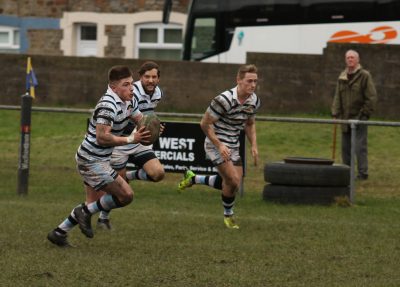 RHIWBINA RFC hold the cards for the title according to Glamorgan Wanderers manager, John Lyons.
The Wanderers, whose game was called off this weekend, could have their lead at the top of Division 1 East Central cut to just five points by Saturday evening.
Rhiwbina, who have four games in hand on their title rivals, are only 10 points behind last season's runners-up.
Glamorgan are "away' to Rhiwbina next Friday though the venue is in Llanishen.
A match which promises to be a feisty one, the Squirrels will be wary of Lyons' men who are on a 10-match unbeaten run and will be determined to put their 22-22 draw with Porth Harlequins last time out behind them.
Ahead of next week's top of the table clash, manager John Lyons spoke of the threat that the Squirrels pose. He told The Cardiffian: "Rhiwbina are on a good roll [and] they're a good side with lots of good players.
"There's some journeymen there like the Deabreu brothers who are well respected players who have actually played for the Wanderers in the past and I've played with years ago."
The Squirrels returned to winning ways last time out with a close fought defeat of Dinas Powys and have an away tie at Gilfach Goch.
The Gils are in desperate need of a win themselves stranded at the foot of the league, but Rhiwbina will be keen to head into their tie with the Wanderers next weekend on a high.
March is make-or-break month for the Squirrels. A double header with Glamorgan is sandwiched between ties with Bridgend and Rumney, who, despite dropping to fifth have a slim chance of mounting a late title charge.
Injuries this season have meant that Rhiwbina have had to use players from the second team to cope with the physicality of the league.
Ex-captain and current Press Officer, John Humphreys, 68, told The Cardiffian: "It is an exceedingly hectic end of the season. We still have to play Bridgend and Glamorgan twice along with Rumney who are still the dark horses.
"Dinas Powys are only out of it because they've played 19 games. We're just happy to play the way we are with the philosophy we have."
The pressure does seem to be on for Lintern's men as Rhiwbina will play at least two of their games in hand after Wanderers season has ended meaning that if they are not top by the time Wanderers have played all 22 games, the title is literally in their hands.
Despite this, John Lyons is reserved on his views for Wanderers' title push. He also told The Cardiffian: "We could beat them twice and still not win the league. We're looking for a strong run into the end of the season and [that would] put us in the driving seat to a certain extent, but you know they can still do it and that's what makes it even more interesting in some ways.
"There's so many potential upsets and point losers that it will be wide open I'm sure until the end of April or beginning of May."
The title race is on: