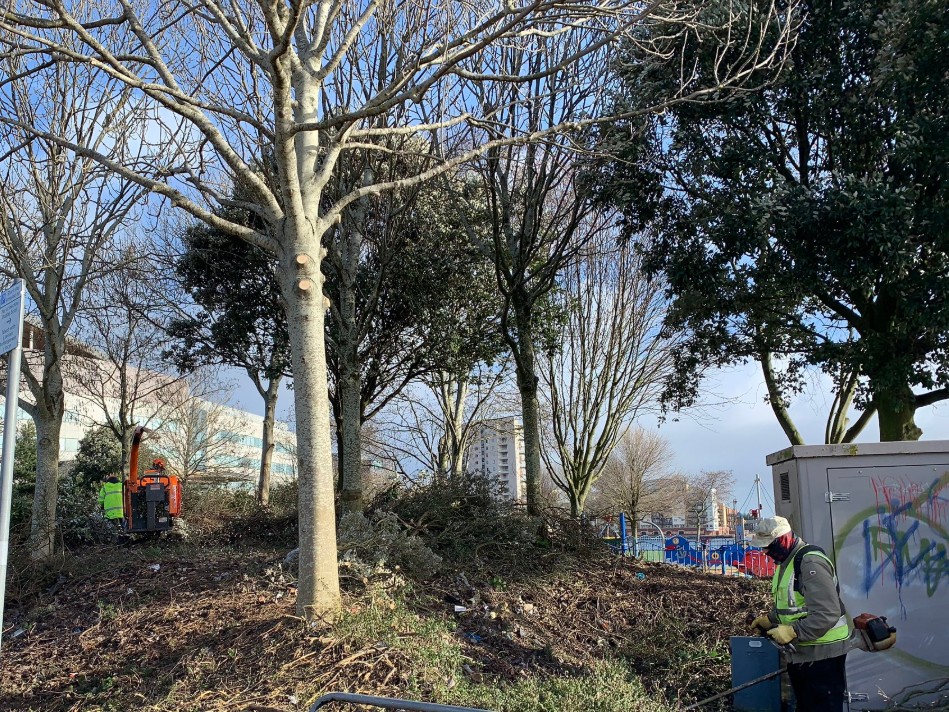 SHRUBS and an ash tree have been cleared opposite the Norwegian Church in Cardiff Bay because of concerns over littering.
The work is described by John Lancaster, Conservative councillor for Llanishen and member of the Environmental Scrutiny Committee at Cardiff Council, as a "proper scraping back".
However, Coun Lancaster said it was everyone's responsibility to ensure that areas do not become full of litter in the first place, and it was unfortunate that the council had to use the "nuclear option" of cutting the shrubs back.
Angharad Jones, from Caerphilly, who works as a studio operator in Cardiff Bay, said: "I'm very passionate about nature, so seeing greenery being massacred like these shrubs broke my heart."
Ms Jones contacted the council earlier this week to complain about the clearance and was told the work was to "tidy up" the shrubs and remove an ash tree that was split at the roots.
After it was revealed today that there were cases of Ash Dieback disease across 80 percent of Wales, Cardiff council confirmed that the ash in this case was not infected.
The council also confirmed that the clearance was not part of preparations for any proposed future developments at Britannia Quay.
Similar concerns have been raised about the level of tree-cutting in Cardiff Bay recently by nature presenter Iolo Williams and Woodlands Trust Cymru.
More mature trees cut down in Cardiff. Anyone in authority down there heard of climate change or the Future Generations Bill? No? Didn't think so. Disgraceful! pic.twitter.com/2PWDEL7vrn

— Iolo Williams (@IoloWilliams2) February 5, 2019
Ms Jones was also concerned about bird life in the bay and suggested that the removal of the bushes would reduce the amount of possible nesting locations.
"It would be a shame to lose birdsong around this area of the bay. My worry is getting stronger because birds and insects are in decline and we are increasingly hearing stories about vegetation being destroyed," she said.
A Cardiff council spokesperson said: "Work has been carried out to clear vegetation and remove an ash tree which was in an unsafe condition due to a split in the roots.
"All necessary due diligence and checks for bird activity and nesting were carried out by our experienced tree management team. No evidence of bird activity or nesting was found in the area that has been cleared."
They also said that evidence of nesting was found in a nearby area and the planned removal of those shrubs had been put on hold as a result.
Public health issues were also cited by the council as a reason for removing the vegetation.
"The scrub which has been removed included extensive brambles.  This was near a children's play area and had become a magnet for littering which had the potential to attract vermin.  Clearing the area will enable us to more effectively remove litter, improve the visual aesthetic, and make the area more accessible to the public."
Both Ms Jones and Coun Lancaster said that more could be done to tackle the litter problem in Cardiff Bay.
"With litter, people should be putting it in the bin in the first place as well," said Coun Lancaster.
Ms Jones said people should be properly fined for littering or that more bins should be available.
The council said the litter had now been cleared and the owner of the electricity substation next to the wooded area had been contacted to have the graffiti removed.
The Welsh Government is setting up a group of experts to discuss Ash Dieback and how to reduce its devastating impact in Wales.