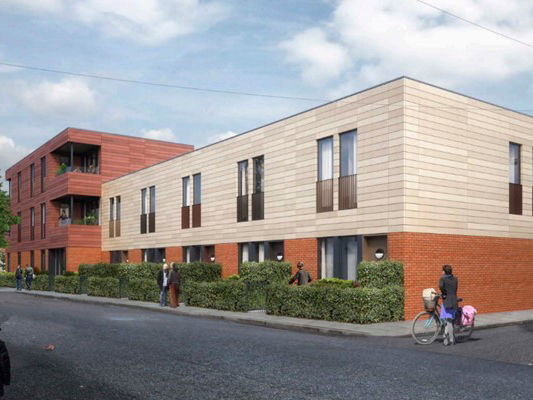 ROATH'S parking problems have been raised by residents as a proposal for 14 eco-friendly homes in Plasnewydd is considered by Cardiff Council.
In line with Cardiff Living's eco-friendly aims, the scheme for Croft Street plans to promote car-free travel, and does not intend to provide any off-street parking, raising congestion concerns for residents.
Liz Diaz, 69, who lives in the area, worries about the safety of children at the nearby St. Peter's Primary School, as roads become congested around school closing times.
She said: "If this development goes through without off-street parking it would be a disaster.
"The corner by the pub is so dangerous. The corners are tight with poor visibility. The roads are so narrow around there too so traffic is terrible, especially when the children leave the school.
"No-one wants to see families without a home, but people who already live here need to be considered too," she added.
Denise Keen, 48, who lives on Elm Street Lane and lived on Oakfield Road for 17 years, shares Liz's concerns, and feels that if the plans were to happen, congestion would become unmanageable.
"Parking here is already a nightmare. My dad also lived in Oakfield Street and he was hardly ever able to park his car by the house, even though he had a permit," she said.
"I now live in some flats on Elm Street Lane and lots of people use the car park here and walk into the City Centre to work."
The units are planned to be split into two-storey, two-bedroom houses towards Elm Street Lane, and three-storey, two-bedroom houses towards Partridge Road.
Pete Wong, Councillor for Plasnewydd, said: "Minimal onsite activity will mean less impact on neighbours, and more control over the finished product.
"I am proud of the fact that we are building council homes again for the first time in several generations, to help tackle the issue of homelessness and the housing crisis," he added.
The project will redevelop a vacant brownfield site, which previously housed a laboratory that has since been demolished.
The scheme will be part of the Cardiff Living Programme, set up by the Council in conjunction with Wates Living Space.
This partnership will deliver around 1,500 mixed tenure homes of the Council's 2,000 target, in their efforts to tackle homelessness and unsatisfactory living conditions – which makes up 34 percent of Cardiff's housing list.
The planned homes will be a mix of which at least 600 new homes will be for Cardiff Council and 900 for market sale.
The first phase of the programme is underway, with the first new council homes completed and handed over to tenants in November.
The development schemes included within the Council's Cardiff Living Programme have specific criteria for the energy performance of every home built.
This requirement includes both council homes and market sale properties and requires the use of a 'fabric first' approach – making the fabric of the building as energy efficient as possible, thus reducing the demand for energy/heating and helping to tackle fuel poverty.
Amelia Womack, deputy leader of the Green Party, sees no reason why all of the homes cannot be eco-friendly.
She said: "The council's decision to make sure that their new housing provision on Croft Street has sustainability at its heart is welcome news.
"In the Green Party we want more houses to be their own power stations – to truly put power into the hands of the people. The clean energy revolution we so desperately need can begin at home.
Anyone who wishes to make representations to the Council about the proposed development on Croft Street must do so by 25th March 2019.