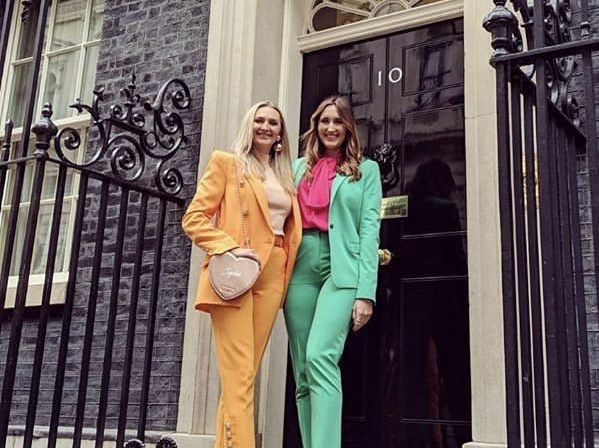 SELF-MADE millionaire sisters from Barry were invited to 10 Downing Street yesterday to celebrate International Women's Day with the Prime Minister. 
The reception, hosted by Theresa May, saw Hannah and Sophie Pycroft rub shoulders with other successful UK businesswomen and beauty moguls Charlotte Tilbury, Ashley James and Sharmadean Reid. 
"It felt amazing to be recognised for International Women's Day celebrations at No.10, especially as the invitation came out the blue. It was even more special and an unexpected pat on the back which is always lovely," said Sophie. 
The sisters received the invitation on Monday, and at first thought it was a fake. 
"We never thought five years ago when we were in the garage in Barry we would be stood outside No.10 having our picture taken and mingling with the top 100 businesswomen and entrepreneurs in the UK." 
The sisters donned bright pink and orange outfits on the day, receiving a compliment from Mrs May on their great suits. 
"She loved them, that lady does like a statement shoe so we thought she'd appreciate a bit of a sassy suit," said Sophie.  
After getting over their initial feelings of imposter syndrome, the sisters spent the day mingling and networking with other business women. 
"We had to go through security and leave our phones by the front door – the actual black No.10 door which was surreal to walk through." 
"After that we wandered up a grand staircase with photographs of all the past PMs on the wall, we think it's the yellow one from Love Actually! So that was really fun." 
The sisters are very pleased they were able to represent Welsh businesswomen on the day and left Number 10 "buzzing." 
The celebration of UK women in business came ahead of a report released by the government today claims that up to £250bn could be added to the UK economy if women if women started and scaled new businesses at the same rate as men. 
"The event gave the PM an opportunity to have a conversation with female entrepreneurs, business women and bankers to see what the government can do to help encourage more women into business," said 10 Downing Street.  
The report, conducted by Alison Rose, highlights how bias within the UK finance community is also a major barrier for women launching their own businesses. 
The report said: "Less than 1% of UK venture funding goes to all-female teams and just 4% of deals.  
"This is a complex issue, but not one that we should skirt as it is frequently mentioned by female entrepreneurs who feel they are judged to be less competent than their male peers." 
Sophie and Hannah launched their mermaid and unicorn themed make-up brushes in 2014. Spectrum Collections is now worth £12m.  
The sisters were both working as freelancers in the creative industry when they decided to set up the brand. 
"Being based in South Wales meant that creative jobs are really scarce, even more so if you actually want to get paid," said Sophie. 
Without an investor, the sisters decided to continue working freelance while working on developing their products in a garage in Barry. 
"The first two years were really hard, and we didn't take a wage so we could re-invest our own cash back into the business to steadily grow." 
Sophie said Instagram really helped boost the sales of their products in the early days, meaning they spent only £90 of their £100 marketing budget for the first year. 
"We think of Instagram as our shop window, so we try and keep it looking as fresh and on brand as we possibly can. 
"It's the best way to communicate with our followers and we share quite a lot of behind the scenes and our own thoughts and brand developments on Instagram too." 
In the past year, the sisters have launched multiple collaborations with Disney, featuring characters like Snow White, Mickey Mouse, and The Little Mermaid on their make-up brushes and accessories. 
The sisters also launched a pop-up store on Carnaby Street, London, at the end of 2018. The store was a pink haven of individual accessories and even played host to a vegan café.  
The brand is cruelty free and vegan, a decision taken by the animal loving sisters as part of their own personal belief and lifestyle choices. 
"We're always working to reduce waste in our packaging and streamline production so we can tread lightly on our planet."