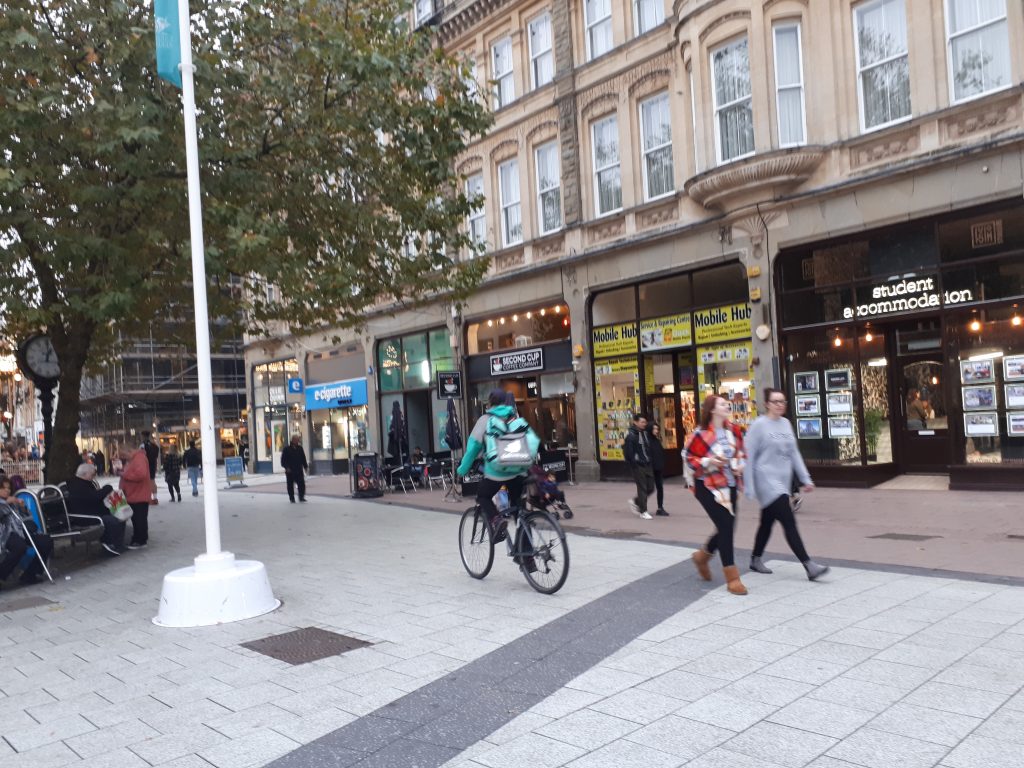 IN recent months, large chains such as HMV, Giraffe and Jamie's Italian have announced closures up and down the UK.
However, many of these closures have not affected Cardiff city centre branches as businesses retain confidence in the Welsh consumer.
According to the British Retail Consortium, overall footfall and sales on our nation's high streets have dropped by nearly one per cent.
However, food sales have continued to grow, with two and a half per cent growth in comparison with last year.
The Cardiffian spoke to three very different eateries to understand why Cardiff remains an attractive city for the hospitality sector.
Giovanni's – The Hayes
Giovanni's has been going for 35 years – making it one of the oldest Italian restaurants in Wales.
Giovanni Malacrino is its larger-than-life owner, well-known for rubbing shoulders with stars like opera star Pavarotti and Welsh legend Sir Tom Jones.
In a show of confidence in the capital, Mr Malacrino has recently expanded his business into Cardiff Bay with Piatto Pasta House, adding a third restaurant to his successful brand.
So how has the Cardiff food scene changed over the years?
"I think the council appreciate independents much more," he said.
"People enjoyed the chains originally because they knew that no matter where they went, they were getting the same food.
"Now, people want to try different things. When somebody comes in you want them to feel like they're coming into your home to share a great night with you."
Mr Malacrino attributed the longevity of his business to his staff, some of whom have worked in Giovanni's for over 25 years.
"What I do every single day of the week, is I walk into my kitchen and hug, kiss or shake hands with my kitchen staff," he said.
"But you also have to appreciate your customers, even now I get people ringing me up to book a table and I always take the booking and pass it on to the managers.
"The reason I take them myself is that it seems like only yesterday I was stood by the phone in Giovanni's praying to God someone would call to book a table.
"When you're successful you can't let it get to your head. When I needed them I was on the end of the phone and even now I'm still on the end of that phone.
"Keep it personal and be grateful for your customers."
Chance and Counters – High Street
With everything from Science Cream's liquid nitrogen made ice cream to the vegan meat café The Greazy Vegan, Wales' capital has a love for the quirky.
Co-owner of board game café Chance and Counters, Steve Cownie, says it is important for an independent business to have a Unique Selling Point.
"We have a niche that makes us inherently quite different and unique. Having a USP reduces our marketing costs and makes it easier to compete with chains," said Mr Cownie, 29.
"We don't tend to go for traditional advertisers but do more stuff on social media. But  it is more than a way to bring people in to the café, it's about sharing our love of board games.
"It's not just a marketing ploy, we think it helps get people off their phones and talking, while they try and destroy each other in a game."
Chance and Counters opened in Bristol in 2016 and, following its success, expanded in November 2018 to first-floor premises tucked away on High Street.
"People aren't really expecting it when they walk in off the street. They come in from the Six Nations and find themselves in an oasis of calm.
"We've got an amazing place in Bristol but it's not as great a location as Cardiff's High Street. We have also found the public sector in Cardiff is really helpful towards local businesses."
Among the hundreds of board games lining the wall are Donald Trump: The Game and James Bond Junior: The Game. I ask Mr Cownie what his next new board game purchase will be.
"I'm in a bidding war with a man from Lithuania over an anti-smoking board game."
Heaneys – Pontcanna
Tommy Heaney is one of the UK culinary scene's rising stars. His previous Bridgend business, Restaurant Tommy Heaney at The Great House hotel, was regularly featured in the Michelin guide and in 2017 Mr Heaney was a finalist in The Great British Menu.
He raised £40,000 in June 2018 to open his own Cardiff-based business, with more freedom to put his signature laid-back style on the restaurant.
"We never wanted to be fine dining, there's a preconception that it's going to be stuffy and that the opposite of what we want to do," said Mr Heaney.
"We wanted to do something where someone can pop down and have a glass of wine and an oyster, or have a 10-course taster menu.
"We looked at Bristol, we looked at Swansea and then we looked at this site and fell in love with the area.
"Pontcanna appealed to us more than Cardiff city centre because of all the independent businesses around the area. If you go into the centre it's much more branded."
Mr Heaney is filled with enthusiasm and solidarity for other independent businesses in the area.
"We try to support independent restaurants around here. There's so much to see in Pontcanna. You've got: Brød the Danish bakery, Cameo, Canna Deli, further up you've got Milkwood.
"There's also the Dusty Knuckle which does amazing pizzas. You can sit outside in the middle of winter and have a pizza with a blanket and hot water bottle."
"I don't think there are enough independent restaurants in Cardiff. I think it's very difficult to go into the centre of town because of the brands.
"There's not enough support for each other in the independent scene. It's healthy to be competitive but realistically we should all be trying to build the food scene in Cardiff and draw people in.
"I don't want to talk about business rates in the city centre, but it's an issue that's in the back of people's minds when they open because it's a massive factor in running a business."
The Irish chef says there are plenty of customers to go around. The main issue is Welsh food suppliers.
"The biggest downfall for us in Wales is the lack of seafood. Some of the best seafood comes from Wales, but getting your hands on it is another story.
"If I want to get razor clams from the Gower, it's impossible. But I can get them from France, I can get them from Scotland.
"I end up paying more for local Welsh lamb than I will for British lamb that has to be imported."