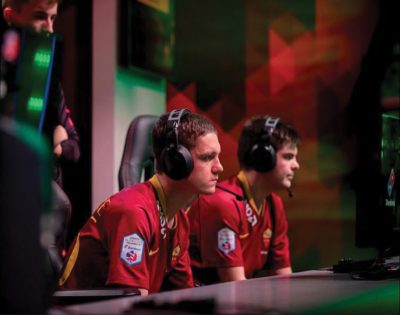 ZAC MOORE is not your typical 20-year-old.
The Caerphilly man is leading the charge in esports (competitive gaming) in South Wales, having won the Gfinity Elite Series 4 tournament in London three months ago playing fifa with AS Roma Fnatic.
The Cardiffian spoke to Zac earlier this week to find out more about his journey, and the rise of esports.
Zac would play the game casually as a youngster before playing more competitively as a teen.
He said: "I first got FIFA 04 when I was about six years old. My parents bought me a PlayStation 2 at the time.
"I played casually for a while and then when I was 16, FIFA 15 came out and I started playing competitively."
Zac, who would play the 'Pro Clubs' feature with his friends, soon realised he could play at a high level.
He said: "I followed (YouTube sensation) KSI and found this (esports) website called Gfinity. After six months of playing tournaments I qualified for a tournament in London in the summer of 2016."
Zac went on to finish in the top eight in Europe at the tournament. He followed that up with a top 16 finish at a similar tournament a month later.
Since then, Zac has noticed a significant rise in the level of competition.
He said: "It's tough now because there are a lot of other people who try to qualify.
"Now there are 1.2 million people trying to qualify for these tournaments.
"The prize pool has increased massively but so has the player pool since I started playing competitively."
The Cardiff Met student, studying sports performance analysis, enjoyed his biggest success late last year at the Gfinity Elite Series 4 tournament.
He was selected to play in a five-man team for AS Roma Fnatic. The team went on to win the $25,000 jackpot, which they split between the five of them.
Zac hopes he can enjoy more of that success in the coming months.
He said: "Hopefully I get another chance to represent a team in the series in the future."
For your casual sports fan, the word 'esports' would likely be met with a look of confusion.
However, with Dallas Mavericks owner Mark Cuban recently saying he would invest in esports over the NFL, it is clear to see there is a new sporting domain on the rise.
Last year, Fortnite took the gaming scene by storm. The free to download game has changed the landscape of sports gaming – with players able to play cross platform on a game that updates weekly – giving developers the chance to listen to the fans and change the game accordingly.
However, Zac does not feel that fifa is at risk of falling victim to the rise of Fortnite.
He said: "I think a lot of games will fall by the way side but I think fifa will be alright.
"There are still a lot of football fanatics who will buy a copy each year."
He did comment that there are issues with the game as it currently stands.
"You're paying £50 to buy a game and then you invest more money on your Ultimate Team, and then a new game comes out a year later," he said, "maybe that's something they can look into."
While esports has grown hugely over the past few years, Zac has noted it is still not fully accepted by the sporting community, particularly football fans.
He said: "I think at the moment it needs to be more entertaining to attract bigger fans which I think is harder for fans to get behind. I think there is a lot of hate for eSports at the moment. People aren't used to it.
For Zac, esports is only going one way.
He said: "Esports is growing massively at the moment and I still think it is going to grow more."
Zac is currently not signed to a professional team, but is open to competing for YouTube teams as well as professional football clubs.
"I'd love to compete for a team like Hashtag or Faze (both notorious YouTube teams). The publicity you get from playing for those teams would really boost my profile," he said.
For now, Zac has three goals for the future.
He said: "I want to qualify for a FIFA eWorld Cup grand final in the next couple of years. I also want to represent Wales in FIFA as they have started getting nations involved, and I want to win an event."
Zac's top tips for improving on FIFA:
Play against people who are at a higher skill level than you
Watch and learn from YouTubers to see how they play
Play a lot of FUT (Fifa Ultimate Team) Champions/Rivals on FIFA – it will match you against similar skilled players and you will improve