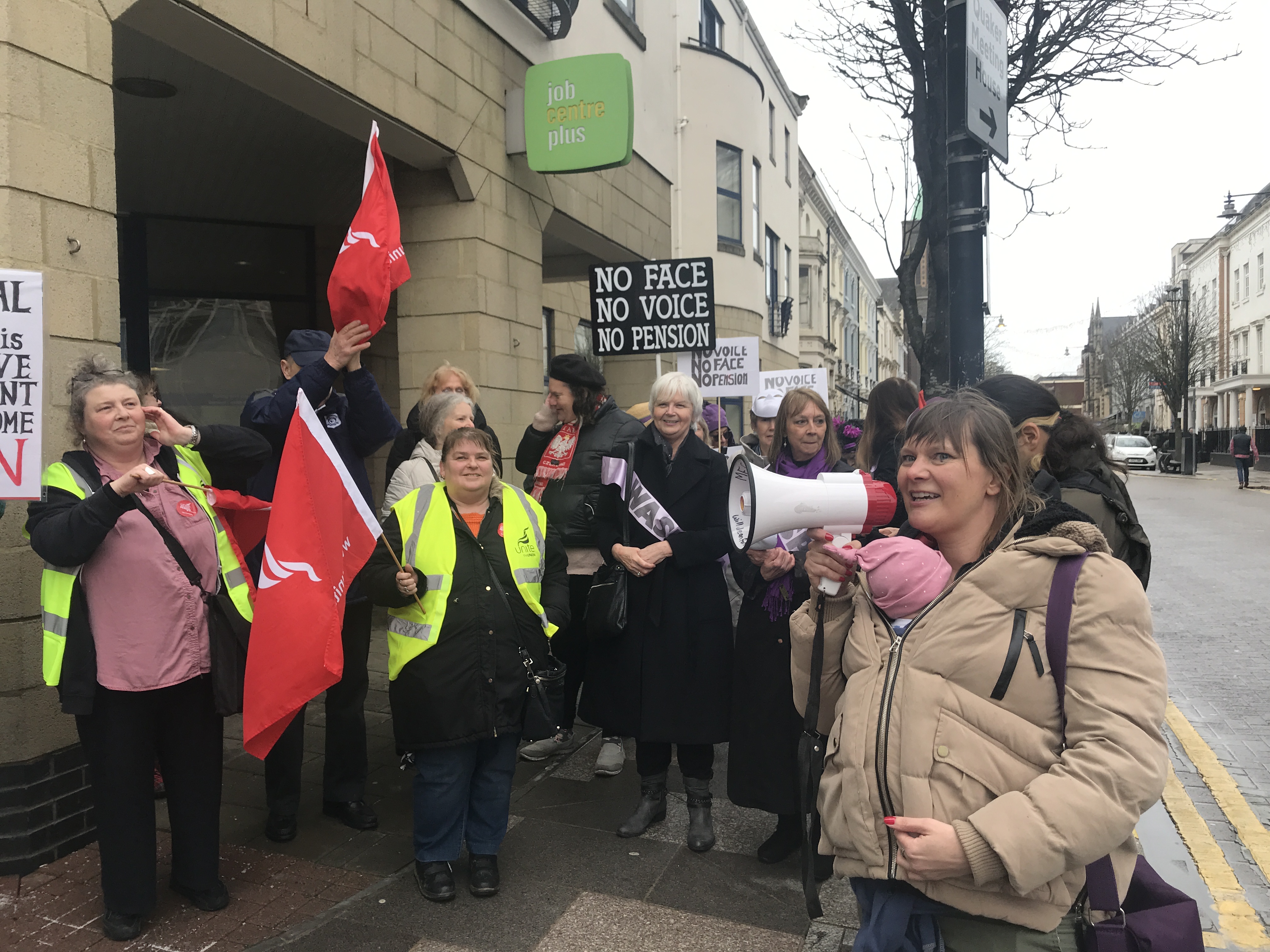 PROTESTERS in Cardiff believe the one claimant per household system in place under Universal Credit is allowing abusers to control their partners. 
People from the Women's Strike Assembly Cymru, and Unite Community Cardiff and Vale Branch, held a protest outside the JobCentre on Charles Street this afternoon to highlight the negative impact Universal Credit has had on vulnerable women since its roll-out began in 2013. 
"A lot of my friends can't get out of their abusive relationships because their partner is claiming all their money," said Jemma Smith, a 31-year-old single mother from Ely. 
Ms Smith said this was the first protest she had attended as she could not sit back and watch it happen to people around her anymore.  
"Do you see anyone that Universal Credit has actually helped since it has been brought in? No.  
"You see poor women going to the doctors with mental health issues and going homeless because their partners abuse them," she said. 
Under the current system of Universal Credit, claims can only be made by one individual per household. 
If you are in a couple and live with your partner, you can only access the benefit via a joint claimant. 
This amount differs depending on your age, a basic joint claimant under the age of 25 is £395.20 per month, and £498.89 for over 25-year-olds. 
That money is given to one person but is intended to cover for both in the pairing. Protesters argue that this enables abusive partners to commit an enhanced level of coercive control by restricting their access to money. 
As a single person, a basic claim on Universal Credit for a person under 25 is £251.77 per month, and £317.82 for over 25-year-olds. 
The group was also joined by WASPI group, which had been protesting about the rise in age for women's pension claims. 
WASPI – Women against state pension inequality – have been active since 2015 after the pension age for women was raised from 60 to 65. 
A speaker from the group said they were in attendance to support the protest the low pay of women's work. 
"It is not just about 1950s women, this is generational, we are taking up jobs that could be for the younger generation. If they don't stop increasing the pension age, you lot will be affected as well," she said.  
The event was the first of the day for Women's Assembly Strike Cymru. At 5pm the group gathered at the Trinity Centre at 4pm for a free Stay and Play. 
My Mum is on Strike is an event for mothers, grandmothers, care givers and their children to celebrate International Women's Day and highlight the plight of women's unpaid work. 
A march started at Central Library at 5pm making its way to the Trinity Centre in Adamsdown for a night of food, music and spoken word artists.