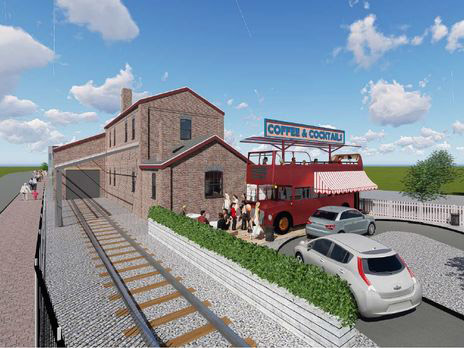 PLANNING permission has been granted for a so-called "shipping container village" in Barry.
The mixed housing, restaurant and business development is being built at the site of the old Goods Shed on Hood Rd, a former railway storage station.
It will also involve up to 68 units for business use that have been created from shipping containers.
In the plans, it says there will be a drive-thru café, ice cream shop and bakery as well.
The Vale of Glamorgan Council also approved a five-storey block of flats containing 42 units, 23 of which will be affordable housing.
A previous mixed-purpose project on Barry's waterfront by a different developer was handed an order to cease building in November 2018, after it was found that they failed to build any restaurants and instead chose to build and sell the houses they had permission for.
However, the Goods Shed developers DS Properties stated that they have already let 70 per cent of their business units.
DS Properties previously converted the old Pumphouse, adjacent to the Goods Shed, into an award-winning restaurant and gym complex.
The Cardiffian spoke to Alex Baston, 24, who works on the development and is the son of the Managing Director of DS Properties.
He said: "Its going to be a new, exciting project where a lot of local people can start a business at a low cost because these shipping container units will be low rent."
"It will hopefully follow the roaring success of our Pumphouse development."
Local residents had mixed views about the development.
Matt Harris said: "It should never happen, we have the fourth best high street in the country and the council ignore it.
"What about Holton Rd and High St? What will they do to improve those parts of town?
"I get it is trendy, but the High St could be trendy."
Lindsay Bewes and Sarah King, in their late 20s, had just left the Pumphouse's Academy Espresso Bar.
Sarah King said: "With Hangfire Kitchen doing so well and all the other development in the area, I think it's a good idea to develop this part of town."
Lindsay Bewes said: "It might take some shoppers away from the High Street, but I don't think they want the restaurants and houses at that end of town anyway.
"It will help put Barry on the map and hopefully it will bring more people here to spend their money at our local businesses."