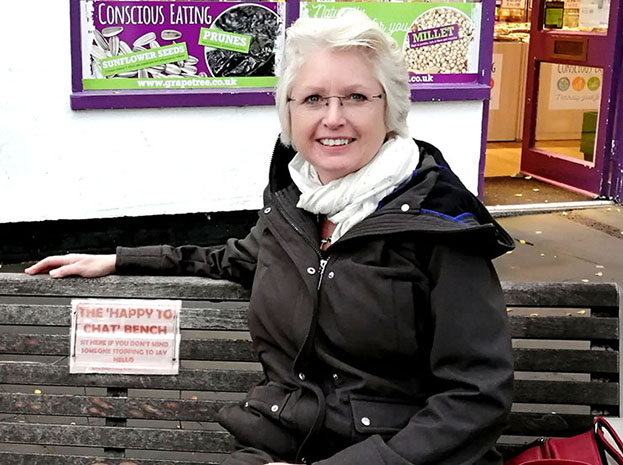 Friendship scheme that started in Roath Park has spread across the world
One day last summer, Allison Owen-Jones was walking through Roath Park when she passed an elderly gentleman who was sat all alone on a wooden bench.
The retired lecturer saw how the old man's face lit up when her dog approached him – but also how his expression dropped again once the dog ran off.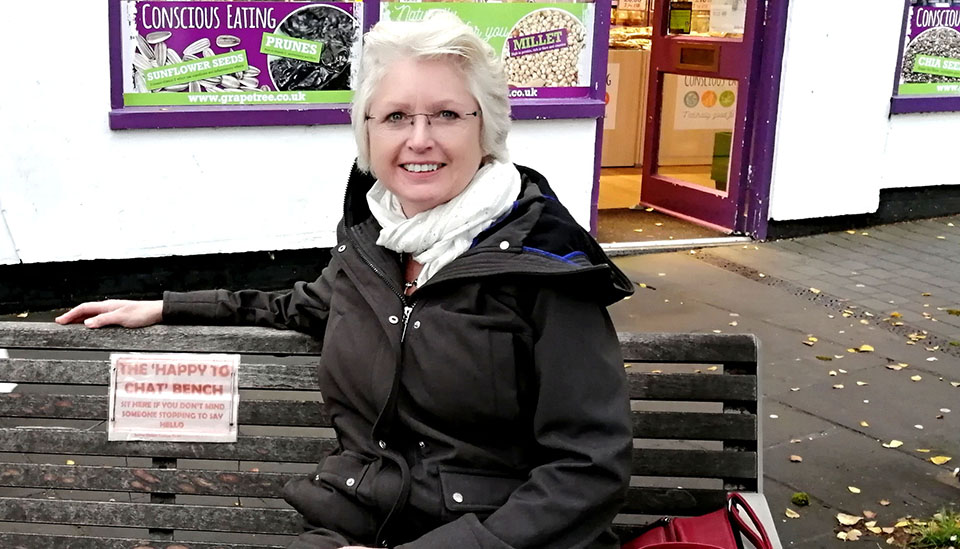 Allison, 53, recalled thinking that she "should go and sit and talk to him, because he looked like he made a real effort to get there".  
The Welsh may be known for their friendliness, but Allison, who is originally from just outside Swansea and now based in Cardiff, felt overwhelmed at the thought of approaching a stranger.
What would the man think if she just went over and chatted to him out of the blue? Would he think she was weird? What if he didn't even want to chat in the first place?  
Even as social creatures, something as seemingly normal as sitting next to someone on a bench and chatting to them can feel too far out of our comfort zone. 
This social barrier can lead to a feeling of loneliness, which the National Survey for Wales found at least 54% of people have felt.  
The solution? A simple sign with three little words printed on it – "Happy to Chat".   
Allison knew that she wanted something that didn't sound too needy or pushy.
After some thinking, she came up with "Happy to Chat". She then laminated her homemade sign, attached some string around it and hung it up on the wooden bench in Roath Park to get strangers talking.
The first sign stayed up for a week in May, which Allison recalls "was important to me as it hadn't been taken down. I could see people standing around and looking at the sign and talking about it."
Ever since, the scheme has expanded all over England and Wales and even overseas in Melbourne, Australia and New York. 
Although age may be a considerable factor, loneliness is by no means exclusive to the elderly.
Allison recalls a woman who told her that she used to be very social before her kids grew up and moved away from home. She used to strike up conversations with parents outside the school gates and found that, in general, people were more willing to approach her when her kids were younger. 
"There's a gap there. Nobody wants to talk to people because they think they're being rude or pushy," said Allison.  
Another memorable encounter came from a Muslim woman who told Allison that she rarely went outside.
Allison remembers the story in detail: "She was quite afraid. Her face wasn't covered, but she had a headdress on. She was saying she never usually went out to the park by herself, but the doctor told her she was pre-diabetic, so she forced herself to go out.
"She was happy that someone talked to her. I don't know what she thought people might say, but it was striking how she had taken the nerve." 
A story from a widow who sat on one of the benches in Abergavenny said that speaking to strangers had saved her life after her husband had died. Allison told of how the widower was feeling "very low, and it got her through a very dark time".  
"After the next month, the council had obviously had enough of me," Allison joked. So, she took her idea one step further and asked the council to put them up permanently.
While waiting for their response, she sat at her computer and searched for the Happy to Chat benches. 
To her surprise, the signs had popped up all over the north of England and in London, all in various colours, but using the same phrasing. 
"Three permanent ones will be engrained in the wood, so they'll look better. The problem with my signs is that if the wind gets them, they move," she chuckled.  
Allison acknowledged that one issue with the benches is that they'll be used less in the winter because it's wet and windy and cold.
Still, with the permanent benches now set up across Cardiff, Allison hopes more people will know where to go if they need a good chat.  
The Happy to Chat benches have been set up in Roath Pleasure Gardens, Hailey Park and Bute Park.