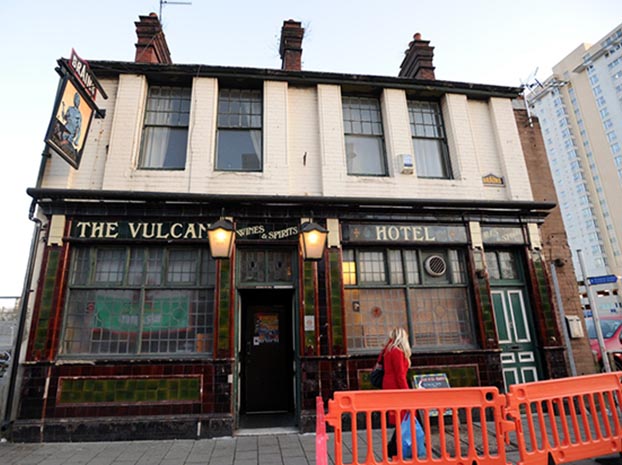 The Vulcan Hotel, formerly the oldest pub in Wales, is being rebuilt at St Fagans
THE daughter of a former landlord has been helping to tell the story of a 19th century pub that is being rebuilt at a museum in St Fagans.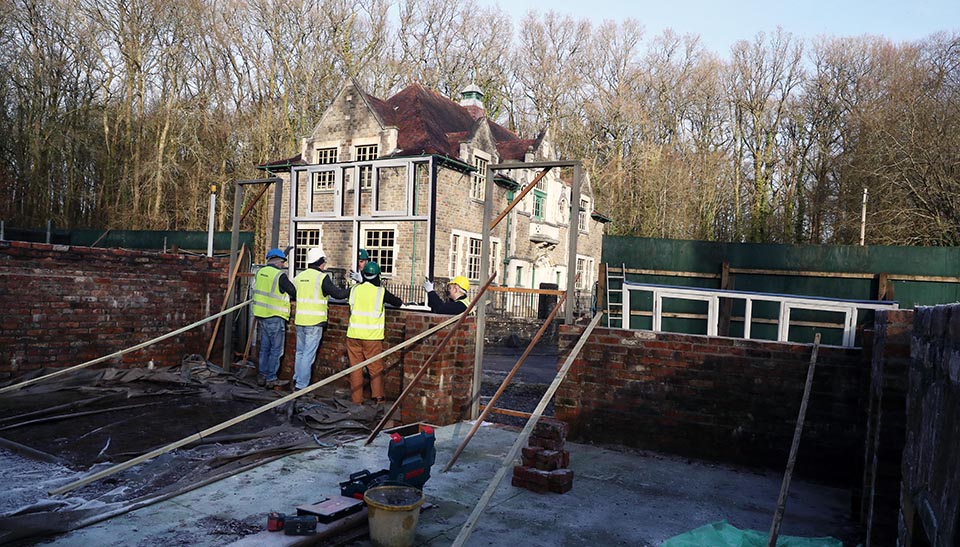 Elizabeth Thomas, 62, lived above The Vulcan Hotel from 1960 to 1962. The pub was originally located on Adams Street, Adamsdown, and was the oldest in Wales before it closed in 2012.
Following its closure St Fagan's National Museum of History dismantled the pub and is now rebuilding it brick by brick before reopening it.
"I found out about the rebuild on Twitter a couple of years ago and got in touch with one of the curators from St Fagans," said Mrs Thomas.
"My granddaughter thought it was hilarious when I told her I was going to be included in the history of a pub by sharing my stories. She said, 'blimey nan, you're going to be in a museum!'"
Mrs Thomas, a retired care home manager, said: "I think it's being rebuilt because it was one of the very few really old traditional pubs that was left. It had a lot of character and was in an area of Cardiff that's unrecognisable these days. There's not many old buildings of that kind left really."
The museum is appealing for stories relating to The Vulcan, which is being rebuilt as it was in 1915.
"It definitely brought back memories. I know my mum and dad would think it was fabulous. Maybe me and my brother should have a pint for them in there when it's finished and raise a glass in their memory," added Mrs Thomas.
Historically, the pub served the Irish community in the area that was then known as New Town.
Mrs Thomas, who now lives in Barry, said: "I spoke to my cousin who was 16 at the time used to visit us at The Vulcan. She said lots of Irishmen drank there – they lived in old flats opposite and worked as builders.
Mrs Thomas' parents, William and Pearl Pugh, were landlord and landlady of The Vulcan in the early 1960s.
"I recall my dad telling me and my brother that there was a big fight in the bar involving a chap that drank in there a lot with a hook as one hand. Everyone called him Hooky. He was hard as nails and my dad had to chuck him out. It frightened my mum to death," she said.
"My mum thought it was too rough of an area at the time to bring up young children so encouraged my dad to move. We moved to Porthcawl where my mum and dad became landlord and landlady of The Jubilee Club.
"I was very young, so I don't really remember very much. I'm meeting with an older cousin of mine next week who may remember more. My brother and I would love to be at the opening of it once it's finished and I'm sure it will bring back memories for both of us."
The rebuild of The Vulcan is expected to take three years to complete.
Jennifer Protheroe-Jones, principal curator for industry at the National Museum Wales, said: "1915 was an important year for the pub. It had just undergone a major refurbishment that saw its distinctive green and brown tiles added to the frontage, as well as a redesign of its interior."
Labour Councillor for Adamsdown, Owen Llewellyn Jones, said: "While losing the Vulcan was a big loss, it is incredibly exciting to see it being preserved in St Fagans. A piece of Adamsdown will be appreciated by generations and I'm sure it will become a visitor favourite. I definitely can't wait until my first pint."
If you have any memories or information that could help to tell The Vulcan's history, please click here to get in touch with the museum at St Fagans.