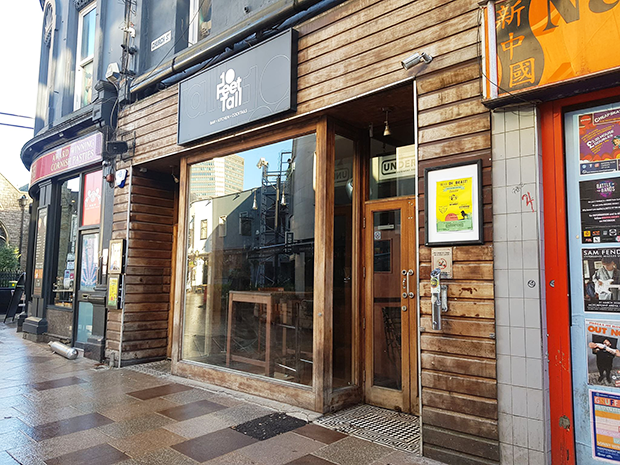 A petition to save the entertainment venue gained 800 signatures in under 48 hours
FANS of Cardiff's 10 Feet Tall, on Church Street, have voiced concerns that the venue will become the latest victim in a recent string of closures of arts venues in the city.
Joe Granville, 28, of Penarth is founder and host of Tickles and Tarts, a comedy night held in The Big Top venue within 10 Feet Tall, on the first Friday of each month.
On hearing the news of a controversial planning application to turn the site into a restaurant and commercial unit, Mr Granville set up a petition on Change.org, to save the arts venue.
The petition gained 800 signatures in less than 48 hours and has now surpassed 1,000 in just a week.
Mr Granville said: "I was brought up going to live gigs. It is so sad that we are shutting these venues down."
The arts community fear a growing trend after both Gwdihŵ, on Guilford Crescent, and Buffallo, on Windsor Place, closed their doors at the start of 2019.
"I want to make a noise about it", said Mr Granville. "I would like to work with anyone willing to help save it. I want to propose some ideas too. Cardiff has nowhere that's really cool. Like a New York-style basement place which could easily sit 100 people."
Joe Granville performing at Tickles and Tarts earlier this month [Credit: Tickles & Tarts]
Mr Granville says he was inspired by the success of venues such as The Moon, on Womanby Street, whose online petition helped them secure funding to launch a cooperative group to run the venue, as well as Crafty Devil's Cellar, in Penarth, which opened in April 2019 following a Crowdfunding campaign.
He hopes his efforts will help send a message to the building's landlord and wider community about the demand for venues such as 10 Feet Tall in Cardiff.
The fight to save 10 Feet Tall has reached the agenda of Assembly Member Bethan Sayed, Chair of the National Assembly's Culture, Welsh Language and Communications Committee.
Ms Sayed said: "The loss of live music venues in Wales is deeply concerning. People get inspired by attending gigs and it's how they form connections with artists and are encouraged to take up music themselves."
"Our Committee is working hard to get to the bottom of why venues are closing and the challenges faced by businesses and artists. I want to extend the opportunity to both the staff, landlords and directors to contact me to discuss the issues."
Reports of the mass resignation of the venue's staff , sent the city's arts community into chaos last week.
The resignations came after the planning application, allegedly submitted on behalf of the building's landlord, was brought to the attention of the company's management and staff.
Ex-employees announced via a public Facebook group named Save 10 Feet Tall that the news was the final straw, following several disagreements with the management team.
In a group statement, they said: "We love 10 Feet Tall but we feel we cannot work under our present directors who have refused to have any communication with us over how we feel the venue should be run. We really want our venue to thrive as a space for live music and the community."
"This is not the end for us. We are determined to fight so that another Grassroots Live Music Venue doesn't have to close."
More than 90 people attended a comedy gig held in The Big Top, 10 Feet Tall, at the start of 2020 [Credit: Tickles & Tarts]
While the venue appears to have reopened, mixed messages about the future of the arts events hosted there have caused much upset and confusion.
The management said in a statement last week that they were unaware of the landlord's application prior to its release and intend to continue use of the venue as part of a 10-year lease.
In the statement, published across the company's official social media pages, the management said that they had "no prior knowledge" of the planning application.
"It came as a complete shock when we found out last Friday. The Company has an ongoing lease with the landlord and it has always been our intention to carry on trading with business as usual," said the statement.
Looking to the future, Mr Granville said: "I love [Tickles and Tarts], it's a real joy to run. I think we are going to stay at 10 Feet Tall for the next gig, try and keep the place alive. But we are going to continue regardless, even if I find a box room in an office somewhere! "
The 10 Feet Tall management could not be reached for comment.