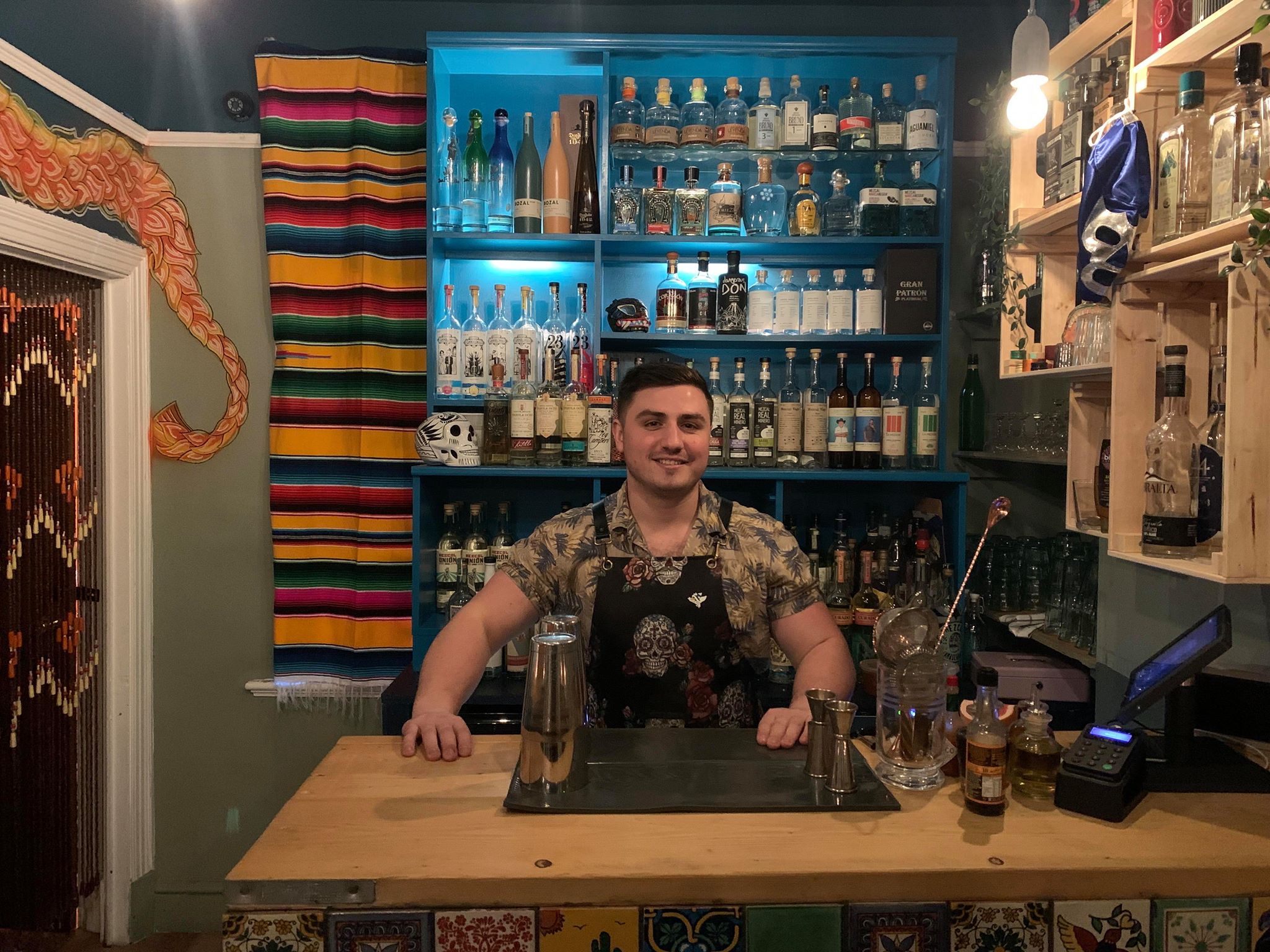 La Pantera opens for business tomorrow, hoping tequila is the new gin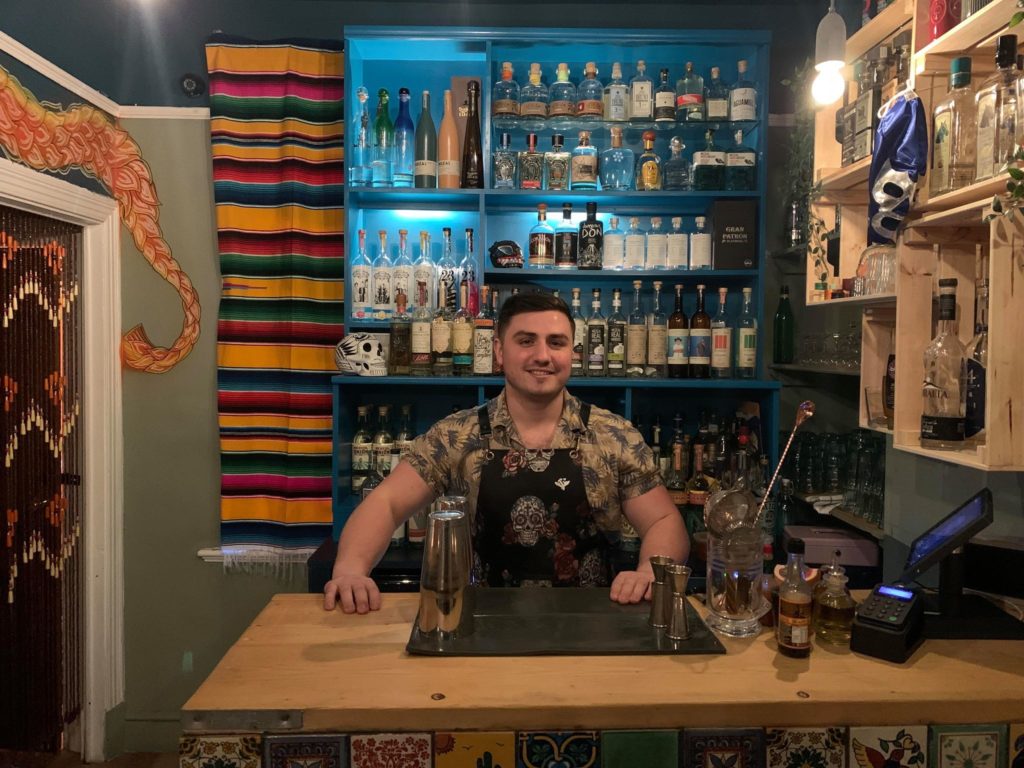 CARDIFF'S first Mexican-themed bar and cantina is opening its doors to the public for the first time tomorrow evening.

La Pantera, situated above Sully's Café on Quay Street in the city centre, has been five months in the making, and will finally open for business at 5pm after successful soft launches last week.

"We are all really excited for Wednesday," said co-owner and bartender Joe Rapson, 26. "If it's anything like last week we'll be chuffed.

"We had our industry and press launches on the Thursday and Friday, before inviting friends and family for free tacos at the weekend.

"I don't think we could have asked for the week to have gone any better – we got great feedback and those that came really bought into what we're trying to do here."

The independent business aims to provide an authentic cultural drinking and dining experience through a dedication to tequila, mezcal and traditional Mexican street food.

"We're the first of our kind in the city – there's no other specialist Mexican bar in Cardiff," Joe continued.

"The closest thing you have is Wahaca, but that is much more of a restaurant and is also a reasonably big chain."L
Having worked in sister bar The Dead Canary on Charles Street for the past two years, Joe became adept in mixing intricate cocktails, but wanted to pursue his passion for Mexican spirits.

What he had long seen as just a pipe dream started to become a reality in October last year, as he and fellow co-owner Mark Holmes, 31, began to develop ideas for La Pantera.

"I never thought it would actually happen," said Joe. "But then Mark came back from a holiday and said, 'Let's do it'.

"We were so busy in Dead Canary throughout December that it wasn't until the start of January that we began work here – this was just a shell then, no back bar, no shelving, no art or decorations."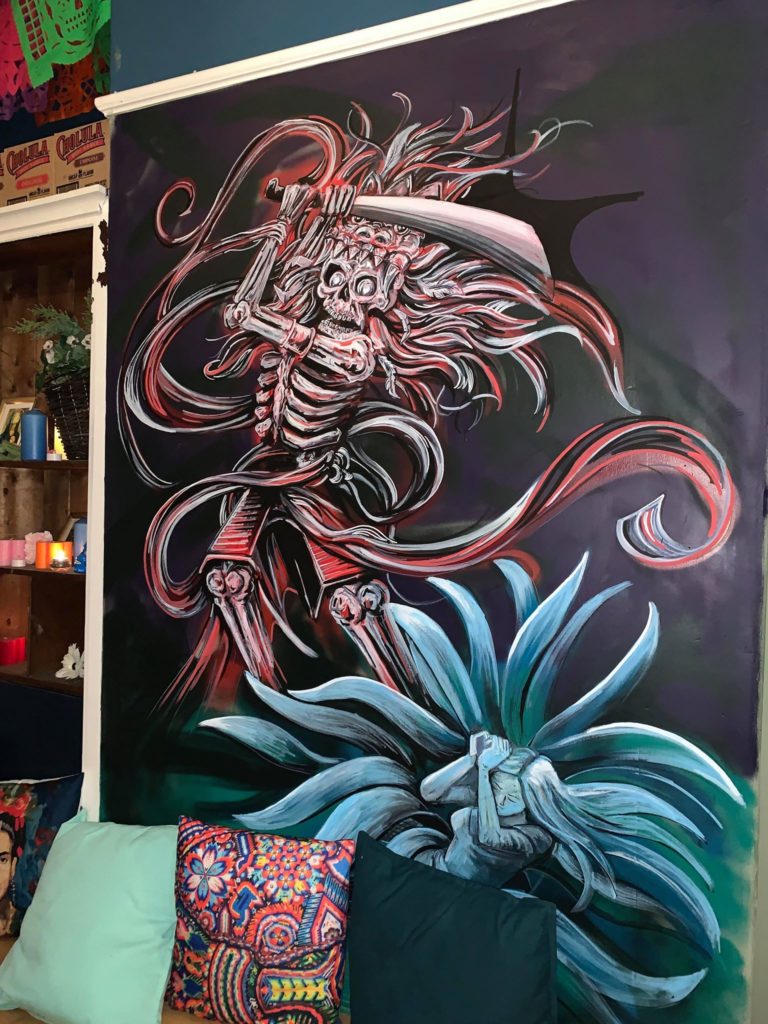 "We've been here constantly for a month now," said Richard Gaskell, 29, the bar's third co-owner. "Daytimes here, then nights in Dead Canary, and any nights off we've been here doing whatever needs doing."

La Pantera has set up shop in an increasingly buzzing part of town, joining The City Arms and Asador 44, as well as Sully's on Quay Street, while the clubs and pubs of Womanby Street are just around the corner.

Developments on Church Street have also seen increased footfall at the northern end of the High Street, something which will likely prove good news for La Pantera.

"This end of town seems to be where a lot of independents are going," said Joe.

"Obviously that works out well for us, some of those that came last week said we'd been recommended to them by other bars – I know the guys at Penny Royal sent a few over."

The bar at La Pantera is stocked with over 100 different tequilas and mezcals sourced from specialist suppliers, and Joe says that this selection is destined to grow.

"I think we can quite convincingly say that we've got more Mexican spirits than anyone else in Wales, if not Wales and the South West," he said.

"You can have such a massive variation in taste based on different types of agave, different regions etcetera – many families make it in different ways and have done for generations, so you want to hit every base.
"A lot of people have a bad history with tequila, but that's because they've been drinking the wrong tequila the wrong way – if we can drip feed them a bit of history and the culture of it then hopefully they'll come to enjoy it."

While Joe maintains that these traditional spirits are unlike anything else on the market, however, issues have been raised within the industry over the sustainability of their production.

Tequila and mezcal are both made from the agave plant, which Joe says "looks like a big aloe vera, but is more similar to an artichoke".

The leaves are removed from the plant, with the pina (or heart) chopped in half, roasted and mashed, with the collected juice then fermented.

Pinas used for tequila are roasted in brick ovens, while those used for mezcal are roasted in underground pits, using wood to give the spirt a smokier flavour.

However, wild agave plants take anywhere between eight and 30 years to grow, and the long-term impact of the recent mezcal boom on the natural environment is still unknown.

"There are a lot of brands that are trying their best to be sustainable and lessen the impact, but that has seen the cost of Mezcal go up – a decent bottle costs £40 now, and it goes up to £100, £200 a bottle, " said Joe.

"At the end of the day, for example, we're using limes that are being flown halfway across the world – by definition it's not very sustainable.

"But anything we can do to help, we will – whether that's using paper and metal straws, or reusing our lime husks to make syrups for drinks."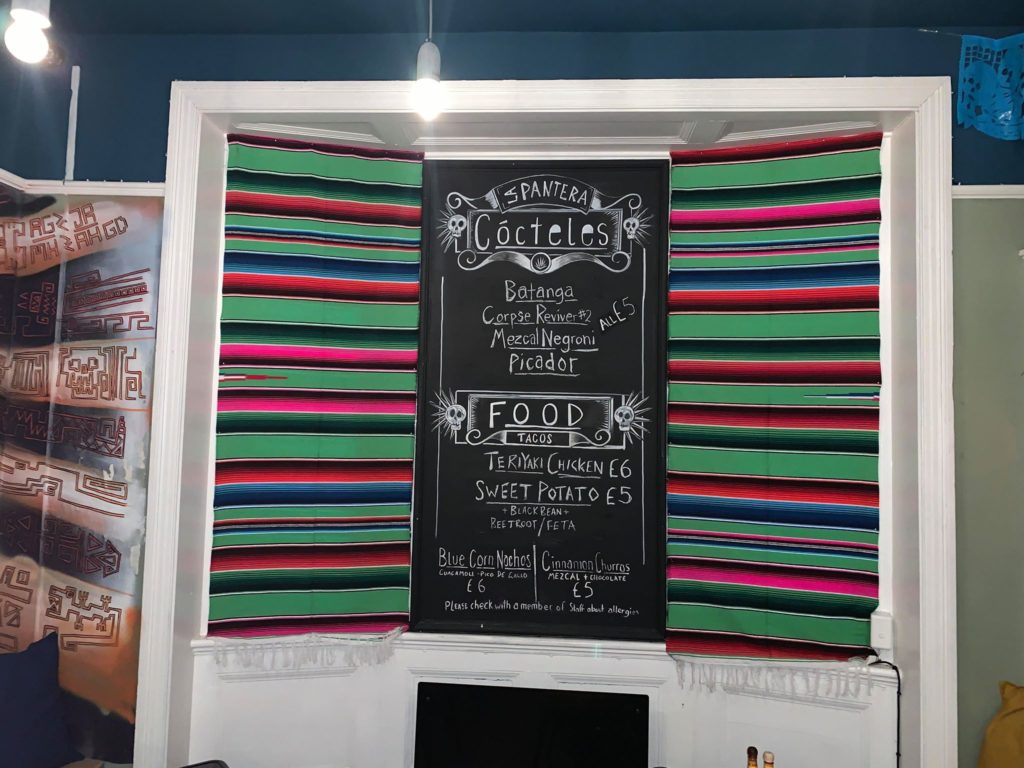 Organic produce and authentic Mexican flavour is also at the heart of La Pantera's menu, which will change weekly.

"We'll be using a lot of local suppliers, including Cardiff Market, and we've stayed as true to traditional Mexican food as we could, using corn tacos – which are also vegan and gluten free," said Richard.

"We wanted to avoid Tex-Mex and just let the flavours talk for themselves," Joe added.

Aside from a laden drinks shelf and varied menu, the most striking thing about La Pantera is its vibrant interior.

The 35-people capacity room is full of themed decorations and ornaments, while its walls are adorned with colourful Aztec murals painted by Richard himself.

Richard, who has worked on art projects in Cardiff, Bristol and at Glastonbury Festival, took inspiration for the walls from the story of Mayahuel, the goddess of fertility and agave.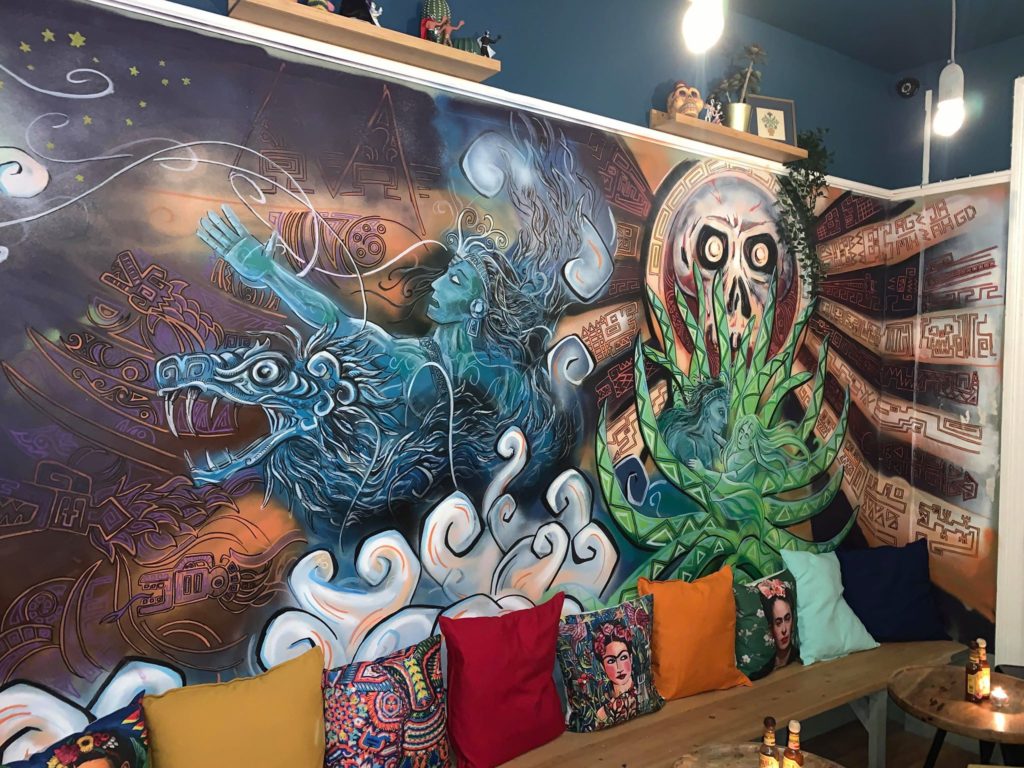 According to the legend, Mayahuel was banished to the far corner of the universe by her evil grandmother, who did not want her to find love with Ehecatl, the serpent god of the wind.

Ehecatl finds her and hides her away inside an agave plant – however, her grandmother finds the lovers and chops Mayahuel up, with one piece falling to earth to be buried by Ehecatl, and to grow into the original agave.

Meanwhile, Mayahuel's 400 children, who took on the form of drunk rabbit gods are also individually depicted partying in the stairway leading up to the bar.

"It's a bit mad," said Richard. "But it's cool to have such rich history of mythology on our walls, particularly when they were completely blank at the start of last month."

"It took a long time, probably day and night for about a week to do it all, though you should have seen this place before.

"But yeah, I never want to paint another bunny ever again."