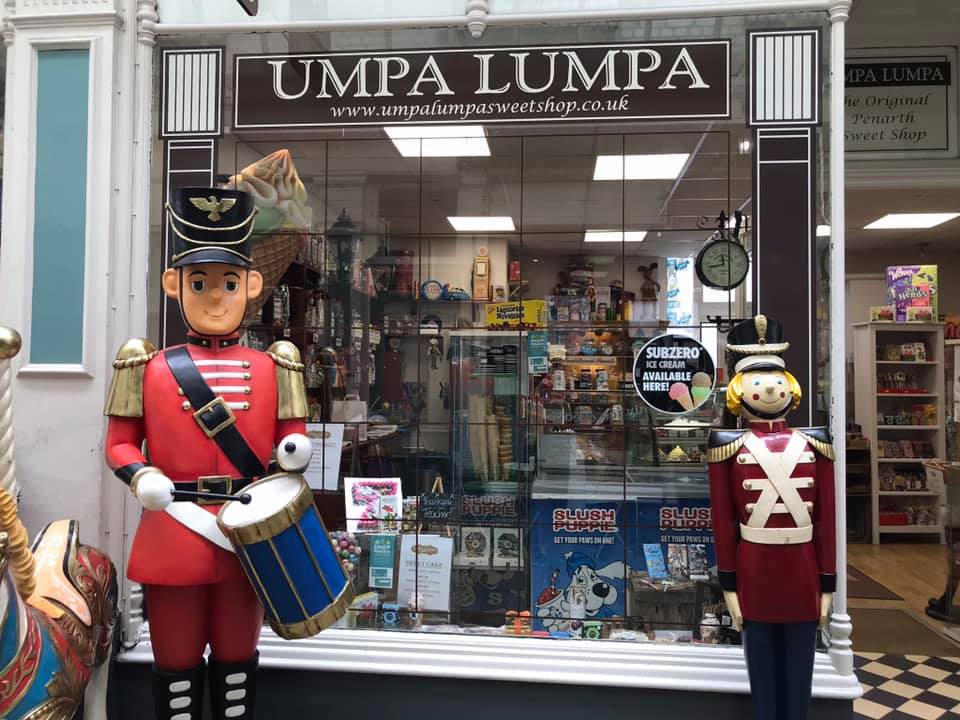 'If you change one thing once a month then that is a good start'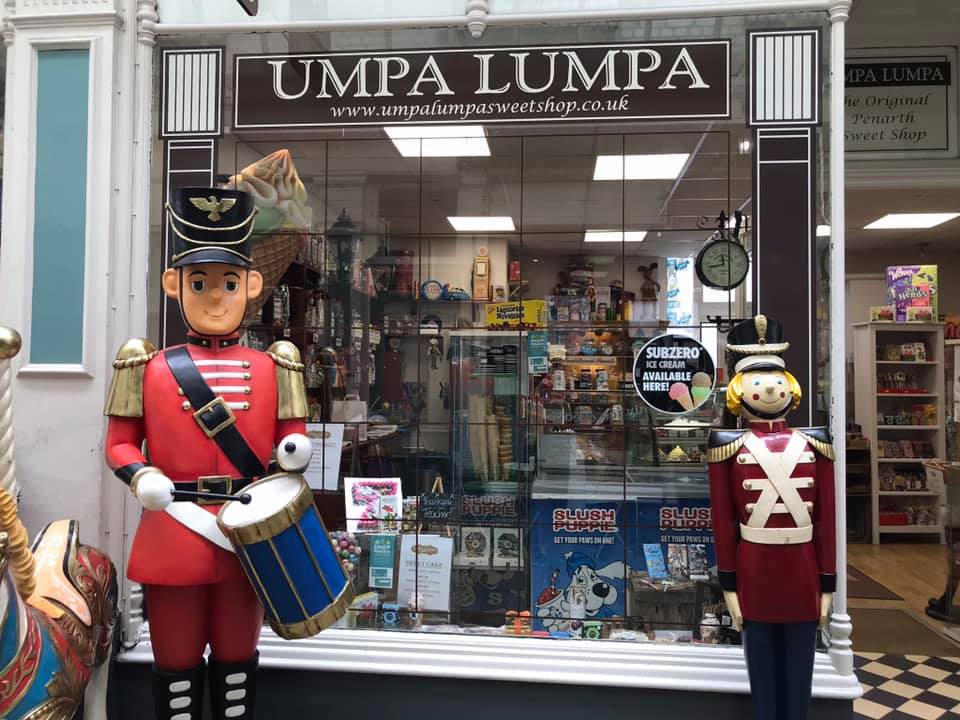 "THERE is a great cohesion and momentum to improve things, my children's lives will be very different from mine. I am extremely proud, and I feel very strongly about the plastic-free campaign in Penarth."  
KAREN Dunlop owns Umpa Lumpa Sweet Shop in Winsor Arcade, Penarth.  
The retro sweetshop is a child's dream. Lining the wall are glass jars filled to the brim with colourful sweets, from licorice to chocolate to bon bons. In fact, the shop is probably an adult's dream too.
"We visit homes and residential homes in Penarth and Barry. Sweets are emotive, if you have dementia or Alzheimer's you can talk about your childhood."
Umpa Lumpa supplies treats for birthday parties, sweet carts for weddings, and has a thriving party bag service.
However, unlike your average sweet shop, Umpa Lumpa is plastic free.
Earlier this year Penarth was deemed plastic free by marine conservation charity, Surfers Against Sewage.  
SAS is trying to create a national network of people who want to cut out single-use plastics. In total, 648 communities across the UK have signed up to the network.  The charity is calling for businesses, councils and individuals to make everyday changes to reduce the plastic in our oceans.   
Businesses receive the status, not when they are completely plastic free, but when they have clearly tried to reduce their single-use plastics such as straws, plastic cutlery, and plastic bags.
Umpa Lumpa Sweet Shop offer's paper bags for pic-n-mix, wooden spoons for ice cream, and biodegradable cups. The shop encourages people to re-use their paper bags by offering a discount for the next purchase.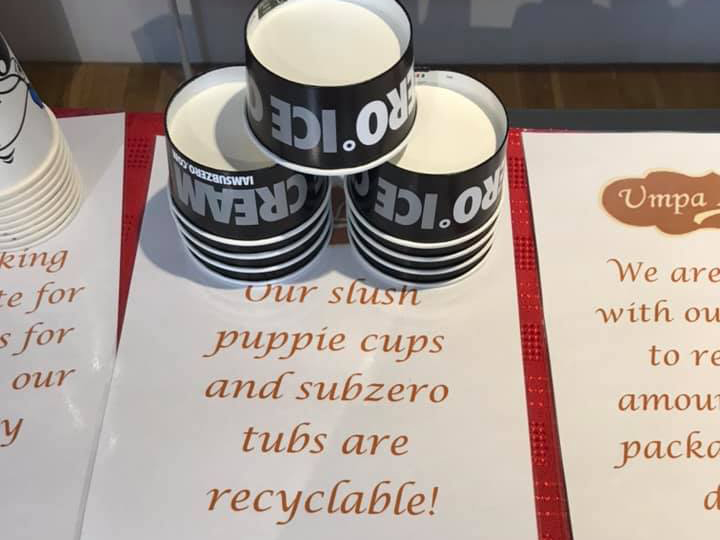 "It was quite an easy switch and there is a lot of support locally," said Mrs Dunlop.
Foxy's Deli and Café on Victoria Road is also plastic free.
Sian Fox, owner of the business, said: "I wanted to become plastic free when I realised how serious the effect of single-use plastic was having on our environment. 
"We have invested in a zero-waste system for customers to fill up with cupboard essentials with their own containers."
Elsewhere in Penarth, Fauvette's cheese and wine shop on Glebe Street has plastic free status.
Co-owners, Philippa Friedman and Jean-Marc Delys, opened the store three years ago with the intention of being plastic free from the start.
"They gave us the plastic free status, but the truth is we were already plastic free," said Ms Friedman.
The store has compostable pots and biodegradable beeswax paper wrapping. The shop also provides paper bags instead of plastic.
"We also have customers who come with their own tupperware to take away their cheese."
The only thing that is not plastic free is the clingfilm wrapping.
"I just need someone to invent something like clingfilm, that isn't too expensive," said Ms Friedman.
Currently on the market is biodegradable cling film made from natural sugarcane bagasse but it is over £20 for a roll.
Businesses, however, have found difficulty encouraging suppliers to change their ways. Often, deliveries to the shop come with plastic wrapping, or the product itself includes a plastic stick or spoon.
"If you have a product that sells really well, you can't just change it if is not plastic free or recyclable," said Mrs Dunlop.
"It is always something I have been passionate about, but it has to work from a business perspective too."
The cheese shop owner is also frustrated by the amount of plastic used by the big supermarkets.
"When shops have plastic when there are so many alternatives there is no excuse," said Ms Friedman.
"It's not more expensive, and I know it's not."
The top 10 supermarkets in Britain create 810,000 tonnes of single-use plastic every year, according to a report by the Environmental Investigation Agency and Greenpeace UK.
Mrs Dunlop said: "Until the big guys do more, it makes it difficult for us independent businesses."
However, not all suppliers are refusing to change their plastic products.
Mrs Dunlop said Choc Affair have made their lollypop sticks wooden instead of plastic.
The sweet shop owner commented that there has been an increased demand for plastic free alternatives, as well as other eco food alternatives such as vegan products.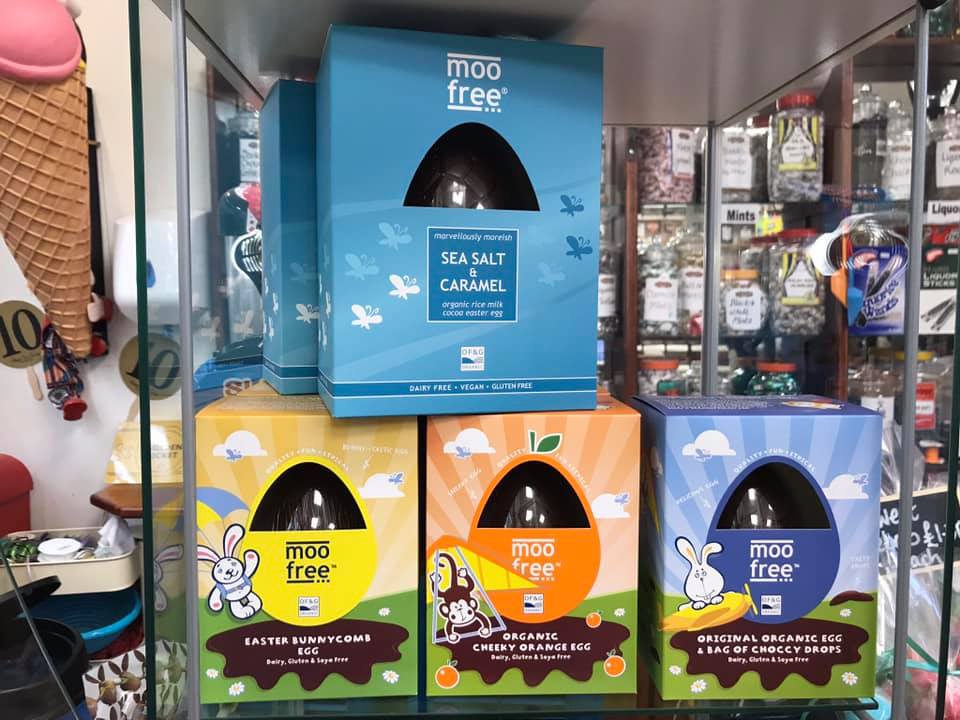 "People are becoming more aware about what they are eating and if you want to succeed you have to respond." Mrs Dunlop continued, "we sell a lot of Moo Free products, it's really good especially for children who are lactose intolerant and they don't want them to miss out, especially at Christmas."
While these businesses have made switches easily, Mrs Dunlop highlighted that it is important to recognise that plastic has not been completely removed from the shops.
"The title is misleading because it is a working progress, if you change one thing once a month then that is a good start."