HOW much does it cost to feed 50 cats?
For the three women who run RozMogz Cat Rescue Centre this question is part of a daily battle to rescue and rehome Cardiff's unloved moggies.
A rescue centre like no other, RozMogz Cat Rescue is run from the homes of three Cardiff women trying to look after the city's growing stray cat population. After launching only 18 months ago, founders Ros Thomas, Anna Mason and Sheena Stobart now play home to 50 cats waiting to be rehomed.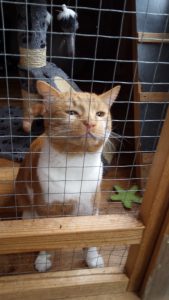 "We counted before Christmas and we rehomed 400 cats last year including the kittens," Mrs Stobart explains, speaking from one RozMogz centre in Ely. "It's a phenomenal amount. I couldn't believe it so I went back through the paperwork to check."
"About 90 per cent of the cats that come in are stray," Mrs Mason adds. "We've found cats in carrier bags, cats in boxes that are taped up. We've had cats covered in bleach and covered in diesel.
"There are still lots of people shooting and poisoning cats."
The three friends were inspired by the huge demand for cat rescue centres and the rising number of strays found in Ely, St Mellons and Llanederyn.
"There are only two big cat rescue centres in Cardiff," Mrs Mason says. "At the other centre I was at there was a 17-page list of cats waiting to come in. That tells you how much demand there is."
"We're inundated with calls every day," Mrs Thomas adds. The other morning I woke up to 35 private messages from people asking for help."
Fortunately the trio are ready for the job thanks to their specially-adapted homes, with spare bedrooms, gardens and garages all converted to make room for the cats.
"I have a cat in my room and my husband now sleeps in the other room!" Mrs Stobart laughs.
Looking after the cats has become a full-time responsibility, including making up to seven home visits a day to assess owners before adoption.
"Weekends are not weekends anymore. It is rewarding but hard work, everything you do is around the cats," says Mrs Mason.
"I can't remember the last time I didn't do a home check on my birthday," Mrs Stobart adds.
However as a self-funded charity a more pressing issue lies in paying the hefty monthly vet's bill.
Mrs Thomas explains: "We easily spend a grand a month at the vet's. We're all self-funded. We've worked out that it costs us £150 per cat to get them vaccinated and neutered and that's without taking food and litter into account.
"We'd never leave a cat without what it needs, even if it means a £700 vet's bill."
"It's hard work trying to think how to keep making money," Mrs Thomas tells me. "You can't not fundraise -it's constant.
"I go through 400 sachets of cat food a week, we've got to get it paid for somehow."
Thankfully the trio rely on help from their 3,000 Facebook followers, be it through those sponsoring cats who cannot be rehomed or donations given through their Paypal account.
"People are so generous it's unbelievable," Mrs Thomas adds.
Despite the pressures of fundraising though the ladies conclude that no matter how stressful, the work is always worth it after seeing a cat successfully rehomed.
"You first see a cat starving and it might even have kittens," Mrs Mason says. "Then you give it good food and its skin and fur gets better and it starts to purr.
"It's lovely when we get videos and photos of cat when they're settled into a new home."
"You get a warm glow inside – I can't tell you how it feels," Mrs Stobart adds.
RozMogz will be holding a fundraising psychic night on February 25 at the RAFA Club in Ely. For tickets email

rozmogz@yahoo.co.uk

.

For more information about sponsoring a cat go to the

RozMogz Cat Rescue

Facebook page.