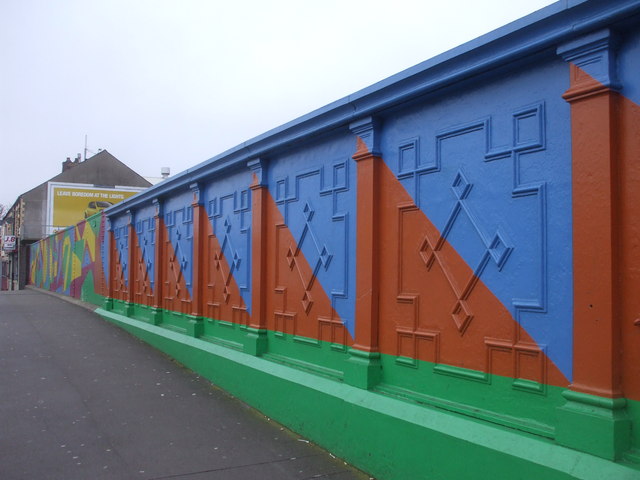 RESIDENTS and businesses in Splott and Adamsdown are preparing for more disruption as another bridge refurbishment is set to start.
Work on Splott Road Bridge, which starts this month and will take 18 months to complete, follows the reopening of Beresford Bridge last night after it had been closed for seven months.
The 117-year-old bridge connecting Splott with Adamsdown will be the third in the area to be rebuilt as part of the Network Rail electrification of the South Wales rail line.
The scheme plans to make the rail connection between Cardiff and London faster and more environmentally friendly, however many bridges and roads that cross the line need to be made taller to accommodate the cables that will run above the new trains.
Unlike the Beresford Road Bridge, Splott Road Bridge will only be fully closed in August and will remain partly open with a single-line of traffic being able to travel across the bridge at other times.
Some residents are worried about the impact the bridge's lengthy rebuild will have on their homes and businesses.
In an information evening held in Carlisle Bakery on Splott Road last night, cafe owner Huseyin Zencirkiran, 31, said: "It will affect my business. I have seven staff working for me here, it's going to be really hard.
"I have no idea how much [I will lose], I have a busy shop and I have a lot of business coming from across the bridge."
"18 months is a long time to be honest, and four weeks closed in August, I don't know how I am going to pay my staff. What are we going to do?"
Cerys Canning, Network Rail Communication Executive said: ""Unfortunately, we are not able to give compensation to people because we are a public funded company but going forward we will do our best for the residents.
"Only half the bridge will be closed at a time, the footpath will still be open because we understand how important it is for commuters. When it is done it will be a split level pathway with ramps and steps for pedestrians and wheelchair users.
"It is such a massive bridge, that's why it is taking so long."
Splott resident, Roger Hopwood, 68, who lives in the house closest to the bridge said: "I have issues now with parking my car. I won't be able to park outside my property so I have no idea where I am going to park. I have to move my car but I don't have anywhere to put it.
"It's something that needs doing but some would say the information has been slow in coming forth. There's not a lot you can do when you need to do something. People don't like change, but if I knew I could have made arrangements.
"I think properties that are affected more than the rest should have had special information. That would have been a sensible option."
Ms Canning said that Network Rail and contractors Carillion have worked with Cardiff City council to inform people in the area of what will be going ahead in the coming months.

She said: "The consultation we have done in the area includes two drop-in events, one in September and one now and we'll have another one in August. We posted 1,300 letters to local residents and leafleted more than 300 pedestrians as well as every local business on Splott Road."
The work will begin on 27th February starting with 19 weeks of utility work followed by the demolition of the bridge.
Network Rail have said that this stage will create a high level of noise for residents, with much of the work being carried out during the night and on weekends to lessen disruption to train services.
The bridge is expected to reopen in Summer 2018.
For more information, you can visit

www.networkrail.co.uk

or telephone the 24-Hour helpline on 03457 11 41 41.