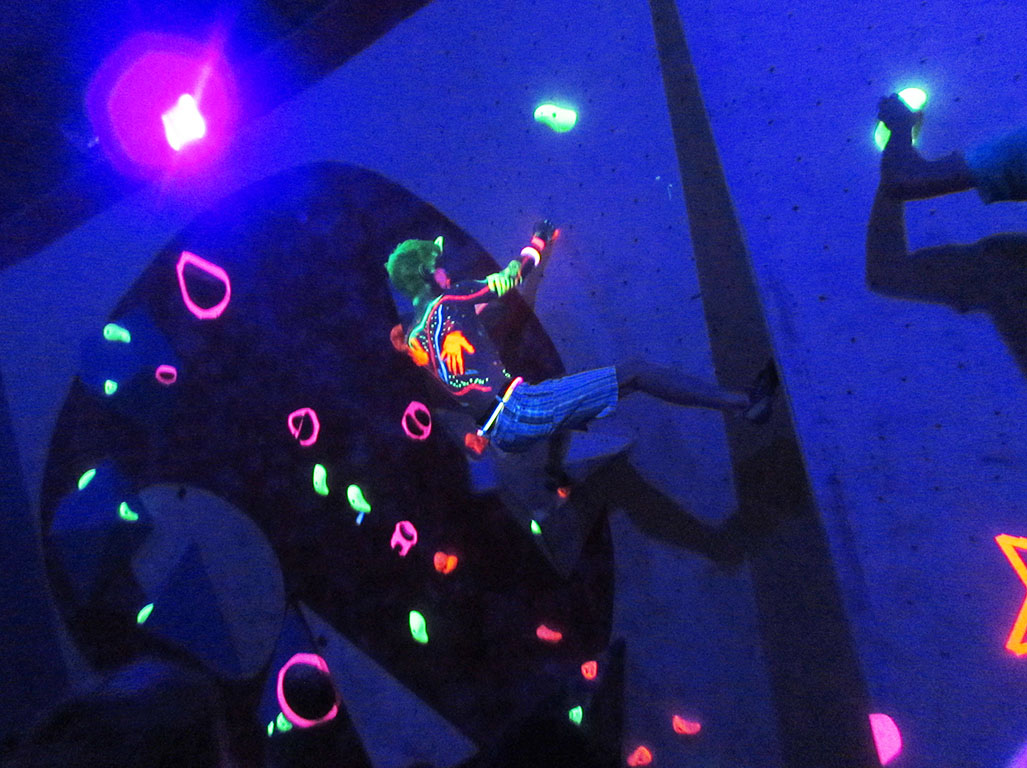 BOULDERS climbing centre switched off the lights for their biggest ever event, a neon indoor climbing competition.
The event, called Dia De Los Muertos (Day of the Dead), was attended by 160 climbers of all abilities, from complete beginners to expert mountaineers.
The centre was placed into complete darkness and competitors had to scale a climbing wall with neon-painted holds, lit by UV lights.
Competitors were encouraged to paint themselves in neon-coloured body paint and to wear fancy dress.
Dia De Los Muertos attracted climbers of all ages, from university students to more veteran climbers.
Crispin, 37, has been climbing for more than 20 years and used to climb six times a week.
"I started because I didn't get on with ball sports really," he said. "It's good practice for outdoor climbing though."
As well as more experienced climbers, around 30 students from Swansea University Mountaineering Club, aged 18 to 28, took part.
Entrant Phil Reynolds, 26, and is a relative newcomer to the sport.
"I always wanted to do it as a kid," Mr Reynolds said. "I come here every couple of months now. I played hockey for Varsity and now I'm studying computer science so I want to get out as much as possible."
Mr Reynolds said it was tricky climbing in the dark.
"It's harder to read the route and how difficult it is going to be," he said. "Foot placement is a lot more difficult."
Simon Rawlinson, head coach at Boulders, said he was pleased with the reaction the competition received from visitors.
"It's the biggest event we have had. We've got 160 people taking part. It's been amazing — great atmosphere and people are having a really great time," Mr Rawlinson said. "It's all about the social side of things really."
Previous competitions at Boulders have included 80's night Pump up the Volume, the Spanish themed Bullrun and Blockbusters, which was a mixture of climbing and quizzes.