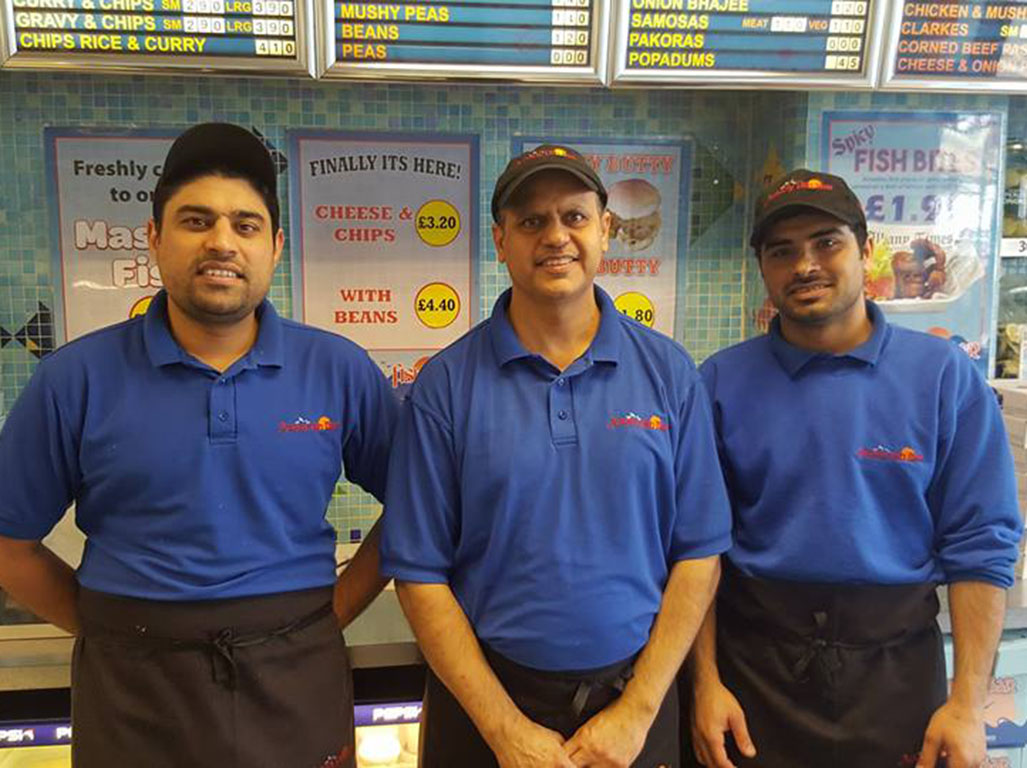 AN AWARD-WINNING fish and chip shop broke the Guinness World Record for chip wrapping yesterday as it celebrated its 50th anniversary.
Albany Fish Bar, on Albany Road in Roath, sold chips for 5p on the day, the equivalent of 1 old shilling, and also raised money for charity through collections and customer donations.
The manager of the fish bar, Tariq Siddique, 49, broke the world record for the fastest wrapping of five bags of chips.
The previous record was 50.2 seconds and the manager set a new time of 48.17 seconds. For the record Mr Siddique had to wrap five bags of chips, with salt and vinegar, that weighed 350g.
Mr Siddique was pleased with his effort but said that he didn't do any special training to prepare for the record attempt.
"I'm really happy that I achieved the target. I didn't do any extra practice as I've been working here for 13 years and I knew I could do it. Luckily I got through it without any issues with the paper, which can be a problem sometimes," he said.
Waseem Akhtar, 45, from Cyncoed, is the owner of Albany Fish Bar. He said that the world record attempt was an important part of their anniversary celebrations.
"We are very very proud to get our name into the Guinness Book of Records. We're also very proud of our manager, Tariq Siddique, for doing such a good job," he said.
On the day, the chippy had long queues as it sold chips for just 5p, equivalent to their 1967 price. Despite limiting customers to one portion each, the shop ran out of chips by 9pm.
All donations from customers and profits from the day will go to Cancer Research Wales. Mr Akhtar said that he picked the charity because cancer is an issue that most people have had experience with.
"Cancer is an illness that affects a lot of people and most families have been touched by it, including mine. That's why we chose Cancer Research as the charity to donate our profits to," he said.
Throughout the day, staff went up and down Albany Road making collections and they also asked customers to give a donation after buying chips.
Mr Akhtar was pleased by the response they received, although he isn't sure yet how much money they raised.
He said: "We won't be sure [how much money we raised] until we count all of the boxes. We will know next week."
Albany Fish Bar has been owned by Mr Akhtar's family since 1986. He took over from his father in 1992.
He said: "I was around helping out from the beginning but it was in 1992 when I took charge. Our own research has shown that the shop originally opened in 1967."
The shop has won a number of awards. In 2015, it won the Best Chippy Chips Cardiff award and it has been listed by the Independent as one of the top 10 chip shops in the UK.
Celebrities have also visited the chippy with Lady Gaga and Snoop Dogg both having bought fish and chips from there.
Mr Akhtar was keen to praise the customers as well as his staff for their success.
He said: "We've had a tremendous response from the public that live locally and it's quite an achievement that we've managed to be so successful. Fish and chips has a lot more competition these days and I want to give a gold star to the customers as well as ourselves. We wouldn't have been able to survive without them."