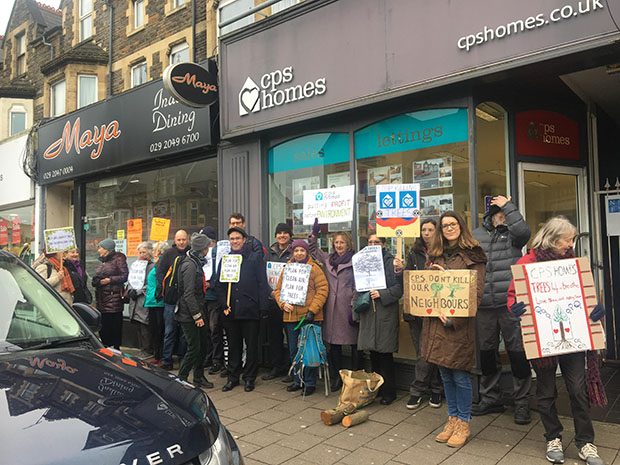 Three trees to be felled in redevelopment of listed building in Canton
CAMPAIGNERS fighting to save trees which are due to be felled in the redevelopment of Suffolk House have staged a protest outside an estate agency.
Planning permission was granted in March to develop the listed Canton building at the junction of Llandaff Road and Romilly Road into 10 apartments, with seven town houses in its grounds.
But the plans include felling three trees – a copper beech and two limes – and replacing them with saplings. The council's tree officer Ed Baker told a Planning Committee that they were impacting on a wall.
According to property developers Quin and Co, construction is due to commence this summer at the former Canton Family Centre site.
The protest took place on Saturday outside CPS Homes on Albany Road, Roath, as Quin and Co share a director with the property agency and are also based in Albany Road.
The protest's Facebook event on the Cardiff Extinction Rebellion page said: "As CPS Homes is the public face of the group we will be protesting against them."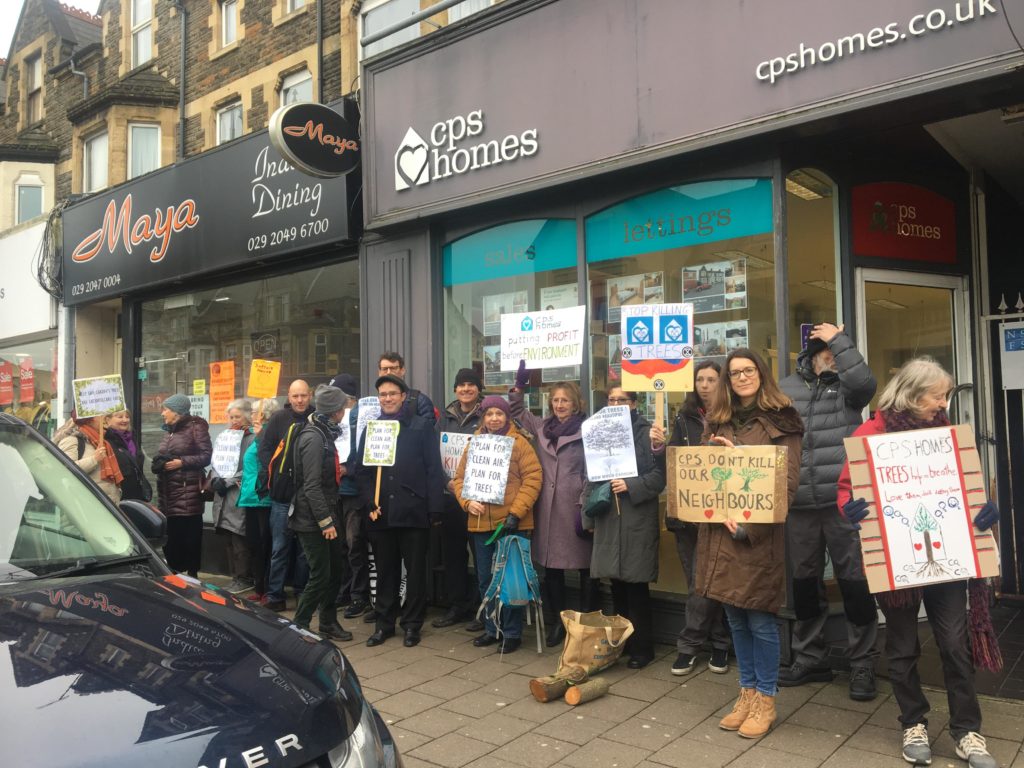 "We support new housing in Canton, we know the need for that. We've got plans, alternative plans, that would help save the three mature trees," said Ceri Williams, a Canton resident.
"We're appealing to them to change their plans so that there is a way of keeping the trees, building plenty of units, having good healthy return on investment for the investors and everybody can be happy."
Labour Councillor Stephen Cunnah, who represents the Canton ward, also attended the protest. He said there had been a committed core of local Canton residents campaigning for about two years.
"We want to see development in Canton and see houses looked after, and the campaigners here and myself don't oppose that," he added.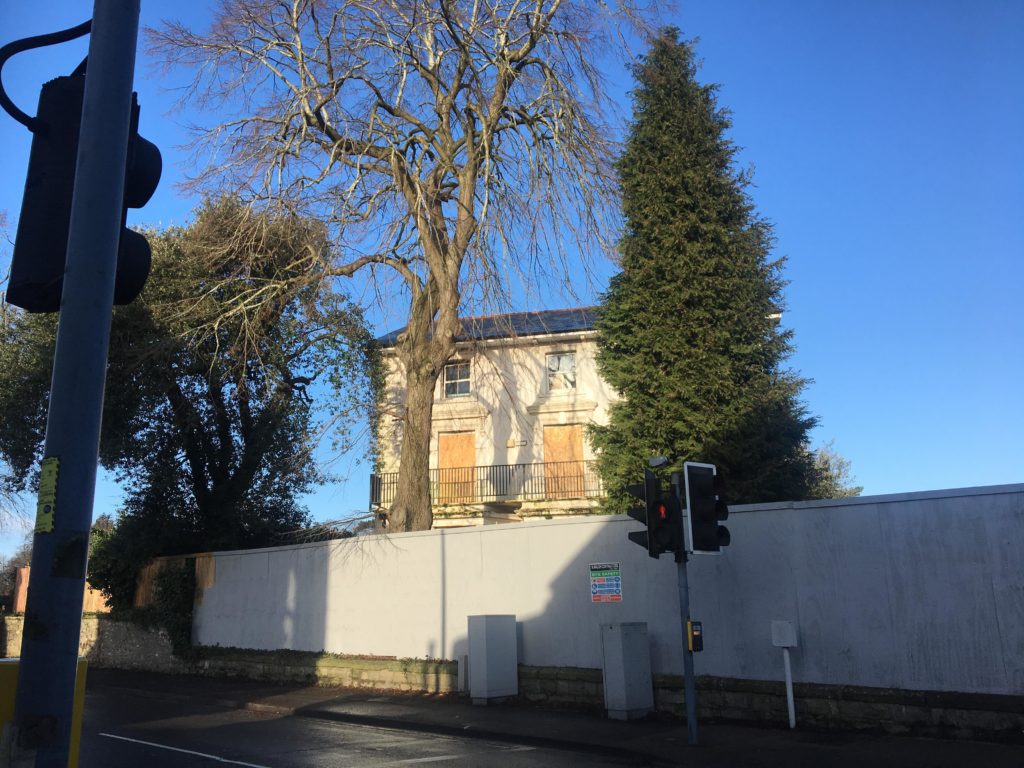 "I think that in terms of the environment and reducing pollution, mature trees are so much more efficient than new trees."
"Having greenery around in a big city is also good for people's mental health, allowing them to get away from the concrete and cars you associate with an urban environment. I've been heartened to see local people rally around the cause."
Louise Gray, an Extinction Rebellion member, previously lived around the corner from Suffolk House for 25 years and said she used to walk past the trees while taking her children to school.
"I feel passionately that these 150-year-old trees absorb the carbon monoxide and dioxide that's chucked out on that busy corner," Ms Gray said.
"It feels absolutely criminal that Cardiff Council planning committee have agreed to let the developer chop them down."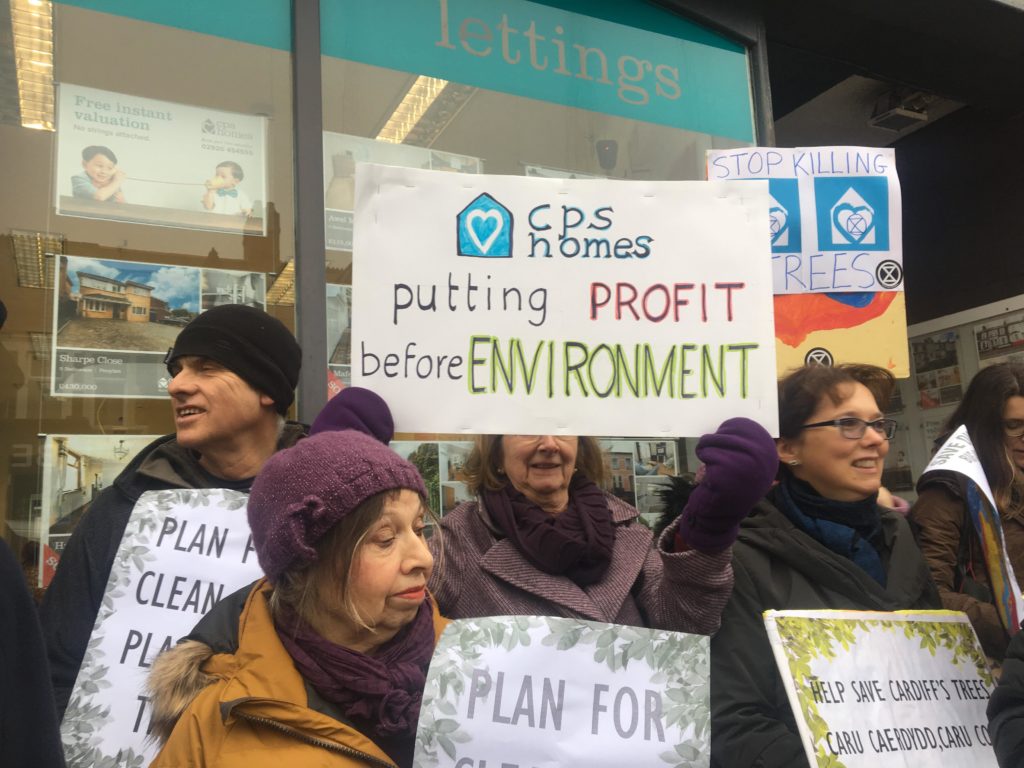 "Cardiff Council have a clean air strategy and this is completely contradictory. They've been pulled up for the quality of the air in the city centre and it's just bonkers that they're behaving in this manner."
The trees at Suffolk House were not the subject of tree preservation orders but were within a conservation area, meaning the developer had to notify the council for approval before starting work.
"The environment is under such a threat and we are losing trees far faster than we can replant them", Canton resident, Peter Bowen said.
"I think they would make a huge profit just from converting the house and leaving the grounds alone, but of course, that is their choice. We would just like to appeal to them to be community spirited and environmentally spirited and change their plans."
CPS Homes and Quin and Co have been contacted for comment.