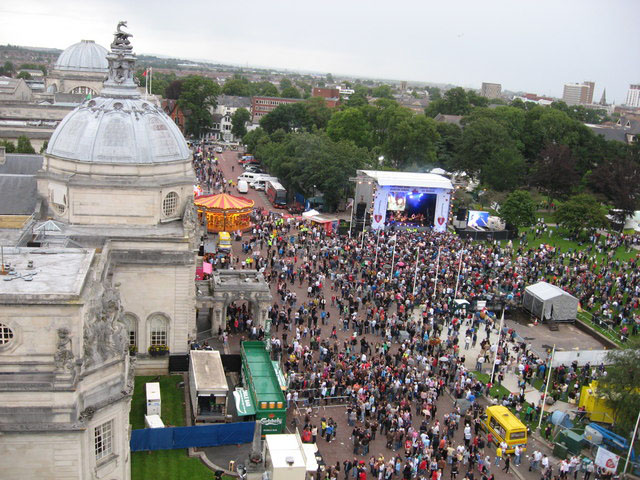 PLANS by Cardiff Council to increase the number of streets open to street traders during big events have had a mixed response from business owners.
It was recommended at a Public Protection Committee meeting on February 7, that a number of streets, including Station Terrace, Bute Terrace and Lloyd George Avenue, should be allowed to host street trading during events organised by the council.
To do this the council is proposing that streets have their designation changed from "prohibited" which bans street trading on them, to "consent" which allows it if the council gives permission.
Consent streets allow trading to take place on a flexible basis, with the council giving licences for short amounts of time, normally eight hours, on specific days.
The plans have had a mixed response from business owners in the city centre, with some welcoming the extra footfall it would bring while others were concerned that they might lose trade.
Martin Evans, who sells fruit on Queen Street, said: "I think it's good for the city. It'll bring character to the city. It's the sort of thing that attracts people, makes them want to come into town.
Lloyd Griffiths and Daniela Ferrari, owners of Bramina Italian cafe in Barrack Lane, said: "We have thought about having a street stall for big events before as we serve hot food, but the price is just too much. When they had the Cardiff Bay food festival it cost £3,000 for a weekend pitch.
"People with a fixed presence might object to it given the rates they have to pay at the moment. If it blocked off areas where people are permanently based it might block people from coming our way. If that's the case, why are we paying our rates?"
James Hamilton, 32, Marketing and Events Manager at the Buffalo bar in Windsor Place, said: "It's a difficult one. If it's bringing extra people to the area, like a street food festival would, then having the extra trade would be great."
Josh Fielden, 22, who works at Magic Wrap on Barrack Lane, said: "It's a bit of a 50-50. It could help with trade because people could wander down from the street to the shop. However, it cold dissuade people from coming down if they can't see the street.
"It might depend on the event and what time it is; when the rugby is on in town, the number of people who come in varies depending on when the match starts."
His co-worker Erwan Hughes, 19, said: "It think it could be a good thing. It could bring people into the town. We don't get many people walking this way, so this could increase that."
Ian Brodie, 31, who owns Brodies Coffee, was open to the idea: "It sounds good from a street food point of view, because I have my fingers in the street food business. Just as long as the tendering process for places is fair."
A business owner who didn't want to be named said: "It wouldn't be fair. We're here all year round, through the good and the bad. We should be the ones to benefit from events, not people who are only here for one day a year."
Another who didn't want to be named said: "I don't mind. On event days it's good to have so many street stalls. It helps trade and drags people out onto the streets when they might not have gone out before.
"There are so many people on event days that I don't think extra stalls would have much of an effect on the number of customers we have."
The full list of streets affected by the change is:
Callaghan Square, Bute Terrace, Bute Crescent, Bute Street (between Callaghan Square and Bute Terrace), Churchill Way, Station Terrace, Windsor Place, Herbert Street, Tyndall Street, Kingsway and Lloyd George Avenue.