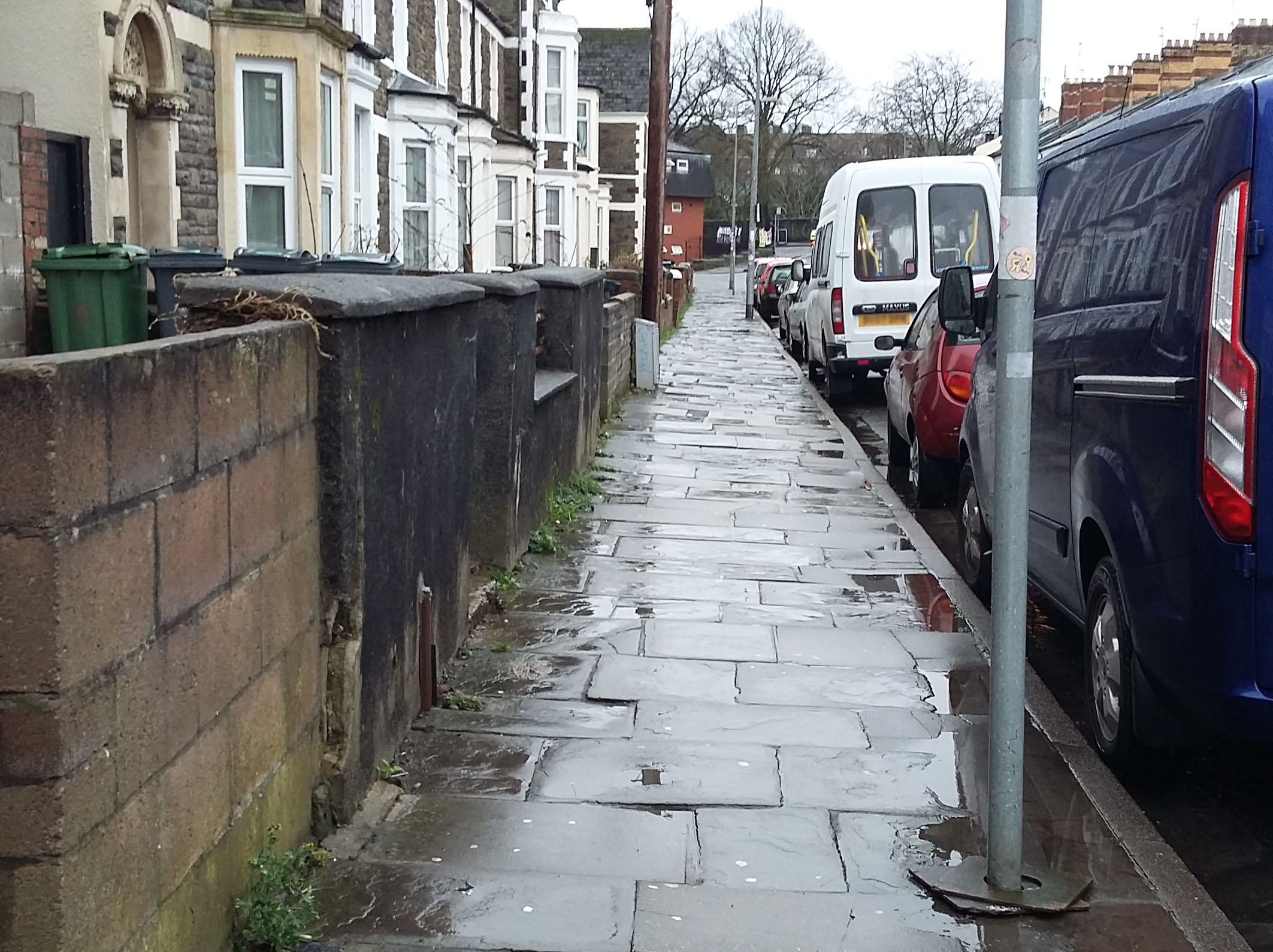 CATHAYS residents have complained about the council's upkeep of the pavements and roads in the area.
On days with heavy rain, the pennant paving throughout Cathays collects water and creates large puddles that make it difficult to walk down the street.
The issue is part of broader concerns among residents that the roads and pathways can't cope with the increasing growth of the area through new developments and more people moving in.
John Hicks, 40, lives on Rhymney Street and has lived in Cathays for most of his life. He said: "The question is, how can 18th Century infrastructure deal with a 20th Century problem? People won't look back to look at the causes of where we are now."
One of Mr Hicks' major concerns was about the council not addressing the problems — not only with the pavements, but with the roads as well. He said: "What the council seem to do is they don't sort the issue, they just put more tarmac in the potholes and all you're doing then is compounding the weight."
Mr Hicks' also criticised the amount of development happening in Cathays and feels this is also part of what is badly affecting the roads and pavements. Since the beginning of 2017, 19 planning applications for development in the Cathays area have been submitted to Cardiff Council.
This is not the first time Cathays residents have been critical of building works in the area. Last year, 50 Cathays residents signed a petition to stop a developer from building student accommodation for 29 people. This developer has since appealed against this decision.
These concerns were also shared by Mike Murray, 68, who has lived on Coburn Street for 40 years. He said: "The biggest problem I think is that the roads are not built to deal with this level of use. That's why you have flooding, not because the drains can't cope but because of all the building work."
However, others feel that it might be up to people living in the Cathays area to be more proactive.
Ceri Davies, 40, works as part of Keep Cathays Tidy and feels it might be more important for residents to campaign for more sustainable urban drainage.
Sustainable urban drainage can be things like 'permeable pavement', which is a type of paving which is able to filter excess water so that it drains away, rather than collecting in large puddles.
Mr Davies said: "There are areas where there could be far greater use of modern building techniques to address these issues, and some of them could be about using the right type of planting. Ideally I'd want to lobby developments to have sustainable urban drainage systems, and part of Keep Wales Tidy is raising awareness of this."
Councillor Chris Weaver, one of three Labour councillors in Cathays, said: "We do repair where there is a need to and other areas are not as straightforward to maintain. Some of the lack of drainage can be about road design so you have to do what you can to mitigate that."
He also added that in order to deal with these problems, people need to report them to bring attention to them.