WE love a good barbecue in Britain. At least, that's what you might think. The truth is, most of us don't have a clue what the word 'barbecue' means.
Samantha Evans and Shauna Guinn, who run Hangfire Southern Kitchen at The Pumphouse in Hood Road, Barry, traveled America between 2012 – 2013 to find out once and for all: What exactly is barbecue? 
The first thing to note, is what it isn't. What we know as barbecue is called 'grilling' in America. BBQ is a much more complicated process. You don't cook from a direct source, you cook the meat on a low, slow heat. It is mysterious. In fact, on their adventures they were entrusted with spice-rub secrets that they have sworn to 'take to the grave'.
So we know what BBQ isn't, what does Hang Fire mean?
"It's the process the meat goes through," said Sam and Shauna. "Hang it, Fire it, Smoke it. We dropped the 'smokehouse' part of of our name when we opened the restaurant in Barry. We are now Hang Fire Southern Kitchen, which more accurately describes our love of southern cooking, not just American BBQ."
Their adventure has also taken them from a rodeo in Houston, where they cooked 50 briskets, 300 chickens and 500 racks of spare rib, to helping an old mountain man repair his even older drum smoker deep in the Appalachians.
It sounds like a lot of fun, but why would two people quit their job, travel and then open a restaurant in Barry?
"We were inspired by our love of Food, Music and Dolly Parton! Having quit our careers, we knew we wanted to set up a food business. It was travelling around the deep south, and meeting our BBQ heroes that really made us turn our attention to American BBQ.
"We were living in Nashville and had just bought a smoker from Texas. We didn't have any money as we'd spent everything we had on our road trip. Our friends had a tiny little pub in the backstreets of Splott, so we asked them if we could set up a Pop Up restaurant and they said yes! In November 2015, as soon as we signed the lease for the restaurant, things got serious!"
They attended masterclasses with competition winning barbecuers and traveled around eating the very best – and sometimes the very worst – barbecue in the world. In March 2016 the duo opened their first restaurant in the Grade 2 listed Pumphouse in Barry.

Having experienced all the major State variations, they recreate authentic southern style BBQ and southern cooking using British produce. What does that involve?
"Every Friday and Saturday night we turned the pub into our version of an American BBQ joint. The first week we fed 4 people, fast forward 9 months and we were feeding 200 people."
Since arriving back in Wales in 2013, they have taken the slow and low world by storm. In 2015 they won the coveted 'Best Street Food' Award at the BBCR4 Food Awards and have written their first cookbook, which was published in May 2016.


So, what have they got in mind for the future?

"At the minute we are focussing very hard on making the Hang Fire Southern Kitchen the best it can be. We will always continue to do our street food events, food festivals and food demos to showcase recipes from our cookbook.
"We have an amazing concept for our second cookbook, which we can't wait to start writing. But in true Hang Fire style – watch this space! We tend to do things that our customers least expect."

Most restaurants don't make it past their first year. So, Hang Fire must be something special. But nothing worth having comes easy, surely it must have been a challenge?
"We love a challenge. So much has happened to us in the 4 years since setting up Hang Fire that it's really hard to keep track of all the challenges. But the key thing we have learnt is, that hard work really does pay off.

"If you are not prepared to work 16 hour days, 7 days a week – then owning your own business probably isn't for you. We both quit very high level careers to start Hang Fire. We thought we knew what hard work was!
In terms of advice – only start a business in something you are very passionate about. It's that love of what you do that will get you through the long days and sleepless nights.
"Business is really not about money, it's all about people. Our customers, our staff, our suppliers – how you treat people is very important to achieving success."

You can book a table for the restaurant at Barrybados on www.hangfiresouthernkitchen.com, but it's very popular, so you might have to wait a while. You can also catch Sam and Shauna at food festivals throughout the summer, or you can try out these home recipes: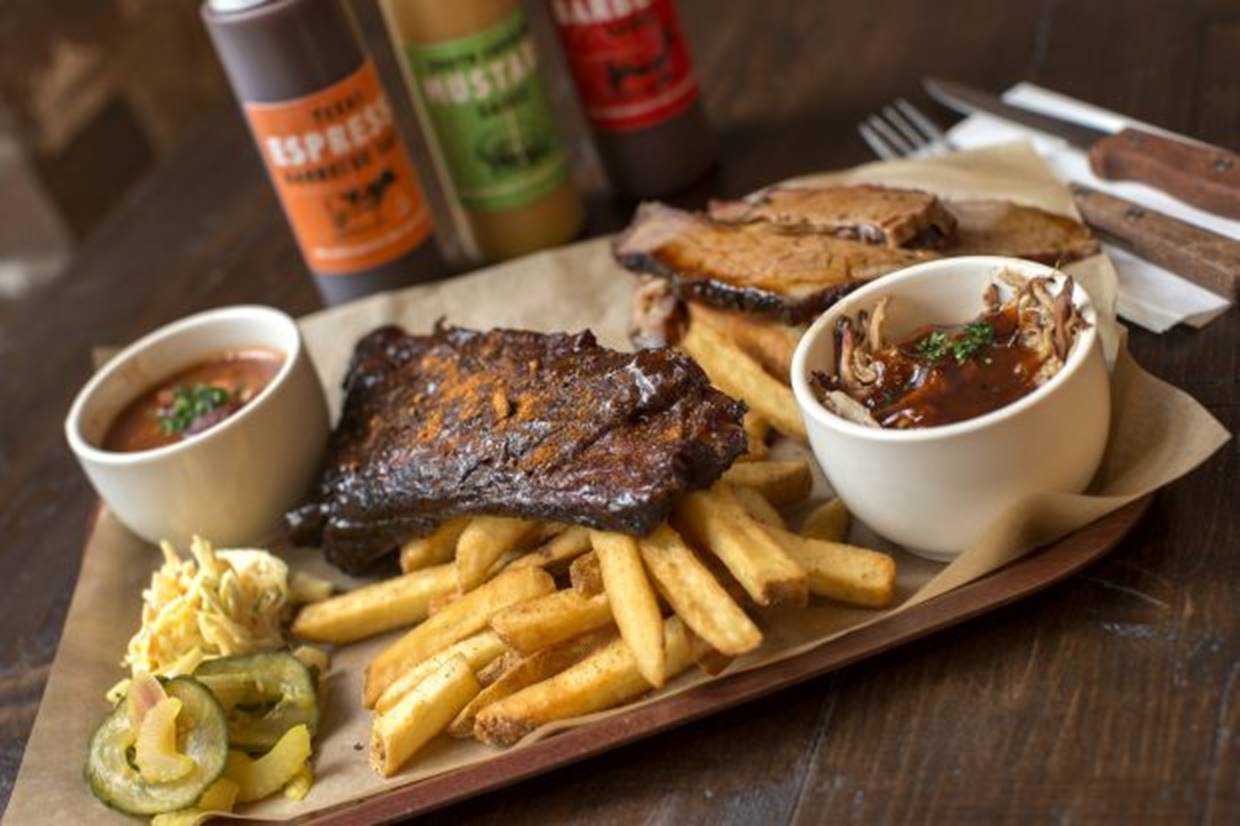 Hang Fire all purpose rub
Ingredients:
4 tbsp fine sea salt

4 tbsp paprika

3 tbsp soft light brown sugar

3 tbsp garlic granules

2 tbsp onion powder

2 tbsp coarsely ground black pepper
2 tbsp chipotle chilli powder

1 tbsp celery salt

2 tbsp ground allspice

2 tbsp toasted cumin seeds, ground
2 tbsp toasted fennel seeds, ground
Method:
Put ingredients through a blender for an extra fine powder. Mix all the ingredients in a bowl. Transfer the rub to a jar, or shaker if using immediately.
Hang Fire Smokehouse Barbecue Sauce
Ingredients:
400g ketchup

150ml cider vinegar

100ml Worcestershire sauce
100g dark brown molasses sugar
3 tbsp fresh lemon juice

3 tbsp blackstrap molasses

3 tbsp Dijon mustard

3 tbsp smoked paprika

2 tbsp onion powder

2 tbsp garlic powder

1 tbsp sea salt flakes

1 tbsp cracked black pepper

1 tsp chilli powder
Method:
Put all the ingredients in a pan and use
 a whisk to blend. Heat the pan over medium-low heat and bring to a gentle simmer. Stir occasionally for 15 minutes, until reduced. Pour the sauce into a sterilised jar with a lid and leave to cool. When
 has cooled to room temperature, refrigerate the sauce to allow the ingredients to bind together for 24 hours before using.