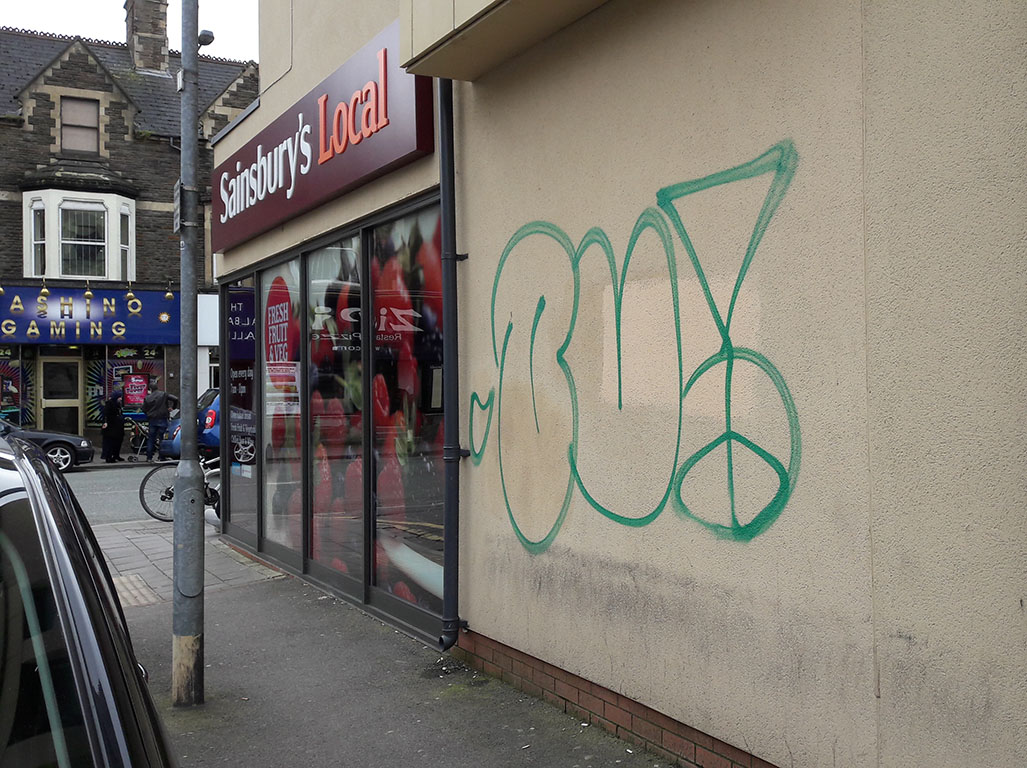 GRAFFITI has been defacing the wall of the Sainsbury's store in Albany Road, Roath, since before Christmas because of confusion over whose responsibility it is to remove it.
Residents on Angus Street first noticed the graffiti before Christmas, but nothing has been done to remove it, even after Labour councillor for Plasnewydd and Cabinet Member for Skills, Safety and Engagement, Daniel De'Ath complained to the shop via Twitter in February.
Hey @sainsburys, when are you sorting out the graffiti on your Albany Road store in Cardiff that you won't let @cardiffcouncil remove? pic.twitter.com/8xtMSmSOrx

— Dan De'Ath (@DeAthCardiff) February 20, 2017
@sainsburys what do mean, it's been "logged"? You've been saying that it's scheduled for removal for months now.

— Dan De'Ath (@DeAthCardiff) March 7, 2017
However, Sainsbury's is not responsible for removing the graffiti as it does not own the building on the corner of Albany Road and Angus Street, they rent it from landlord Tudor Jenkins Properties.
And Cardiff council cannot remove it without the permission of the property owner which at the moment it does not have.
Coun De'Ath said: "We've work hard to try and improve the local environment in Roath, from having extra bins installed in Albany and City Road, to our 'blitz' deep cleans, extra street cleansing and the graffiti team do a great job, so it's very frustrating that Sainsbury's won't just let us sort this out – or remove it themselves as they've promised – as it really doesn't look very nice and it spoils peoples enjoyment of the neighbourhood."
Angus Street resident Kevin Willis, 43, said: "I don't understand why it takes so long to get rid of it. It shouldn't be that hard to find someone to clean it up. The longer it's left there, the more it just brings the area down."
Cory Williams, 23, who lives above the Sainsbury's store said: "It just seemed to appear overnight sometime before Christmas. I went to work and it was here when I got back.
"It's the first time it has happened since I moved in in June. The wall was just plain white until the graffiti was put on it."
One resident of Angus Street who did not want to be named said: "Obviously we don't want it here. Keep Roath Tidy do a lot of work here and the graffiti doesn't really help."
However resident Linda Stevens, 72, said: "To be honest with you, I haven't noticed the graffiti before. I'm sure now that my attention has been brought to it I'll notice it, but it wasn't catching my eye before."
Tudor Jenkins Properties was contacted for comment but have not responded.