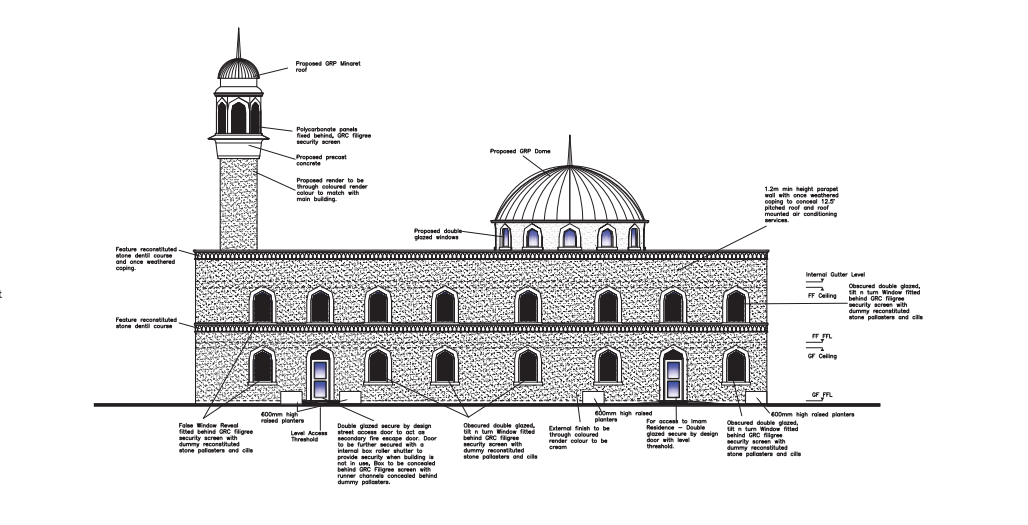 A GROUP of muslims are planning to take Cardiff Council to court after plans to extend their mosque were rejected for the second time in a year.
The Ahmadiyya Muslim Association (AMA) is to appeal against the the planning committee's decision to refuse an extension to their mosque on Sanatorium Road in Canton on traffic grounds.
It is the second time in just over a year that planning permission for the extension has been refused. However, the AMA have criticised the decision and will now appeal against it.
Dr Ata-Ur-Rehman Maaz, president of the AMA Cardiff, said: "I am led to believe by our central organisation that we will appeal in the court of law and the law is with us so we are reasonably confident that the decision will be overturned.
"I am sure that the council will look back at it and think about what they are doing with the taxpayers' money."
The 49-year-old from St Fagans also said that the 144-strong Ahmadi community in Cardiff would not be deterred, though he stressed that Canton residents had nothing to worry about.
He said: "We do intend to keep at it. We will build this mosque but there's nothing to be apprehensive about. We are a law abiding lot, we do not cause disruption and we help communities and societies. We work with charities all the time and so there is no reason to be apprehensive of us."
At the meeting, residents spoke about their opposition to the plans. Dennis Gardner, a local resident, presented a petition and said that Sanatorium Road had completely changed:
"Our objections are based on traffic issues. The nature of the street has changed. Every day thousands of children are meters away from exhausts and cars. We feel this will just makes things worse."
Robert March, 68, lives on nearby Broad Street. He said: "The traffic in Broad Street is terrible. It just can't go on. Children are not safe going to school. I think common sense has prevailed."
The Ahmadiyya community believe that the issue is being misunderstood and people don't realise that the site has already been used as a mosque for two years.
Dafydd Jones, the agent representing the AMA, said: "Residents frustrations are being wrongly directed. Quite why a minor application should be subject to this level of scrutiny is beyond me."
Although he was keen to stress that he wasn't suggesting a conspiracy, Dr Maaz believes that some people are anxious to see the Ahmadi community fail.
"There has certainly been discrimination against Ahmadiyya muslims in Pakistan. What we have found in recent years is that discrimination is spilling into the UK," he said.
"In Cardiff there was an anonymous leaflet that was spread against us. And a Labour councillor resigned towards the end of last year because, in her words, there was anti-Ahmadiyya attitudes within the council and when she protested against them she said she was bullied. I think it's best to stay away from speculation but you do wonder what is going on here."
Dr Maaz was referring to an incident in November when Llandaff North councillor Sue White resigned after claiming that members of the Labour party were bullying her for supporting the Ahmadiyya community.
At the time, Ms White said: "I have resigned from Cardiff Council because of bullying and what I perceive to be racial discrimination.
"There is a culture of bullying in the Cardiff Council Labour Group which has been allowed to go unchecked for far too long. I have experienced it when I was the Group secretary and, most recently, when I defended the Ahmadiyya Muslim Association."
In November, all three Canton Labour councillors co-signed a letter objecting to the application. Over 130 residents objected to the plan and a petition against the mosque was signed by more than 200 people.
These incidents have left the Ahmadiyya community frustrated and Dr Maaz is concerned that the negative press affected the planning committee's decision.
He said: "My reaction is that of huge disappointment. I was really hopeful that despite all the negative press that we court and the negative propaganda, the planning committee would decide the planning application on merit and on technical grounds. But they saw fit not to.
"The grounds that they have used is the fact that they are not satisfied that there won't be traffic congestion. That I think is really frivolous. They know it as well as you and I do that we have been using that premises for two years for the same purpose. We are not going to change that purpose all of a sudden just by putting up a minaret. I am hugely disappointed."
Speaking after the planning meeting, Labour Councillor for Butetown, Ali Ahmed, who is a member of the planning committee, questioned why the AMA needed a bigger mosque given they only have 144 people in their congregation.
He said: "Personally, if they are Muslims, I welcome them to come to one of the 15 or 16 mosques in Cardiff. 144 people? I think the mosques in Cardiff can accommodate thousands more.
"I am not opposing any groups or communities but I am concerned why 144 people don't go to other mosques in Cardiff."